Cryptocurrencies finally broke out from low volatility last week, with some coins displaying solid rallies. For example, news of Elon Musk officially acquiring the social media giant Twitter saw Dogecoin (DOGE) explode in value with expectations that the meme coin would finally have utility. DOGE has since risen from lows around $0.033 to the current price of $0.1224, recording over 102% gains over the past week. The total crypto market cap has crossed the $1 trillion mark and now stands at $1.03 trillion.
In contrast, the prices of several tech stocks crashed over the same week following the release of their Quarter 3 (Q3/2022) earnings. Does this mean the correlation between crypto and stocks is now over?
This article will attempt to answer this question by looking at data using Ethereum's on-chain data to explain the strength of its price action displayed last week.
Crypto Assets Performing Better Than Stocks
Bitcoin (BTC) and Ether (ETH) have performed better than traditional assets in Q3/2022) despite the runaway inflation, increasing consumer prices, and the uncertain macro environment. BTC, ETH, and other cryptocurrencies have performed better than the Nasdaq 100. For example, Bitcoin is down 56%, and Ethereum has lost 59% year-to-date. This is a much better performance when compared to that of tech stocks such as Meta and Snaps, which are down 71% and 80% year-to-date, respectively.
The contrasting performance of the crypto vs. stocks raises questions about the correlation between the two asset classes. 

Data from IntoTheBlock (ITB), an on-chain and market analytics firm, shows that the correlation between Bitcoin and tech stocks (S&P 500 and Nasdaq 100) rebounded from the lowest levels in 2022 in mid-October. Note that the correlation coefficient had reached 0 for the first time since early January before earnings, indicating no statistical relationship between the two classes of assets. This has since climbed with a correlation coefficient of 0.58 and 0,52 against the S&P 500 and Nasdaq 100, respectively, as shown in the chart above.
In addition, as earnings began increasing in mid-October, the association between cryptocurrencies and traditional stocks became stronger. Furthermore, financial results and projections from large companies weighed down crypto's performance, though less than was expected.
As such, cryptocurrencies opened last week with solid rallies and rose above crucial resistance levels despite big tech companies' feeble Q3/2022 earnings. ITB data reveals that BTC's and ETH's Sharpe ratio over the past month and three months is higher than tech ETF QQQ, implying that digital currencies have displayed a better risk-adjusted return.
However, Google and Amazon's negative results on Tuesday, October 25, appeared to drag Bitcoin a few percentages down. But Meta's performance resulting in 25% losses in the price of the stock, seemed to have little impact on crypto. 
Ethereum Has Been Leading Crypto Performance
ETH is up 20.5%, rising from $1,333 to the current price of around $1,620 in the past seven days. This spike has seen the now proof-of-stake token reclaim the $1,500 crucial level, flipping the 50-day simple moving average (SMA) and the 100-day SMA back to support in the process.
ITB attributed ETH's outstanding performance to increased network demand. The higher the Ethereum gas fees, the more ETH is spent to use the network and its resources.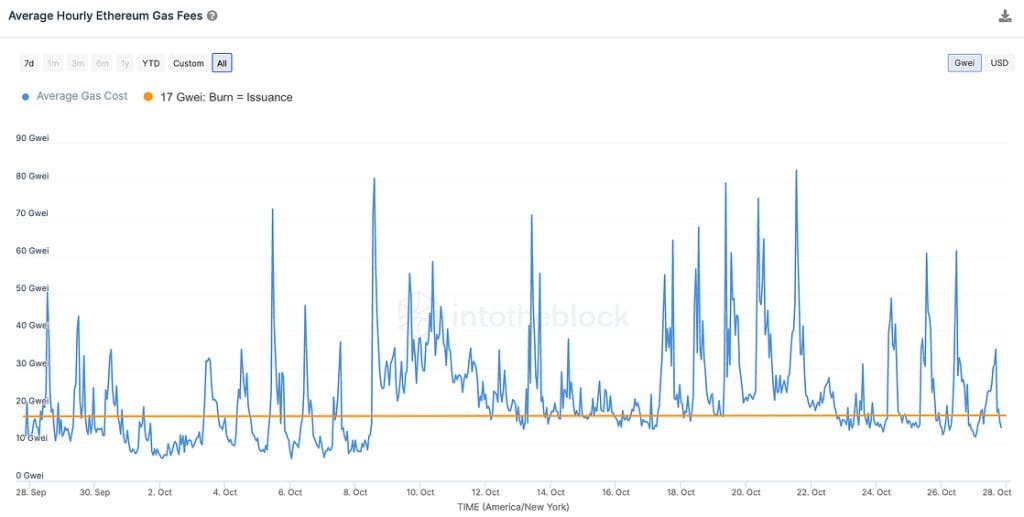 The chart above shows the average hourly Ethereum gas fees surged from below 20 gwei on October 24 to 67 gwei on October 28. Additionally, high demand for Ethereum results in decreasing ETH supply, as Ether becomes deflationary when gas fees are above 17 gwei (indicated by the orange line in the chart above).
It is worth noting that Ether's supply increase since the Merge has only been 1.1K ETH, compared to more than 509,000 ETH inflation that was witnessed under the proof-of-work blockchain. This translates to an effective 99.78% decrease in net issuance. And decreasing ETH supply leads to increased demand which, in turn, increases the value of the Layer-1 token.