Despite the crypto winter, macroeconomic uncertainties, and geopolitical tensions, building continues in the Web3 space. A Q3/2022 Behavioral Report by DappRadar, a global store for decentralized applications, shows that almost 36% of all smart contracts ever developed and confirmed were executed in 2022. This points to increasing crypto adoption even as the dApp frenzy remains.
DappRadar's quarterly Behavioral Report highlights the most significant behavioral trends that shape the dApp sector every quarter. It also touches on other sectors of the vast blockchain industry. According to the report, as shown by Reddit, crypto is moving from a specialist asset for an exclusive network of investors to a more inclusive space for mainstream investors and new adopters.
How Reddit Became A Top Web3 NFT Contender
The DappRadar report published on October 27 revealed that users of Reddit, the social sharing website, have created more than three million NFT wallets on the Polygon network since July, with 2.5 million active wallets, surpassing OpenSea – the world's largest NFT marketplace. Moreover, four discrete Reddit Collectible Avatar collections have made it to OpeanSea's top 10 list regarding the weekly trading volume.
Just how did Reddit come out to outperform all the other marketplaces in the NFT sector? The social news website joined the NFT frenzy on July 7, 2022, by creating an NFT-based marketplace that allows Redditors to buy Collecticle Avatars. Reddit has since seen millions of users generate crypto wallets to store them.
Reddit Collectible Avatars are the limited-edition picture for proofs (PFPs) (around 40,000 NFT avatars) designed by 30 independent creators in collaboration with the social media company (and prominent Reddit community artists) that grants its holders exclusive Reddit perks. The avatars were sold out immediately after the launch.
Reddit users could buy the NFT avatars from the Reddit mobile app in fiat, ranging from $9.99 to $99.99. It is worth noting that the Avatars were sold out immediately after release.
Those lucky to get their hands on some limited-edition NFTs received licensing rights to use them on and off Reddit as blockchain-based profile pictures. The license also allowed them to improve their appearance using in-built avatar builder tools.
It was the social media company's first-large scale NFT project in partnership with the Ethereum-enabled blockchain Polygon. The Reddit Vault is a digital wallet that stores and manages avatars via the Reddit app.
The dApp store's report says that four distinct Reddit Collectible Avatar collections made it to DappRadar's Top 10 list for weekly trading volume only 90 days after Reddit entered the NFT space. Sara Gherghelas, the author of DappRadar's report, attributes Reddit's NFT success story to its community. According to the blockchain analyst, Reddit's familiarity with its community and knowledge that NFTs were unpopular "among those who are not Web3-savvy" could be why the social news aggregation site has performed so well in the NFT industry in such a short time.
The report reads:
"Before the debut of Collectible Avatars, the firm published a survey titled The ABCs of NFTs, in which they discovered that 70% of Reddit users were willing to purchase an NFT from their favorite brand, but 35% said that brands may "ruin the future of NFTs."
Reddit realized it had to have a different approach to NFTs, "avoiding negative perceptions associated with technology while making them easy to acquire."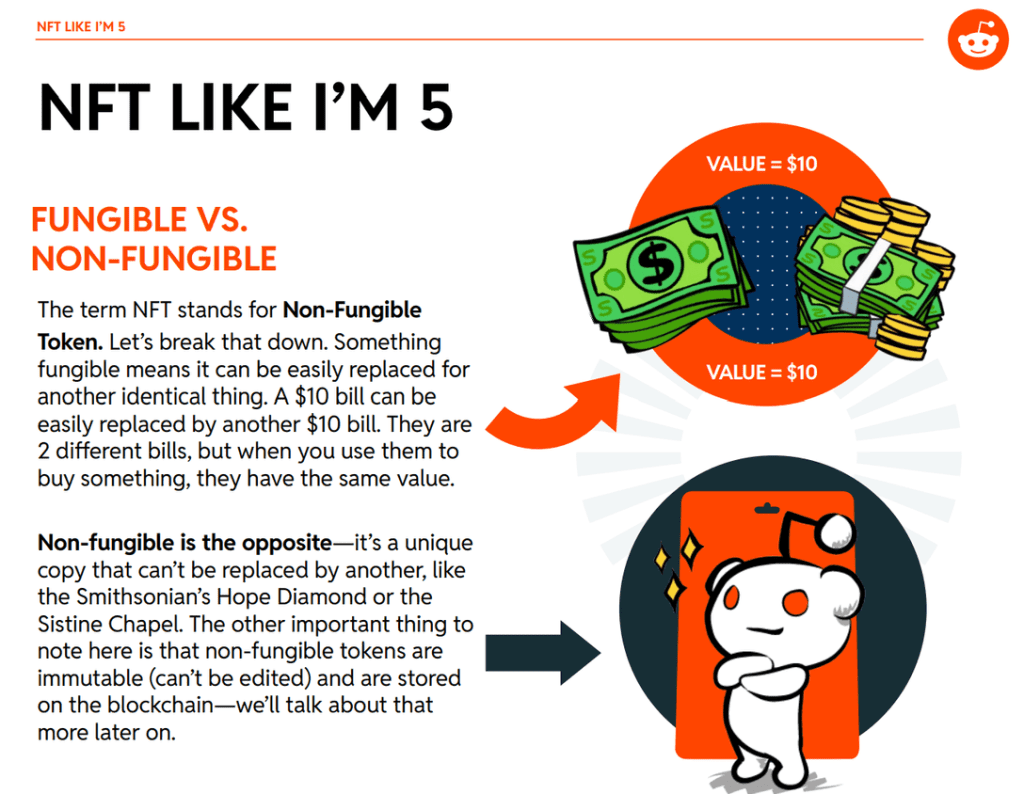 As such, Reddit hired independent artists and recognized talent within its platform to create the avatars. The company also ensured that the NFTs had particular utility on the forum, granting owners Creative Commons license (CC0) in terms of intellectual property (IP) use. This, in turn, incentivizes users who get a new PFP in the process, which can be purchased in fiat, and not in crypto.
Reddit also avoided using the term "NFT," which did not appear anywhere during the July launch. Moreover, to ensure that its Collectible Avatar project was visible and reached as many potential owners as possible, Reddit distributed free airdrops to several top community builders and contributors on the platform in August.
The report says that "Reddit users who passed specific eligibility conditions were granted access to NFTs from the Aww Friends, Drip Squad, Meme Team, and The Singularity collections." However, it added that these NFTs trade at substantially lower volumes than those that users purchased from the marketplace.
Reddit's success may be overstated. As such, this strategy of approaching NFTs without mentioning the term is one that many Web2 firms on the fence about digital art collectibles and crypto would like to adopt, given its success.