The 2022 crypto space has been marked by dramatic events that have plunged the sector into a bear market, from the collapse of the Terra ecosystem, its UST stablecoin, and the LUNA token that backs it to the fall of some of the largest crypto entities in the world such as Three Arrows Capital (3AC) and Celsius. Many other crypto companies have reduced their workforce and eliminated non-essential departments to survive the market downturn. NFTs have displayed mediocre performance this year compared to the "2021 frenzy."
Despite their recent "subpar performance," IntoTheBlock, a crypto intelligence firm, analyzed the main events that have unfolded to evaluate possible reasons why it thinks non-fungible tokens (NFTs) "might not be dead."
A Deep Dive Into the NFT Winter
According to the IntoTheBlock weekly newsletter, the NFT buzz has cooled after an impressive bull run in 2021. The top 10 digital art collections have underperformed in Ethereum (ETH) in the past month. For example, the average price of Bored Apes Yacht Club has decreased by 4.47% over the last month. This decrease is 9.62% for CryptoPunks and 20.57% for Mutant Ape Yacht Club.
The NFT collections with the most dismal performance over the past month were Doodles and Moonbirds, whose average prices are down by 42.84% and 40.28%, respectively.
The mood in the NFT industry has also been seen in the NFT marketplaces, with OpenSea, the largest NFT marketplace in the world, turning into a ghost town after witnessing a massive drop in daily trading volumes over the last few months, according to an earlier Blocknews analysis. The latest data from DappRadar reveals that OpenSea processed approximately $4.96 million worth of non-fungible tokens (NFTs) on September 6, tanking about 99% from its record high of $405.74 million reached on May 1.
Similarly, the number of users has plummeted from a peak of around 49,500 in January to 13,950 on September 6. Daily transactions have also plunged 68% from 85,500 to 27,300 over the same period.
The massive declines in average NFT prices, daily trading volumes, number of users, and transactions suggest that the value and interest of NFTs have diminished over the last three months due to the crypto bear market.
IntoTheBlock's report also notes that it is not just NFTs. Other high-risk assets "have been having one of their worst years." It attributes this subpar performance to increasingly restrictive monetary policies that have resulted in less money supply in the system, "leading for less capital to be available for highly speculative bets." The new letter goes further to assert:
This has led many NFT developers to emphasize adding utility to their collections to bring actual worth to their owners.
New Collections Being Minted Reach Record Highs
NFT investors are going through an era of economic awakening as supply and demand change. This is corroborated by data on New NFT Creations from IntoTheBlock displays, which shows that the number of new collections being developed has increased markedly in the past month.
From the data, it can be deduced that the number of new NFTs minted has increased by a whopping 533%, from just 486 collections on August 1, reaching an all-time high of about 3,080 collections on August 21. On September 5, the number of new NFT collections minted was approximately 1,800. This increase in supply may have contributed to the drop in NFT prices during August.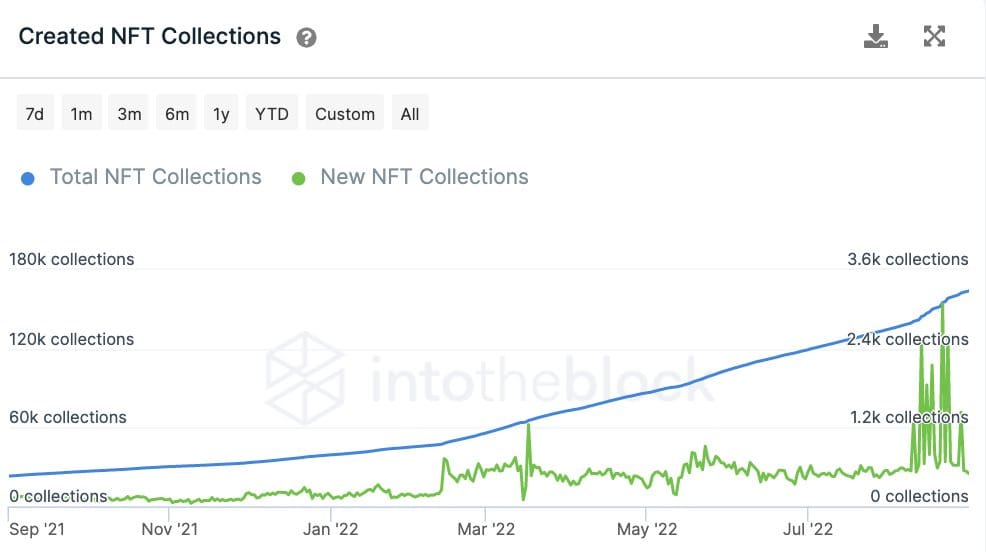 As new collections flood the market and a few perform better than the old collections, collectors begin comparing the value of the new vs. old collections, according to IntotheBlock analysts.
Despite the recent price movements, select NFTs are still being bought by top collectors, including Art Blocks and CryptoPubks among the old collections and CryptoDickButts – one of the new creations. The prices of CryptoDickButts have climbed 4x over the past three months, sparking top collectors' interest.
Conclusion
In a nutshell, "NFTs are still highly experimental and speculative," just like all other digital assets. Adoption is still in its early stages, and the journey ahead is still unclear, as it is with many projects in the crypto space. As such, NFTs are likely to follow the same recovery path taken by Bitcoin and Ether in the past. They might not be "dead" yet.