Many blockchains depend upon the proof-of-work (PoW) validation system, but as of recently, we're seeing a major shift from PoW to proof-of-stake (PoS), the more environmentally friendly and sustainable alternative to PoW.
The PoW system depends upon "mining rigs", systems designed using mass amounts of energy via graphics cards (GPUs). In recent years, before most took the environmental impact of PoW mining too seriously, GPUs skyrocketed not only in demand but also in price. Now, a shift to the PoS system could render these GPUs useless in mining as the systems are no longer dependent upon them. This means that we should expect an influx of cheap GPUs on the secondary market.
The GPUs that were used for mining were usually that of higher quality, as the performance of these rigs needed to be durable. Whereas during the mining rave, a decent GPU would run you upwards of $1,000 minimum, the average GPU is now priced at $500 – $600, many of which are listed on secondary markets, like eBay.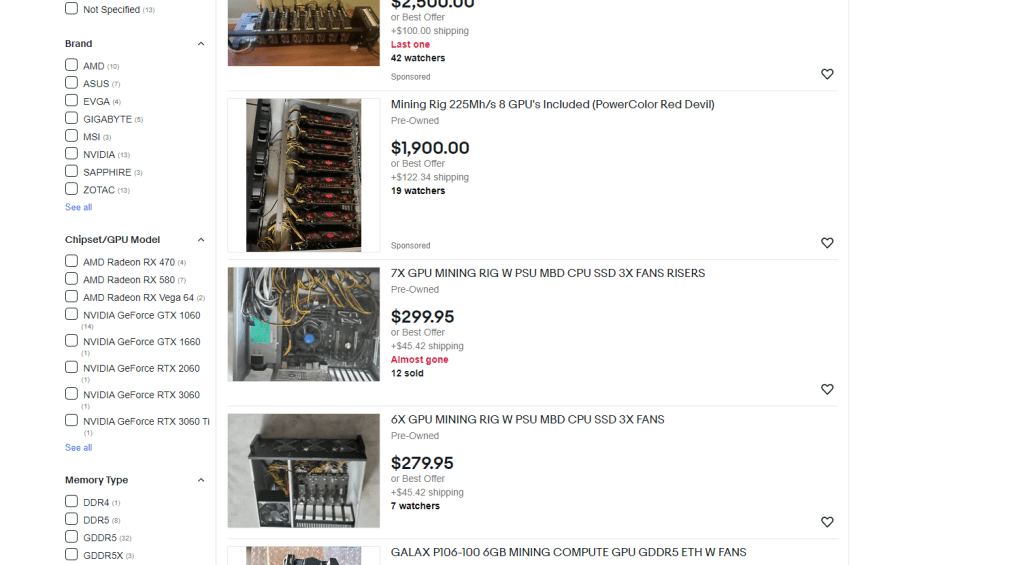 PC Gamer recently noted that GPUs are flooding the market. This is due to multiple reasons. One is that crypto has not been performing as well as it was in the last couple of years, meaning that the demand for these mining rigs has fallen substantially. The other is that many companies are ditching the PoW system of mining, and adopting PoS instead, a system that doesn't require the use of GPUs. Another reason accounting for the cheap GPU prices is that most of the GPUs have experienced significant wear during their short lives, considering the graphics card would have had to be run constantly for months to years on end. So, it's important to tread lightly when it comes to these second-hand GPUs.
Although, some challenge the notion that a retired mining GPU is as degraded as others might think. PC world has claimed that buying a used graphics card from a seasoned miner is better than buying one from an average PC gamer, those who usually "overclock" their GPUs. Even Youtuber Linus Sebastian went as far as to test second-hand GPUs from mining rigs and found that many performed quite well. 
If you ask me, I think it's funnier to let miners languish with a bunch of expensive graphics cards that they can't even get rid of. It is annoying, though, that Nvidia benefited hugely from the crypto boom, so much so, in fact, that the company got hit by a federal fine for trying to hide how crypto boosted its profits. Hey, at least this crypto nightmare is finally over *knocks on wood* and we'll all no doubt be seeing far more reasonable graphics card prices very, very soon.