News recently broke that Harmony's Horizon bridge was hacked, with the culprits making away with nearly $100 million in stolen funds. Today, ONE, the native token of Harmony, is also feeling the pain of that with the token dropping nearly 9% after the incident.
The company released an overview of the entire situation, which can be read on their website here.
As of 9 PM, ONE,  which is ranked 125th by market capitalization on CoinGecko, trades at USD .024 and is down almost 9% in a day and over 3% in a week.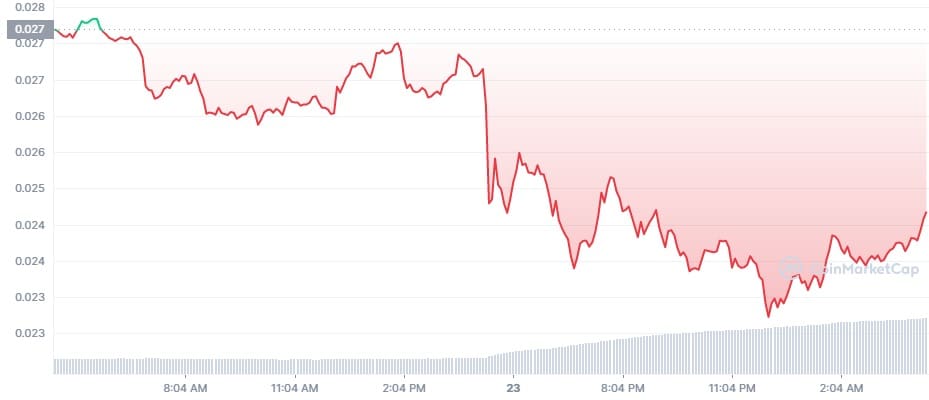 After the incident, Harmony stated that it "has identified a theft occurring this morning on the Horizon Bridge amounting to approx. USD $100 million." The harmony team also went on to state that the incident did not affect their bitcoin (BTC) bridge and noted, "its funds and assets stored on decentralized vaults are safe at this time."
The announcement also included that the company halted the bridge, preventing transactions from occurring and that they had immediately notified other exchanges.
"We have begun working with national authorities and forensic specialists to identify the culprit and retrieve the stolen funds," they added.
"Assets were stolen on both Ethereum and Binance Smart Chain," according to blockchain analytics firm Elliptic.
The company added, "A variety of assets were taken, including ETH, BNB, USDT, USDC and DAI. The stolen tokens have now been swapped for ETH using decentralized exchanges – a commonly-seen technique with these hacks."
The analysts also noted that Harmony sent the thief a message, embedded within an ETH transaction, asking them to negotiate.