Disclaimer: The following publication will review current market sentiment and activity using data from various analytical sources. Points made within this article are my thoughts and opinions and are in no way financial advice.
Today's Topics
Top Sales Over 24hrs – 300 ETH Fidenza Sale
Art NFTs Rise as Markets Fall
RTFKT Eggvember
Blur.io Passes OpenSea in Daily Trading Volume
Top Sales Over 24hrs – 300 ETH Fidenza Sale
There has been a handful of crazy sales over the past 24 hours in the NFT space, with the top one being a 300 ETH sale of Fidenza #783 to 6529fundsnz4, a wallet holdings hundreds of ETH worth of art. This purchase is by far their most expensive out of the bunch.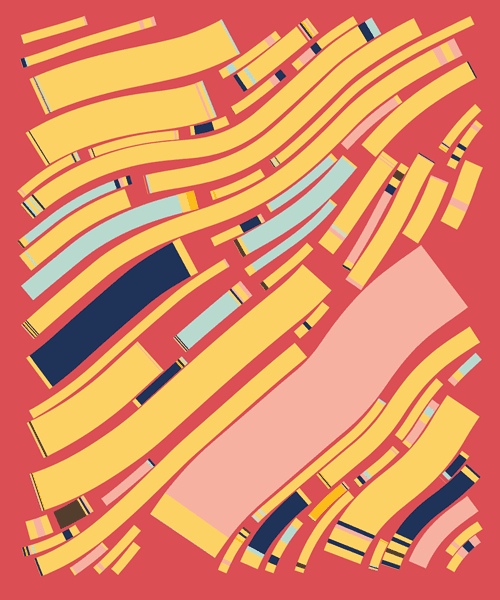 Next on the list, we have BAYC #5979 selling for 215 ETH ($335K), resulting in a +195 ETH ($304K) profit for the seller. Although the BAYC/Yuga Labs ecosystem has taken a hit recently regarding the trading volume and floor prices, high ticket sales continue to rain in, as shown in this example and yesterday's daily update with the BAYC and CryptoPunk sweep.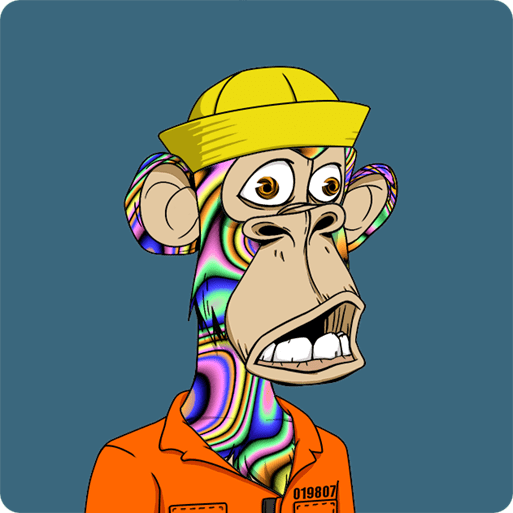 I had to save the best for last. Yesterday, an NFT titled Sad Doge sold for 185 ETH, or $288K. But what makes this even crazier is that this same NFT in August 2021 sold for 2 million USDC, resulting in a 86% loss in its most recent sale. However, with the combination of Elon Musk teasing Dogecoin on Twitter and Dogecoin's 120% increase over the last week, this could be a monster play!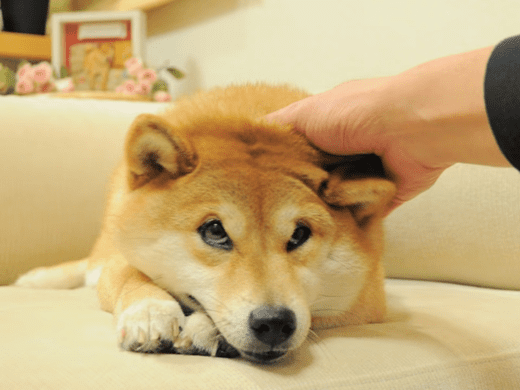 Art NFTs Rise as Markets Fall
Over the previous few months, it's been painfully apparent that PFP and utility collections have been on a significant downtrend regarding volume and floor price. This fact remains true amongst various projects, from low-tier degen plays to high-tier blue chips like BAYC, Doodles, Moonbirds, etc.
However, with that said, one sector of NFTs attempting to hold its ground is art, specifically high-tier projects such as collections from the Art Blocks Curated collection. For a visual representation, refer to the chart below from @punk9059 presenting an "equal-weighted basket of Fidenzas, Squiggles, Gazers, and Ringers" since the start of this year.
As you can see, this basket is currently up 3x since May, making it one of the few baskets in the green over the last few months.
RTFKT Eggvember
Last month, RTFKT announced Project Animus, the next big venture for the storyline and ecosystem of CloneX.
Along with the announcement of Project Animus came a teaser video featuring a small creature that no one had seen up to this point. The following is the teaser video for better context:
What made this extra video special is that leading up to its release, RTFKT was teasing an upcoming egg drop speculated to be a new companion set comparable to BEANZ from Azuki or Oddities from Moonbirds. As you would guess, following this video, speculation of said companion drop went rampant suspicions were more or less confirmed.
The egg drop is only for holders of their CloneX collection, and is said to drop sometime this month, hence the title Eggvember. Make sure to stay updated on this drop, as new RTFKT falls usually perform exceptionally well in terms of a floor price and volume. It could be a sweet opportunity, as this drop will likely directly impact the primary CloneX ecosystem.
Blur.io Passes OpenSea in Daily Trading Volume
As far as NFT marketplaces go, OpenSea has been by far the most dominant in the space, practically having next to no competition since its launch. However, OpenSea may now have a run for its money, as the newly launched Blur.io NFT marketplace has passed them in daily trading volume for the first time by over 50%.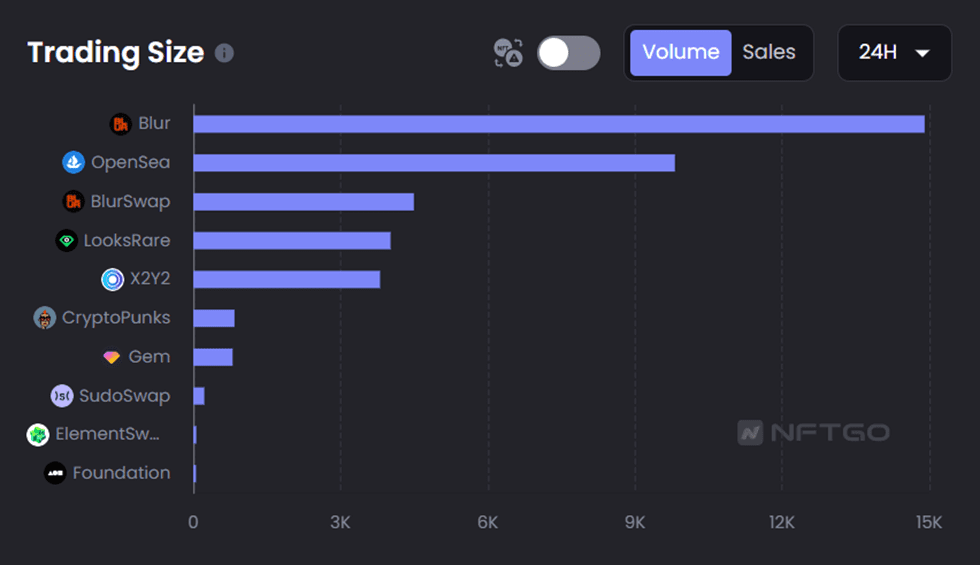 In addition to Blur.io passing OpenSea in daily trading volume, it also broke its previous all-time high in daily trading volume by over 25%, clocking in a new all-time high of 11,450 ETH ($18.1M) traded within a single day. They will likely break that record again within the coming days.
Although this is a fantastic accomplishment, let's dive in a little more to see what genuinely gives Blur.io this much volume.
First, as you may know, Blur.io got its first big splash onto the scene with the announcement that there will be dropping $BLUR tokens to everyone participating in the marketplace. The first drop has already occurred, but a second drop is set for November based on activity. If you were around earlier this year, you would remember when several marketplaces essentially handed out free money via these types of token drops. Although they were profitable for those active at the time, I highly doubt this is the main driving force behind this explosive volume we've seen from Blur.io over the last few days.
As you can see in the snapshot below, Art Gobblers is currently 65% of all NFT trading volume over the previous 24 hours, now sitting at 16.1K ETH in trading volume for the day.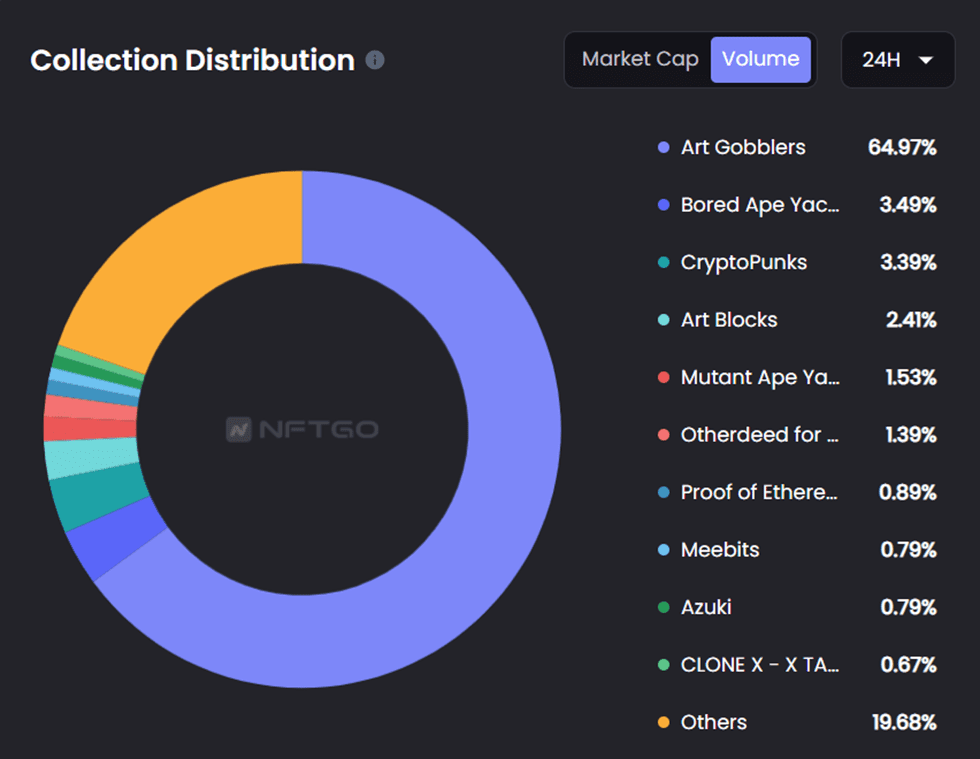 Seeing as there is no new money flowing into the space outside of this insane Art Gobblers pump, it only makes sense that the VAST majority of trading volume coming from Blur.io is from the Art Gobblers collection. Since listing and trading high-value projects is also a parameter for increasing your second round of the $BLUR token drop, it makes sense to knock two birds with one stone. Nonetheless, fantastic job by everyone involved, and kudos to Art Gobblers! The last time I saw daily trading volume dominance like this was before the Yuga Labs dropped the Otherdeed land plots.