Disclaimer: The following publication will review current market sentiment and activity using data from various analytical sources. Points made within this article are my thoughts and opinions and are in no way financial advice.
Today's Topics
CNFT Tuesday
Art Gobblers Explode
OpenSea New Copymint Detection System
Punk and BAYC Sweep
General News
CNFT Tuesday
Market-wide CNFT trading volume has fallen around 42% over the last seven days and 67% from its all-time high on October 22nd.

For the past three days, total CNFT trading volume has averaged around 1.32 million ADA per day, equating to approximately $528,000 or 336 ETH per day in total trading volume. For some perspective, 336 ETH in trading volume is enough to land the entire CNFT market a 4th place finish on the OpenSea Top Performers Chart over the last 24 hours.
Over the previous seven days, the CNFT market has clocked in 11.8 million ADA in total trading volume, reaching around $4.72 million or 3000 ETH. Believe it or not, 25% of that total trading volume is thanks to a single project named OREMOB. As shown below, OREMOB has clocked in more trading volume than the following top 8 CNFT projects over the past week combined.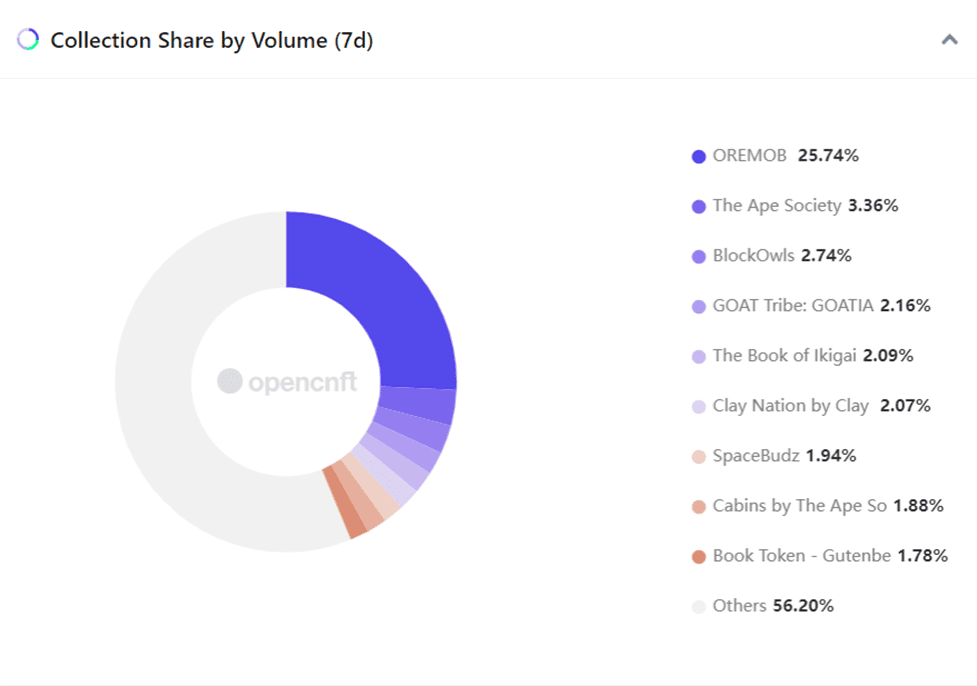 Regarding this week's top CNFT performers, aside from BlockOwls, floor prices and volume across the board are in the red, with double-digit losses in both daily and weekly metrics.

Art Gobblers Explode
Art Gobblers, a 1,736-piece collection by Rick and Morty creator Justin Roiland and investment firm Paradigm, has taken over the NFT space over the past 24 hours.

"Art Gobblers is a decentralized art factory owned by aliens. As artists make cool art, Gobblers gains cultural relevance, making collectors want the art more, incentivizing artists to make cooler art. It's also an on-chain game." – Paradigm.
Since its launch yesterday, October 31st, Art Gobblers has accrued 7200 ETH in total trading volume and is currently holding firm at a 13 ETH floor price. Out the gate, sales were flying around the 12-14 ETH range. Within an hour, it had hit its current all-time high of 16 ETH. in addition to the craziness, even though Art Gobblers has only been out for around 20 hours at the time of writing, they are already in the top three projects over the past 30 days in terms of the trading volume.

Although this is a fantastic accomplishment, some drama has been circulating regarding how whitelists were handed out. A majority, if not a good chunk, of whitelists, were handed to influencers. As you would guess, this rubbed some in the NFT community wrong. This lead to accusations that Art Gobblers was nothing more than a pumped influencer project. However, that narrative is coming to a close, as the NFT and Web3 community, influencer and non-influencer, are working together to give credit to the hard work of the Art Gobblers team.
If you are interested in learning more about Art Gobblers, here is their Green Paper that covers everything you need to know and more!
OpenSea New Copymint Detection System
OpenSea has launched a new feature called the Copymint Detection System. This new feature protects original artwork and allows users to "identify authentic content confidently."
If you are interested in how this works, refer below for a video of an OpenSea engineer showcasing the Copymint Detection System live. Its response is practically instant!
Punk and BAYC Sweep
The user of wallet 0x8D50fd5e87ebc6434923B09f4dfD4A7FC0Df0614 has been on a CryptoPunk and BAYC shopping spree over the last 24 hours. This costly shopping spree consisted of five BAYCs and three CryptoPunks with the addition of a CloneX and an Azuki. When it was all said and done, the total came to around 718.88 ETH, or $1.13 million. Snapshots via NFTGo.io:

General News