Zilliqa started in 2017, making it one of the oldest Layer 1 blockchains. It is less known than some other prominent blockchains, but it is consistently in the top 100 ranked cryptocurrencies by market capitalization. They were also the first ever blockchain to introduce the idea of "sharding" – a mechanism used as a foundation for scaling ETH 2.0 today.
Recently the Zilliqa team has decided to venture into the world of NFTs and the metaverse by developing their virtual world called Metapolis. They are trying to make it into one of the biggest metaverses out there and have put in place an A-tier team and a lot of effort to achieve this goal.
The core team consists of 4 Co-Founders:
Mohan Kuldeep Ponnada (CEO) has over 15 years of expertise in the field, having co-founded several technology enterprises, including Unixell, Autohona, and Varaha.
Rama Krishna Kattekola (COO) is an operations expert with over 12 years of experience building scalable, operational, and pan-organizational reporting & efficiency processes for CXOs of Fortune 500 companies.
Max Kantelia (Chairman) is an entrepreneur and action leader with over 25 years of experience in various startup tech and financial services companies in London, New York, and Singapore.
Sandra Helou (Head of Metaverse and NFT department) comes from a multidisciplinary background spanning traditional and digital industries. She works on growth, partnerships, strategy, and conceptualization.
Metapolis partnerships include Agora, DeMons, Ninjas In Pyjamas, MAD Lions, and the Zilliqa blockchain itself. Their roadmap is fundamental and extends into Q1 of 2023, with aims to launch a marketplace, integrate VR experiences and add a multichain wallet app.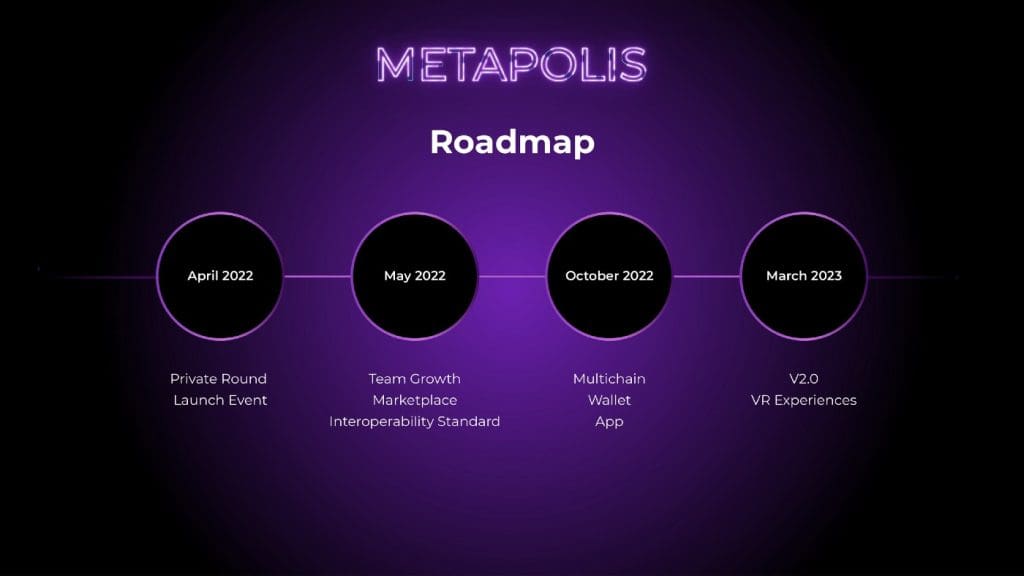 Metaverse
Metapolis will be structured to allow brands and clients to effortlessly integrate their content into the metaverse. The team has built multiple cities for clients, including top esports teams and luxury brands. The project also focuses on interoperability between different content creators, making it easy for users to move to and from cities within Metapolis, even though they will be themed differently.
Metapolis is designed to be a Metaverse-as-a-Service-Platform (MaaS), allowing the organization to develop and strengthen its presence in a 3D virtual world through support, collaboration, various investments, and business processes.
The metaverse is being developed using Unity, Unreal Engine, and Nvidia Omniverse, making their potential for clean high-tier polished graphics very high. Besides that, little is known about the land plots, how many there will be, their rarity, or their attributes.
But in terms of gameplay, Metapolis will have it all. Some key features of their metaverse include:
E-commerce bridges the gap between physical and digital stores, allowing other brands to build inside the Metapolis metaverse.
Customizable avatar creation.
A virtual world where players can socialize, network, and participate in minigame activities.
Play-to-earn gaming.
A decentralized marketplace with "meta real estate," land plots, and cosmetics where users will be able to buy and sell in-game assets as NFTs.
A mechanism that allows land owners to advertise their (or someone else's content) to earn passive income.
Portals within the metaverse to enable easy travel
Events, Expos, and Live Shows.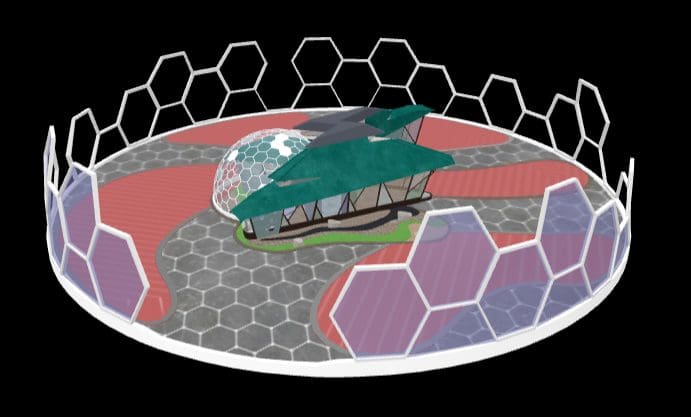 Closing Thoughts
Not every day do we see a metaverse being built officially backed by an entire blockchain. This ensures excellent funding and a professional team with years of experience. Things must be executed perfectly to retain an excellent overall reputation in crypto and NFT. And this is precisely what Metapolis is doing.
The Zilliqa blockchain is known for its security and scalability, so the fees will not be as big a problem on their network as they would be on Ethereum. That's a significant advantage right off the bat. The downside, on the other hand, is that Zilliqa did not manage to reach such high levels of mass adoption as Ethereum did, and this poses a problem from a user-base standpoint. Even if they tend to create the best metaverse that is visually stunning, has engaging content, and is secure and scalable – it's all for nothing if they do not manage to attract actual users down the line. We shall see.