Next Earth is a land ownership metaverse developed on the Polygon network with land tiles mapped to the Earth's surface. Essentially, you can purchase land from anywhere in the world.
The team behind the project is from Hungary. Gabor Retfalvi, a serial entrepreneur with experience building and managing successful businesses, is the Co-Founder and CEO. He is also the founder and CEO of Exit The Room, the market leader escape room chain with 80+ games in over 20 cities across five countries, and Alkotas Utca, the leading sip and paint company in Hungary. The other Co-Founder and Lead Architect are Attila Kiraly, a mathematician and full-stack engineer with 16 years of experience. Additionally, 40 more team members and around 20 more positions are open.
They believe that ownership of digital assets will be a central aspect of humanity's future and that the concept of "ownership" goes way beyond having your name in a contract. With ownership comes the opportunity to build, collaborate, and turn your land into more than the sum of its parts. Thus, Next Earth aims to be the ultimate "platform-as-a-service" for individuals and businesses at every level to enter the metaverse. They aim to attract a broad audience ranging from individual investors and creators to startups or even legacy businesses looking to expand digitally.
This project is also heavily focused on Earth's environmental charities. Therefore 10% of all land purchases will go to the charity pool. So far, they have donated over 1 million dollars to organizations such as Amazon Watch, Kiss the Ground, and Sea Turtles.
Land Plots
The core building block of the Next Earth Ecosystem is the land tile. Each tile is an NFT that can be purchased, sold, staked, and developed as the user sees fit. These tiles, as mentioned above, are pieces of the actual Earth's surface, separated into a grid by individual chunks – each of them being 10×10 meters in size.
There are three types of land tiles: Water, Urban, and Non-urban, and each of them is important, depending on how the user wants to utilize their attributes.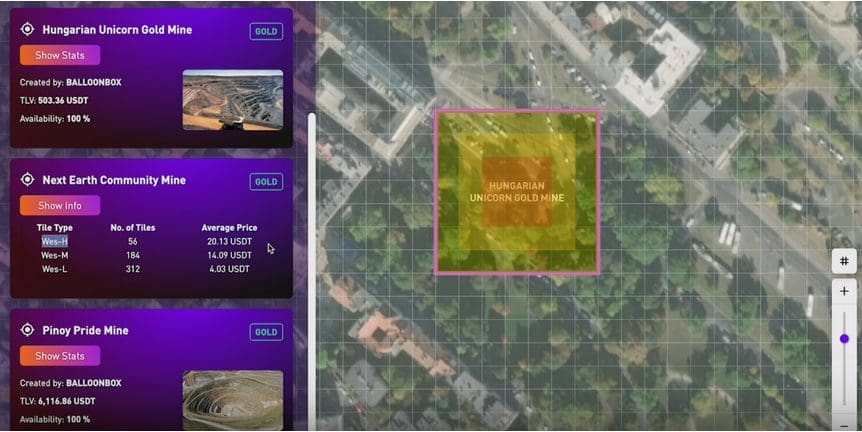 Water is the most abundant type of tile. They are best for yield farming and creating Land Art since they are plentiful and relatively inexpensive. They also contain resources.
Non-urban plots contain resources and are much more flexible. Besides building structures on them, they can be converted into "Land Art." These lands are vital to the Net Earth's ecosystem and will be the center of business and shopping.
Urban plots contain fewer resources but have the added benefit of name recognition. The Next Earth team has implemented something called the "Points of Interest" feature that highlights these areas, and 80-90% of these Points are located on the urban tiles, providing holders with special bonuses. Urban tiles can not be converted into Land Art.
Once you own a plot of land, you can also split it. Or, if you own multiple, merge them into one.
Token
The native currency of Next Earth's ecosystem is called $NXTT. It is an ERC-20 token built on the Polygon network with a maximum supply of 60 billion tokens.
The team believes that having a customized, native token will make it easier to establish a vibrant economy and create a fully operational DAO while simultaneously expanding their contributions to environmental charities.
The token has all the functionalities common to other metaverses – it can be staked for passive yield and used for land purchases and all other transactions within Next Earth. A portion of Next Earth Platform fees will go into a reward pool managed by an intelligent contract independent of Next Earth's control, effectively distributing power to the DAO.
You can view a more in-detail explanation of their tokenomics on the official website, but here is a brief rundown:
22.5% dedicated to IT development
20% goes to the team
16.5% will be used for marketing
14% for business and development
12.5% is reserved for launchpad support
5% was sold in a public sale
6% will be provided for liquidity
3.5% for any potential legal matters