CardanoCity is an NFT land project that was started in 2021. The project is somewhat shrouded in mystery, and there isn't as much information as other metaverse land projects. The team describes their metaverse as an "immersive virtual experience where users can build, customize, trade and explore their houses, the city and dive into various virtual activities."
Mikka, a girl that lives inside Cardano City, is at the center of this project's lore, and members are introduced to her on their journey.
The core team consists of a Software Developer, Computer Programmer, Web Developer, Social Media Manager, Digital Artist, Graphic Designer, and 3D Artist, but all are anonymous. There are plans to expand the team.
The founders have also yet to release a roadmap and have stated they have not done so to avoid missing deadlines.
They have assured holders that things are being developed fast in the background.
The project is on the smaller side regarding social media following and holder count. They post progress updates and art sneak peeks on their Discord and Twitter. 
Land Plots
In the CardanoCity project, the land plots are represented by UNITS, or apartments. Each of them is a separate NFT on the Cardano blockchain.
These apartment UNITS in the collection have been sorted into different rarity groups depending on what items one can find inside them. The unit number is a rough correlation to the rarity of the unit. The units can have up to 49 articles total in the unit. There is also a community-built tool to analyze the value of one's holdings.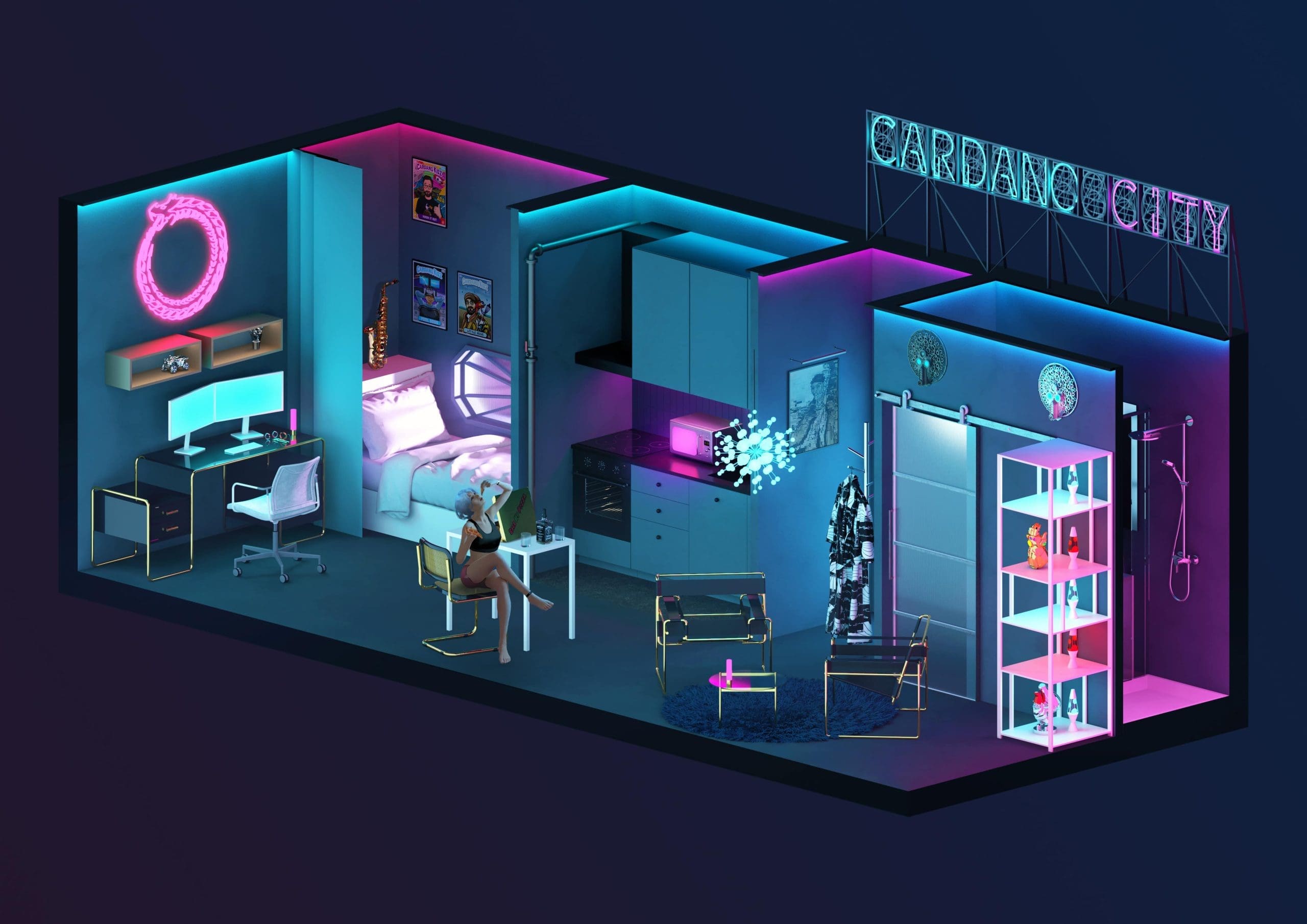 Below you can see their rarity table for specific items:
There will be 50,000 NFTs available once the collection is entirely sold out. Right now, the mint is still in progress, with about half of them already sold. Their NFTs have an additional rarity component; the number of items in each apartment also influences the rarity. These items can be seen in the picture of an NFT itself as well as in its description. 
Some of the rarest pieces in the collection sold for thousands of ADA.
The mint went live on September 5th, 2021, for the price of 10 ADA per one UNIT and reached a peak of 60 ADA sometime after. Since then, the hype has subsided, and these NFTs are now at a floor of 35 ADA. 
There are just slightly less than 5000 unique holders in a 23,000 NFT collection, which essentially means that, on average, every investor holds at least 4 NFTs. If we take a closer look at the current holder breakdown provided by opencnft.io, we see that only one whale wallet holds more than 1,000 NFTs, and only 17 others have more than 100. The number of wallets with just one UNIT is relatively high, around 2,400.
Closing Thoughts
I like this futuristic cyberpunk-themed art style. You can see that the developers have put a lot of work and attention to detail into this collection.
Admittedly, other than excellent art, this project doesn't have much else going for it now.  
But what I like about these smaller collections on Cardano is that they are cheap. So even with an anonymous team, low social media recognition, no roadmap, and huge set size, this project still represents an excellent risk-to-reward ratio for the upside since you can get your own living space for just $20. This means a low entry barrier for many newcomers who want to start their NFT journey.