On 4 September, Cardano became the most profitable crypto on the market, according to CoinmarketCap's top rankings. Cardano's upcoming Vasil Hard Fork has investors excited and likely explains the surge in price. Analysts are speculating Cardano is on the verge of a breakout that will give the cryptocurrency a solid foothold at the top of the market.
Market Sentiment
Cardano's ADA is seeing more trading activity after a few weeks of relative inactivity and underperformance. Also, whales are showing some interest in cryptocurrency today after staying away from it for a few weeks. The market's renewed enthusiasm for ADA reflects the Cardano community's rising excitement, primarily as Vasil draws near. In only two days, ADA rose by approximately 10%. The increase was highlighted after the official date was revealed.
A noticeable rise in ADA whale transaction numbers was also seen in the preceding days. They are demonstrating that whales are keeping up with the news. If this pattern persists, it may indicate additional upside potential and a potential sell-off after launch to take profits.
The Vasil Hard Fork
The Vasil Fork upgrade coming in September aims to improve network capacity and lower transaction costs. Initially, the Vasil hard fork was expected to launch in June 2022 and was delayed because of Terra's collapse and the harsh market conditions. Cardano has implemented several hard fork events – such as the Mary hard fork, which allowed developers to create native tokens or migrate existing projects to Cardano.
Price Action
Upon confirming the upgrade date, Cardano quickly saw a positive market response. A day before the announcement, its velocity metric experienced its most significant increase in the previous 30 days. The overall price remains at one of its lowest levels, facing an approximately 80% correction from last all-time highs. However, it is essential to remember that investors in 2017 bought the cryptocurrency around a price of $0.026, meaning the current price still leaves those investors with a roughly 1,900% profit.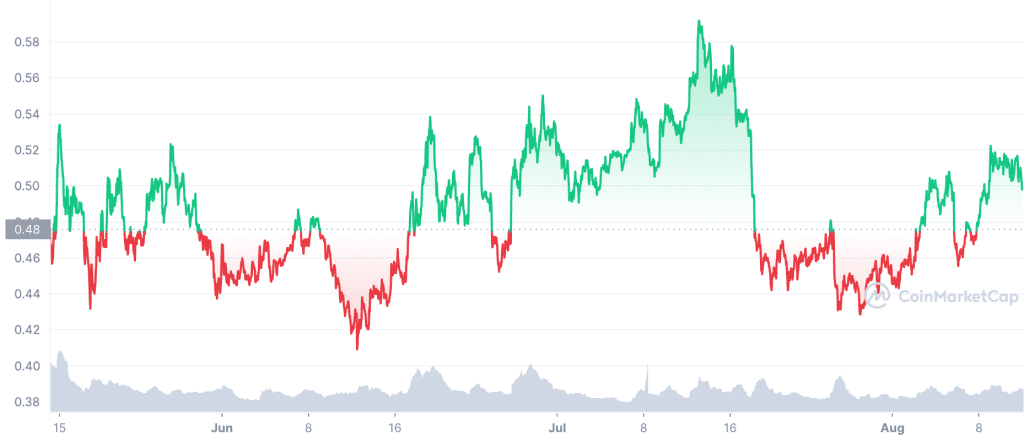 Cardano's price action appears to be attempting to surpass the 50-day moving average, which serves as a barrier for assets moving in a downward trend. Despite moving in a protracted downtrend, ADA continually tests local resistance levels. The next resistance level, almost $0.7 and corresponds to the 200-day moving average, will be reached by ADA if this barrier is broken. The confirmation of a significant network upgrade is the information that leads to price breakouts ramping up to an important event.
Additionally, on the confirmation day of the official update date, ADA's social mentions and social media volume also surged to new 30-day highs. This announcement appears to be driving attention from the investor community, notably from whales.
Investor Concerns
Many ADA investors still express concern over the direction of the asset's price. One year has passed between this new upgrade and the Alonzo upgrade, which introduced smart contracts to the Cardano blockchain. Contrary to predictions, its price started declining after last year's upgrade. Some investors speculate that a similar trend could occur after the Vasil upgrade.
Conclusion
Previously, the Alonzo upgrade happened when the price of ADA was at an all-time high. The price was already facing a price resistance barrier, preventing continued price growth. In the current scenario, ADA is 83% cheaper than it was a year ago and had seemingly more room for positive price action.