In late 2021 the Wolf Game took the NFT space by storm with an innovative risk protocol that allows holders of their NFTs to experience a gamified environment on-chain. The game was developed in such a way that it shows what kind of interactions are possible between the ERC-20 and ERC-721 protocols. In this way, Wolf Game unites the elements from the world of NFTs with DeFi's yield farming principles as holders of the NFTs (ERC-721) from the Wolf Game collection try to gain as much $WOOL (ERC-20) as possible.
It was a revolutionary idea back then, as the interaction between fungible and non-fungible protocols on Ethereum was just being explored. The Wolf Game became so popular that people started to create their version by just copy-pasting the source code and gameplay mechanism with changed names and characters. Some copycat projects are:
Wizards and Dragons
Rabbits and Foxes
Bear Game NFT
Hammie Game
Gold Hunt Game
At their peak, the Wolf Game NFTs were trading for more than 4 ETH for a sheep and as high as 8 ETH for a wolf (which was more than $30.000 back then) until a bug was discovered, resulting in price loss and a migration to a different smart contract.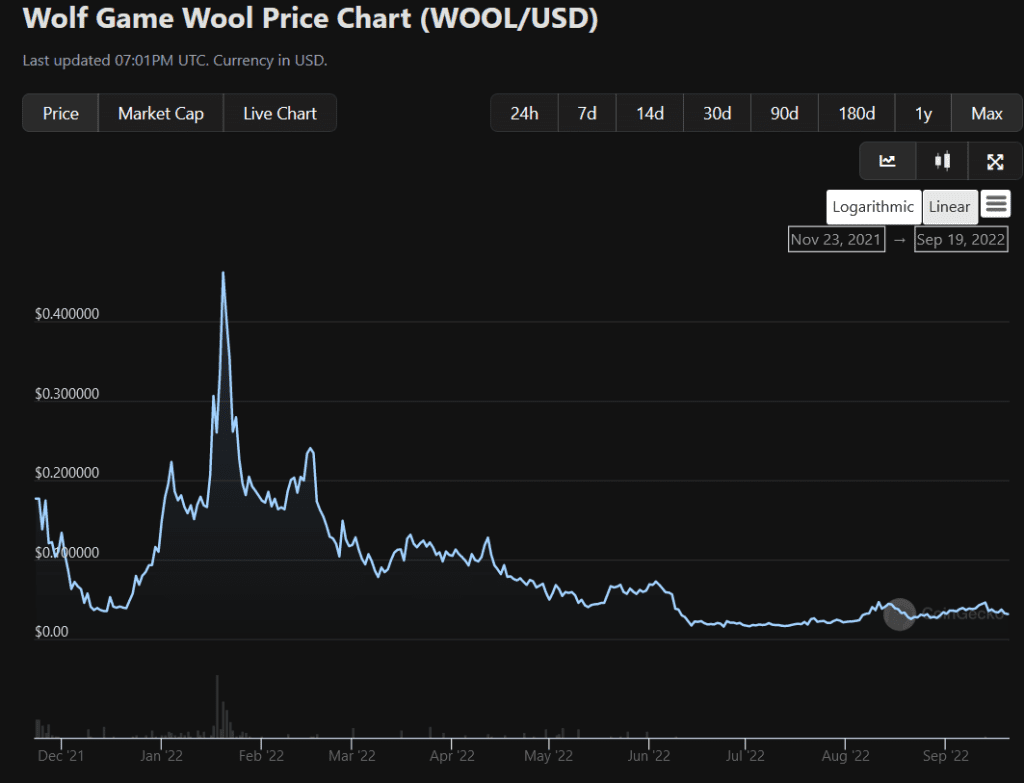 These past few weeks, the Wolf Game ecosystem has been back in the forefront, consistently trading in the top 25 by volume on OpenSea.
Gameplay
The game rules are simple. There are two types of NFTs in the primary collection: Sheep (90% of the collection) and Wolf (the other 10%). Sheep can earn up to 10.000 $WOOL tokens per day by staking sheep in a barn. By "shearing" the sheep, 80% of the accumulated tokens are given to holders of sheep NFT, and Wolves take a 20% tax. These $WOOL tokens are then used to mint new NFTs from the collection, but there is a caveat. Holders of Wolf NFTs have a 10% chance of stealing newly minted NFTs, and when a sheep is unstacked, there is a 50% chance that all of the accumulated $WOOL will be stolen by a wolf.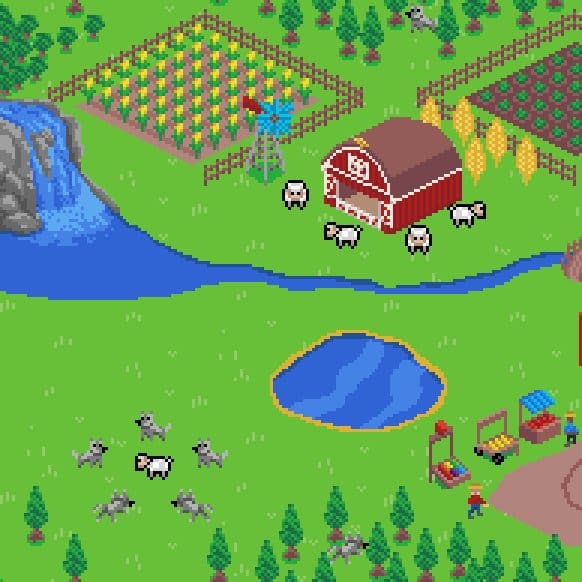 This creates an interesting dynamic between the NFTs and $WOOL tokens. Players can choose not to shear the sheep and let the tokens accumulate, then try and get away with the $WOOL by leaving the barn (staking), resulting in no taxes being paid out to wolves, but the sheep holders temporarily give up their token yield. Or they can choose to play it safe and regularly shear.
The latest addition to the Wolf Game ecosystem is Genesis Lands.
Land Plots
The land plots within Wolf Game are a finite resource – only 20.000 genesis land plots will ever exist. Half of them were dutch-auctioned to the public with a starting price of 0.69420 ETH, and the other half were claimable by Gen 0 sheep and wolf holders.
The existing floor is now hoovering just slightly above 0.3 ETH, which is not bad for the current market conditions.
These land plots differ in rarity by various attributes, such as Grass, Stone, Water, and Wood. These parameters affect the perceived value and, thus, its floor price. A land plot can also have structures on it, but this is incredibly rare – only 2427 land plots out of 20.000 have it. More utility for these land plots will be released, with the upcoming game scheduled to go live sometime in 2022.

Besides Gen 0 NFTs (Wolves and Sheep) and land plots, some Farmers can be minted for 10.000 $WOOL tokens and can be assigned on a land plot to assist in managing and producing resources.
Closing Thoughts
Between all spinoffs, this is just about the only game of this kind that stood the test of time and immortalized its presence in the NFT space. It is safe to assume the team will likely continue to innovate the NFT space as time goes on. A few celebrities also endorsed the Wolf Game at the beginning, most notably Beanie, Cole, and Gary V.
It will be interesting to see what the new game mechanics bring to the table when the game goes live and how their metaverse lands will tie into all the existing functionality of their other NFTs in the ecosystem.