General Overview
This Thing of Ours is a membership and utility-based NFT project focusing primarily on gaming NFTs. The founder is Jonny, better known as Hustlepedia on his YouTube channel with over 60.000 subscribers. His vision is to create an asset-backed crypto gaming hub for builders, investors, and gamers.
The project was in the making for more than seven months before the mint day, with many devoted web3 gaming enthusiasts building and sharing ideas to increase the use cases of owning one of TToO NFTs.
In one of his videos, Jonny elaborates on how the name for the project was chosen. Because cryptocurrencies and NFTs are not viewed as traditional investments by the majority of the population, and gaming is just one aspect within the space, he describes crypto gaming as "a niche within a niche," and thus, he thinks of it as something that is "truly ours." 
This investment attracts a particular audience, and web3 gaming is undoubtedly in an infant stage of development. Currently, the entire market share of gaming cryptocurrencies is smaller than some altcoins, meaning that it is up for grabs for those who want to build the metaverse.
The NFT Collection
There are currently 2000 NFTs available for purchase on secondary markets such as OpenSea and LooksRare. There are two types of rarity: 1700 Soldiers with a floor price of 0.3 ETH and 300 Capos with a floor price of 1.4 ETH. Naturally, Capo's have extra benefits and utility.
The whitelist-only mint went live on the 31st of August for an affordable price of 250 USDC (the mint was in $USDC only) for those that have been whitelisted through participating in their discord in the days leading up to the mint.
The collection minted out very fast. This Thing of Ours NFTs was trading at 2x of the mint price right off the bat and even skyrocketed to an ATH of 1.5 ETH in the following week with a massive volume surge, rewarding minters quite nicely. The price has since stabilized in the 0.3 – 0.5 ETH range.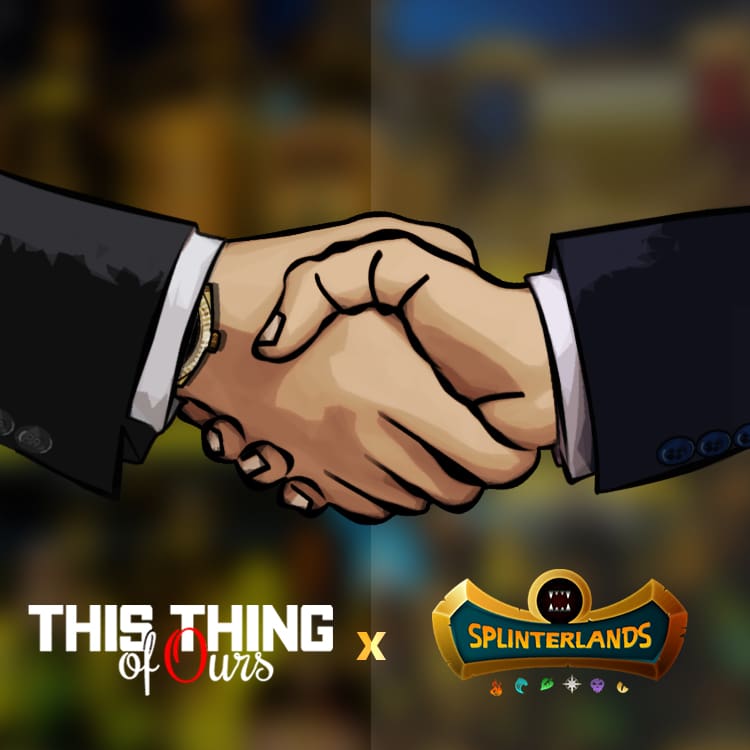 Even before the collection was launched, Hustlepedia utilized his connections in the NFT space to form strong partnerships with already established projects in the gaming NFT space, thus positioning the TToO NFT collection at the very forefront of the web3 gaming industry. Some of these partnerships include:
My Pet Hooligan
Shrapnel
Collider Craftsworks, 
The Round Table, 
Clementine's Nightmare 
Splintershards
Non-Fungible Arcade
Utility
Below are a few key membership benefits that holders will have access to:
Weekly crypto market overviews
Exclusive gaming reports and update videos on gaming NFTs
A DAO structure where holders will be able to vote on the treasury decisions
A rental system for high-priced gaming NFTs
Rewards from assets with passive yield (staking from coins, airdrops from NFTs, etc..)
Transparent and detailed breakdowns on which coins and NFTs Jonny is allocating his coins and when he is taking profits
Networking with others from DeFi, metaverse gaming, and real estate
Private AMA sessions with TToO founders and other project leaders 
Gaming tournaments with prices for winners
Additionally, the team stated that 50% of funds raised from the mint would go straight to the treasury wallet, where the money would be used for the benefit of the community. A few days ago, they bought 10 My Pet Hooligan NFTs for the community wallet. The other 50% goes towards game development (a mafia minigame and others).
Holders of TToO NFTs will have early access to some of the games being developed by these partnership NFT sets while they are still in their alpha or beta versions and before they are released to the public. 
Closing thoughts:
Selling out in full in a bear market is not easy, let alone maintaining a reasonable price in the following weeks. While the community is not as large, it is composed of very eager and loyal members passionate about everything web3. Jonny was much more active on his YouTube channel back in 2021. He provided clear and concise market overviews and updates, elaborate deep dives on the minted projects, and was on top of the market with regular quality content.
You can think of this as a more affordable version of NeoTokyo. The main difference is the emphasis on the networking aspect. NeoTokyo is more focused on building relationships between holders. In contrast, TToO is tailored more towards actual gamers who would like to participate in web3 games and want to utilize the services of TToO NFTs.