In September, goblintown.wtf – a previously popular NFT collection, lost the high floor they've held for months. Goblins are trading just slightly below that key psychological barrier of 1 ETH but with no signs of a decisive breakthrough.
The fan-favorite NFT collection pioneered the free mint meta back in late May of 2022 and took the NFT world by storm with grotesque art that is somehow both appalling and likable at the same time. Many jumped on the bandwagon of their enticing pitch and slogan, "No discord, free mint, no roadmap, CC0", which was revolutionary for the NFT space back then. It was just a collection that popped out of nowhere and climbed to heights many did not believe were possible, surpassing even some groups considered blue chips.
But a joke can only be funny for a long until people wear it out. Let us take a closer look at where goblins are today and what contributed to their downfall.
A steady decline in value
Back then, holding one of these memes, NFTs, was very appealing. The market was already in a noticeable downtrend, allowing for a term called "goblintown," – which is commonly attributed to a declining market state, to flourish. Goblintown.wtf seized that vibe and made it their own. They had the perfect pitch for their project and the circumstances in the broader market conditions for the idea they represented, siphoning even more liquidity from an already deteriorating NFT market.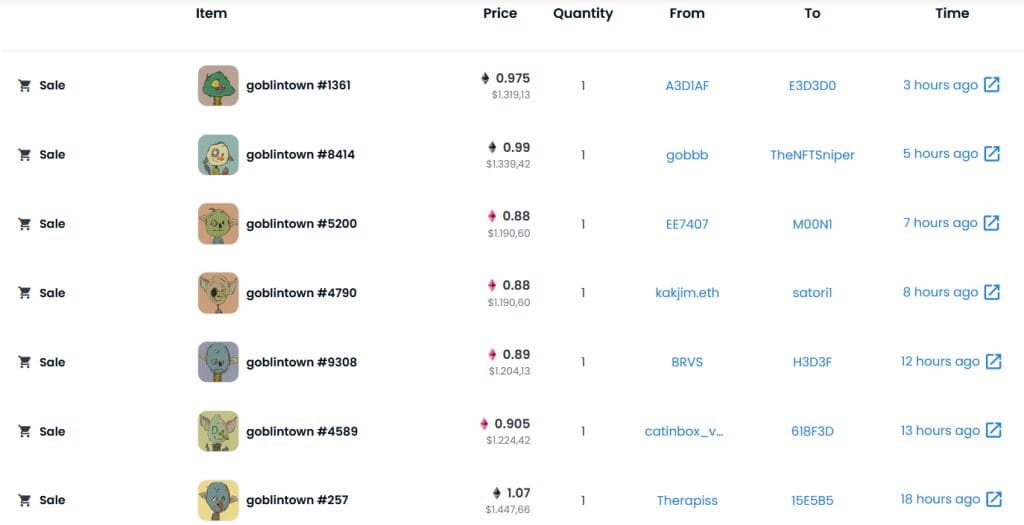 But then all the hype somewhat faded, and the initial strategy that worked well in their favor started to work against them. With no Discord, roadmap, or a strong sense of community, people did not have anything tangible to fall back on.
At their peak on 2nd July 2022, goblins reached a value of almost 8 ETH per single NFT. But since then, they have been going down in value quite consistently. The floor now sits at a loss of more than 80% in its ETH evaluation and even more in the USD peg.  

Reasons for the fall
When discussing what went wrong, some people will bring up the good old "Aoki Curse" that brought many other NFT collections to their knees in the past. You can read more about this curse in the links below, but in short, the fact that Steve Aoki bought the top did not work in their favor, and many attribute this price action to the curse. Others, of course, do not think much of it and shrug it off as just a coincidence. This contributed to the price decrease but is probably not the sole reason.
At their core, goblins were meant to parody the whole NFT space. This was achieved by the attitude towards the entire space, their unique art style, and the shift in meta by making the collection accessible to mint. The mystery around it was also appealing; it had no clear direction, and no promises were made in a roadmap. An anonymous team further exacerbated this.
Later down the line, however, instead of maintaining their status as a collection that goes against all the seriousness of other NFT collections through a fun, unique, and intentionally sour art style, they became just like the rest. With their last few airdrops and updates, they tried to deliver something meaningful and of value to their holders, but in the process, they detached from what they were about in the first place.
Now that the joke is over and the NFT bear market is very much confirmed, goblins are not funny anymore. The hype faded. The meme value of the collection, which was the main reason for the high floor, is now diminished.
What's next for goblintown.wtf?
After goblintown.wtf, two more collections sprung out in their ecosystem – burgers and grumpls. It is clear that just endlessly pumping out free airdrops to holders is not going to cut it anymore, and unless they change their strategy to stay relevant, the floor price may keep declining.
Today, many still see them as a promising investment since they have amassed a large following. After all, they are the collection that brought back the free-mint meta and popularized it. Many other projects tried to copy their style by creating spin-offs, copycats, and other projects with similar art styles. Although the opportunity to get rich by investing in goblintown.wtf might have passed, this set will likely stick around for some time since it is harder to forget a good meme than it is to undercut the floor.