Most cryptocurrencies flashed green in the early trading sessions on Wednesday, with Bitcoin trading just above $20,000. Many analysts believe BTC price still faces stiff barriers that must be overcome to confirm recovery. The overall cryptocurrency market capitalization has crossed the $960 billion mark after rising 2% in the past 24 hours.
Bitcoin's price is up 2.7% in the last 24 hours and approximately 7.23% over the past week. Its market capitalization is back above $385 billion after rising 2.75% daily with a daily trading volume of over $36 billion, which has also leaped 23.4% over the same period. Can the flagship cryptocurrency hold above $20,000? Let's find out.
Soaring Trading Volume
Historical data from CoinMarketCap shows that Bitcoin's trading volume has increased steadily over the past three months. Increasing trading volume suggests that investors are continuously interested in the big crypto as interest in other top-cap cryptocurrencies declines.
This was corroborated by data from Santiment, an on-chain data, and marker behavior analysis firm. The firm posted the following chart on Twitter, saying BTC's "trading volume has steadily risen since mid-June, while other top cap assets are declining." According to the data analysis firm, traders are beginning to turn to Bitcoin as a "relative haven" during increasing inflation and interest rates.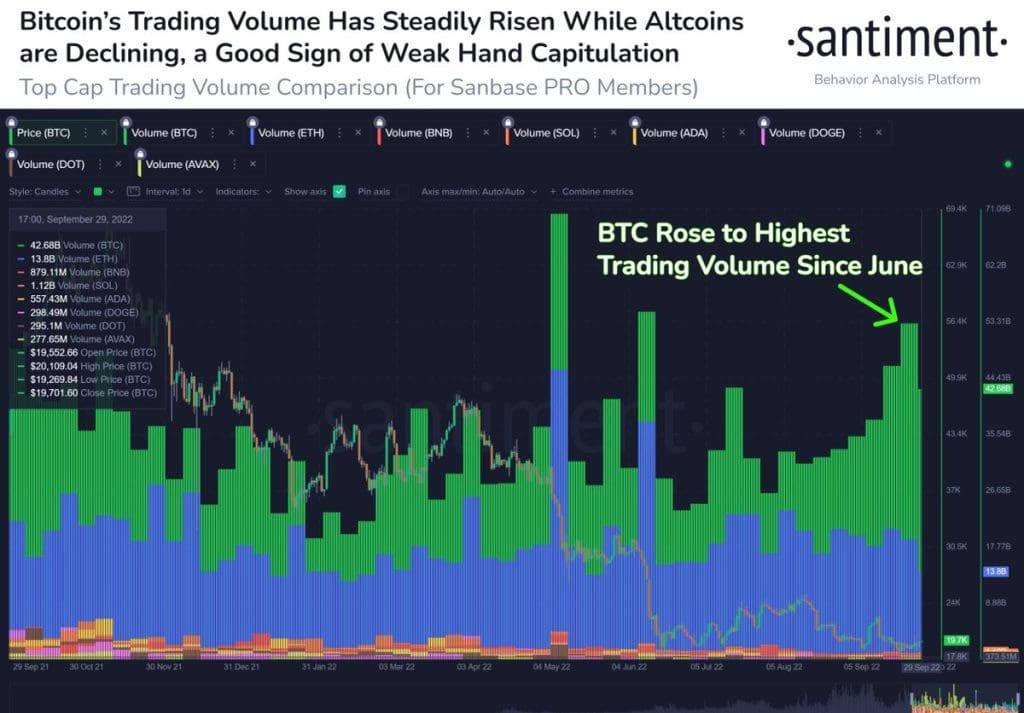 According to the chart, Bitcoin's trading volume rose to its highest level since June to $42.68 billion on September 29. A look at data from CoinMarketCap reveals that this jumped to approximately $44 billion on September 30 before sliding to $18 billion on October 1. However, the pioneer cryptocurrency has displayed strength over the past few days, with the daily trading volume steadily rising from October 1 to above $36 billion.
Santiment's analysts also observed that as BTC rose concerning trading volumes, the other altcoins declined, which according to the behavior analysis platform, is a "good sign of weak hand capitulation." This bullish sign indicates that BTC might hold above the $20,000 psychological level and start a sustained uptrend.
BTC Moves Outs Of Exchanges
Even with the crypto market subdued, BTC is enjoying healthy support from holders who refuse to offload and instead choose to move it off exchanges.
According to on-chain data from Santiment, BTC exchange outflows are rising fast as we enter quarter 4 (Q4/2022). Commenting on a chart posted on Twitter on October 2, the firm said 34,723 BTC were moved off exchanges on September 30. This indicated that trader confidence in the bellwether cryptocurrency is increasing as we move into Q4/2022.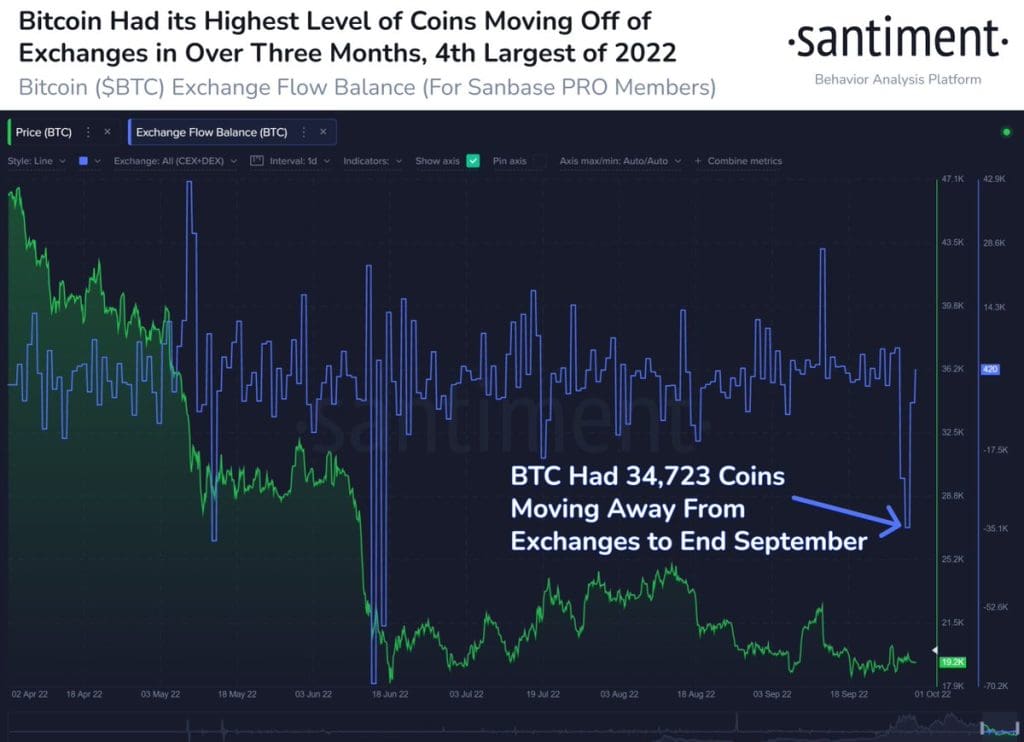 It would be remembered that the last time such a high amount of Bitcoins left exchanges was in June this year, and the price went on to rise 22% in the next four weeks. If history repeats itself, we could see Bitcoin rise above $24,500 by the end of October.
In a nutshell, based on the on-chain data, trading volumes are surging as exchange outflows increase. Although it might be too early, it could be a bullish sign for BTC holders as more people want to hold the cryptocurrency rather than use it.