The Forgotten Runiverse is a metaverse land project that aims to innovate the NFT gaming space by introducing a create-to-earn mechanism. The game will be a vast, free-to-play, pixel art MMORPG. It is inspired by the Forgotten Runes Wizard's Cult IP – a collection of 10,000 NFT wizards. In the Runiverse, players will band together to form guilds, be able to participate in PvE expeditions, or engage in monthly PvP leagues.
For the ones that desire a more peaceful approach, there is an option of exploring the vast world and crafting various items by gathering resources from all over the map. Almost everything in the game will be made into NFTs on the Ethereum blockchain, so players can claim true ownership of resources, items, and even areas of the world by minting them.
The final goal is to make The Forgotten Runiverse the most magical metaverse on Web3 that is open to everyone, even those that do not hold a Forgotten Runes Wizard NFT. The key difference between this project and many others is that players can mint the in-game assets they worked on after they polished them to perfection.
Land Plots
The entire world of Runiverse will be comprised of diverse landscapes ranging from forests, deserts, mountains, swamps, and more. In total, there will be 70.000 plots of land available for players to explore and build on, spanning 180 square kilometers.
Each land parcel will be unique, possess its own distribution of resources, and will be tradeable on secondary markets. Holders of these NFTs will be able to improve and use them for harvesting, crafting, or renting out to other players.
The Forgotten Runiverse is about utility and resources. The larger the land parcel is, the more resources and earnings holders can yield. There will be five different plot sizes available:
Homesteads (8×8) are the smallest but still offer the perfect space to build a house for a Wizard.
Settlements (16×16) are reserved for Wizards that want a larger house with more space to stretch their legs.
Villages (32×32), designed for Wizards that want to build their own community. They are big enough for a Wizard to afford a guild hall where they can host gatherings, design multiple buildings, or rent out smaller 8X8 plots to other players.
Towns (64×64) are for those looking to offer the wayward travelers of the Runiverse a place to buy, sell, trade, relax with friends, and seek entertainment, such as Wizard-themed poetry nights.
Cities (128×128) will be the most extensive available land plot in the Runiverse, big enough to create a fully functioning city. Holders of these huge land plots will be able to invite players over for concerts, open shops, host an event, open an art gallery, and have a commercial district where Wizards from around the world can come to shop and play.
These land plots will be customizable, meaning holders are only limited by their imagination. They can choose from a vast array of building types, then upgrade and customize the buildings with crafted decorations.
Lastly, six pre-established urban centers and seven cities will serve as key gathering areas for community events, hubs for commerce, and community gatherings.
Gameplay
Forgotten Runiverse will be supported by on-chain elements that empower players to create and mint their own custom NFTs. It features a blockchain-native economy where everything is created by players, thus introducing the notion of "create-to-earn."
The game is designed in a way where every item is an NFT, and every resource is a token. Some examples include houses, art, land plots, weapons, and armor, which range in rarity from common to legendary, influencing the cosmetic appearance and quality of crafted items. Players will be able to gather them at gathering stations built on plots, resource nodes in the world, and rewards for defeating enemies. There are 50 key levels players can progress through, unlocking powerful abilities.
Even free-to-play can create an account, log onto our server and create a Wizard. Players that own a Wizard NFT will have access to exclusive visual effects and cosmetic items but no defining advantage or exclusive game content.
Some in-game features will include:
Building: Players can create structures like Gathering Stations, Mage Workshops, Forges, and Treasuries.
Passive Income Yield: Holders of land plot NFTs will earn money by renting land to homeowners and mercantile guilds.
Collecting Resources: Resources such as pine, oak, copper, quartz, limestone, flax, and cotton are used for crafting items, building houses, enchanting, and more.
Fighting: Players can participate in combat activities, such as group battles with friends or intense PvE and PvP encounters for epic loot.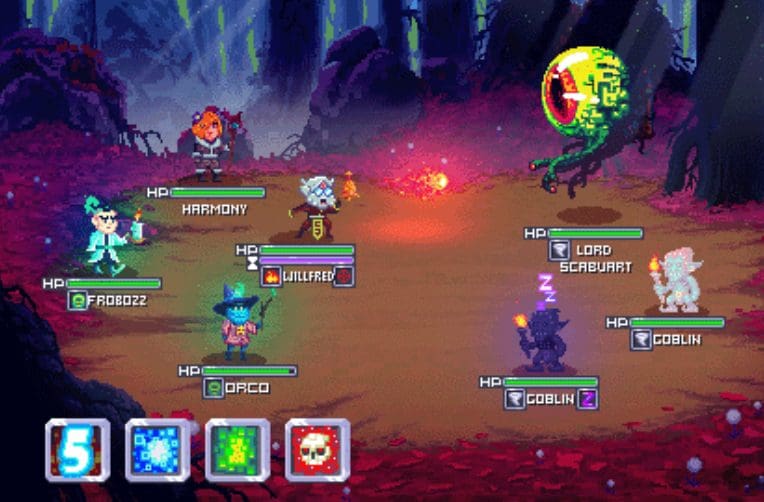 Role-playing and minigames. There will always be an option to socialize and relax after a battle by talking with your friends in a guildhall. Additionally, players can host events like a minigame night or a lore reading, collecting art, or building a gallery open to all.
Closing Thoughts
Create-to-earn seems like a promising prospect indeed. The only question is how well the execution part of this novel idea will be implemented. For this to work, they need to attract players that are willing to put in hours of work, so the most crucial factor will be the if the creators manage to attract a large enough player base for a thriving, lively community that will actively participate in the economy of the game.
Pixel art seems the way to go, and many similar projects have succeeded. It is easy to implement, leaves room for interoperability and ease of integration with other communities, and has a nostalgic feel for many players that grew up on similar games in the web2 era of gaming.