Luna Classic ("LUNC") recently made waves by jumping 70% from back in August due to its plans to "revive the ailing network." After the devasting price decline from the UST depeg, many lost hope in the project. Then, the Terra changed to LUNA Classic—"LUNC." With its staking and burning mechanism and assistance from outside groups, LUNC is successfully rising from the ashes.
From the Terra Chain to LUNA Classic
In May 2022, Terra Luna suffered a massive decline—one of the most "cataclysmic" in history—from about $93 to $0.000085. The cause of this decline was the depeg of the UST algorithmic token. As a result, the Terra Luna Foundation ("TLF") abandoned Terra Luna. Even worse, Terraform Labs founder Do Kwon has been marred with rumors that the allegations were a scam perpetrated by him from the project's inception.
These troubles with the Terra chain led founder Do Kwon to develop a proposal to fork the chain and create "Terra LUNA." Specifically, the proposal—the "Terra Ecosystem Revival Plan"—entailed strategies to revive the chain, pump its price, and promote investor trust. The community accepted.
The existing Terra chain was rebranded to LUNA Classic—"LUNC." Operating within the same Terra code, this new version has been given to the community for "development and governance."
How LUNA Classic Will Change the Game
LUNA Classic is adopting new measures to distance itself from its tragic past and give its future new hope. Two of these rebirthing measures involve new staking and token-burning features. Both are being undertaken in an effort "to win back investors."
The staking feature went live on August 27. LUNC's staking bot (@LuncStaking_Bot) showed 182 billion tokens that had been staked, which equates to about 2.6% of the supply. This means token holders increased their staking by 120% in only three days.
Also, the token burning mechanism is active and continues to increase scarcity. LUNC's Terra Burner Online shows a total of 3.4 billion LUNC tokens taken out of circulation and almost 320,000 burned today—September 3.
LUNA's Helpers
LUNC has had a healthy measure of support in reviving the crypto asset. These entities and individuals believe in the vision of LUNC and have placed their faith and full support in the crypto asset to restore it from its dreadful past and guide it into the future.
The U.K.-based exchange Y-5 has announced that it "will implement a tax burn of 1.2% on all Terra Luna Classic (LUNC) transactions conducted on its platform." Y-5 will then send these LUNC tokens weekly to "an inferno wallet address." The exchange added,
Y5 Crypto has recognized the opportunity to assist one of the most demoralized communities in the industry by implementing a burning tax on LUNC transactions on their platform.
Another helping hand came from a group of volunteers who call themselves Terra Rebels—(@TerraRebels). Terra Rebels have dedicated themselves to saving Luna Classic by "picking up the scattered pieces of the Luna Classic platform."
This group helped develop a new software (v21) upgrade for the LUNC token—which entailed the 1.2% tax to reduce total supply and re-establish the staking feature. These two features, as mentioned, were critical to the project's rejuvenation and "entire ecosystem."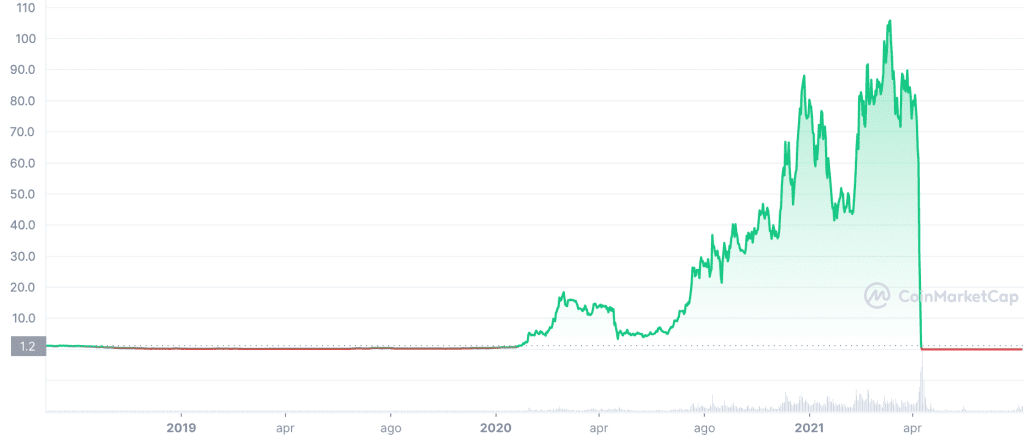 Next Steps for LUNA
LUNA Classic's ("LUNC") plans to revive its network continue to impact prices positively. Since August 26, LUNC reached an exponential $0.00031131—more than 2,400% gains. Its goal is to refine these plans to bring investors back and facilitate investor trust and enthusiasm.
LUNC has great potential, especially when the community looks at the past and sees its recovery's challenging yet successful. As a blog post describes it,
Conclusion
Terra Luna's devastating decline seems to be in the past. Terra's new chain rebranded as "LUNC,"—is a fresh start on the road to recovery and success. Already making massive waves, LUNA Classic is revamping its approach and vision to attract and reattract investors. Among its plans include staking and crypto burning features. Since August, these efforts are paying off, as LUNC sees incredible gains. Further, additional entities and individuals have sought to help the crypto asset.