Near is the 10th ranked smart contract platform by market cap. It launched in 2020, as did its competitors, Solana, Polkadot, and Avalanche. Its founders share an entrepreneur, industry, and computer science background in Wall Street and the companies Google and Microsoft. The Near Foundation is the non-profit foundation responsible for maintaining the protocol, funding, and governance, and the project's development is community-operated through cloud infrastructure.
How does it work?
The Near protocol is a sharded, layer-1, Proof-of-Stake (PoS) blockchain, which splits the database load horizontally. Near's unique sharding design is called Nightshade and differentiates itself from the typical approach because each shard produces its batch of data. Together with others, these batches create a single block. A single validator, called a leader, has each block and does so by assembling all the created chunks into a block. The leadership role rotates through the validators. Currently, a maximum of 100 validators are allowed to participate in block production, making it reasonably centralized.
Unique Features
Gas Fees: Under $0.01
Finality: Around 2.4 seconds
Doomslug: The protocol's new block production technique.
Nightshade: Improves transaction throughput through sharding.
Carbon Neutral Certification: Certified carbon neutral by the South Pole, which provides environmental services.
Transactions per second (TPS): Can go up to 100,000 TPS. It processes around 1,000 TPS per shard, and there are currently four live shards, which amounts to 4,000 TPS.
Interoperability: Achieved through the Aurora Ethereum Virtual Machine (EVM), built by the team, the Octopus Network, and other cross-chain solutions. Aurora allows Solidity-based code and forks to migrate to Near. The Rainbow Bridge allows ERC-20 token transfers to and from Ethereum.
Funding: It is one of the most funded protocols. Notable funding rounds this year include:
$350 million was raised in April 2022 to accelerate the decentralization of the network
$150 million was raised in January 2022 to accelerate mass adoption of Web3
Human-readable accounts: Intended to simplify remembering them.  
The NEAR token
The NEAR token is the network native token used to pay transaction fees, staking, acquire a validator seat, and in dApps. It hit an all-time high of $20.44 in January 2022 and can be traded, bought, and sold on Binance, Huobi Global, Mandala Exchange, FTX, and OKEx. The token has a market cap of around $3 billion and ranks in the 25th overall cryptocurrency position. NEAR can be stored on a hardware, web, or mobile wallet. The NEAR Web Wallet is generally recommended for users to interact with the protocol without requiring installation.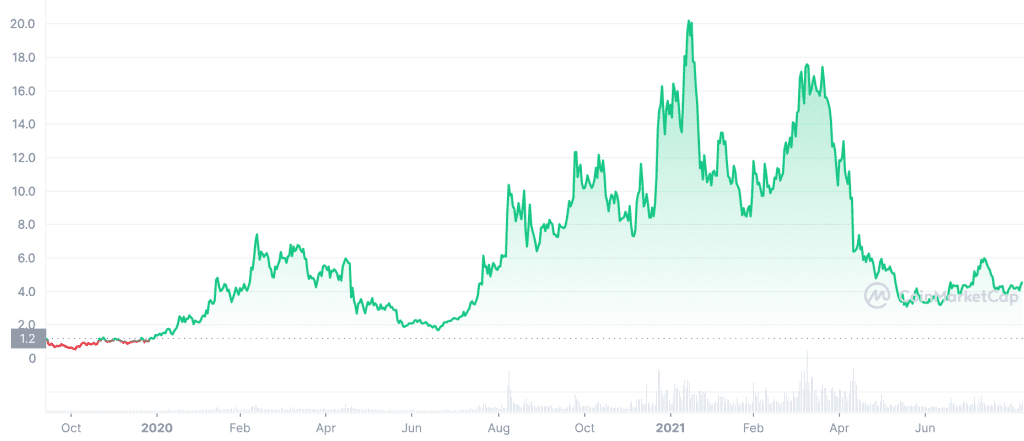 Ecosystem
The Near protocol has a total value locked (TVL) of approximately $85 million, which puts it in 14th place behind other smart contract chains. For perspective and comparison, Avalanche has around $1.7 billion, and Solana has approximately $1.4 billion.
There are currently 10 DeFi protocols on the chain, and around 750 active projects, which include several wallets (e.g., Metamask and Ledger), exchanges (e.g., Sushiswap and Curve Finance), oracles, launchpads, stablecoins, NFT marketplaces and more. There are over 18 million active accounts and around 400 thousand daily transactions.
Near's latest roadmap was uploaded in detail last June 2021, which states that the blockchain will be complete later this year.
Challenges & The Future
The Rust language: Solana and Polkadot also use the Rust coding language, which probably creates competition for the same pool of developers. In 2021, Solana saw a 5x increase and had approximately 900 active monthly developers. Near saw a 4x increase, with roughly 400 active developers per month. Eventually, it will be interesting to see who manages to create the most attractive environment for developers to work in.
Decentralization: Currently, there is a low validator number, and it costs upward of $500,000 to become one. Chunk-only producers will increase this number up to 200-300; these producers will validate one shard and will only require standard equipment. This was released to the testnet on August 15th.
US Exchanges: Binance US is the only US exchange for having listed Near. Does this influence institutional interest?
Competition: Eight other smart contract blockchains with higher market caps compete in the Ethereum-killer race. Will Near catch up to their market cap?