Polkadot co-founder Gavin Wood has stepped down from his role as CEO of blockchain infrastructure company Parity Technologies, the development company behind the Polkadot network. Reportedly, Wood decided of his own volition, citing that the executive position has limited his ability to pursue "eternal happiness."
Wood announces decision to step down
The news came after Wood's statement on Friday, October 11, announcing that it was never his desire to be the company's chief executive officer. In the announcement, Wood explained that fellow Parity Technologies co-founder Björn Wagner would take his place as the incumbent CEO. Citing Wood's statement on Twitter, he said:
"I'm happy to announce that Parity co-founder Björn Wagner will step up to the role of company CEO while I retain the title of Chief Architect."
Wood also articulated his intention to maintain his position as majority shareholder in the company while serving as chief architect to develop and promote the mass adoption of Web3 technology.
As chief architect, Wood strives to make "Polkadot and Web3 more relevant to large shrouds of the population." To do this, the parity executive committed to kick start the initiative by helping the community design and develop multiple chain-integrated social primitives expected to be an enabler to a functional Web3 platform.
Noteworthy, Wood ascended to the top position on a provisional basis while bearing full knowledge that it would not bring him 'lasting happiness."
"Anyone who has worked with me knows where my heart lies. I am a thinker, coder, designer, and architect. Like many such people, I work best asynchronously." Wood added.
According to Wood, constant availability is one of the fundamental qualities of a good CEO. The ideal principal would take pleasure in representing the company internally and externally. He added that the position requires no disturbance or interference from any binds of their time, including hold-ups in meetings and calls or a fully packed to-do list.
Effect of Wood's announcement on DOT price
Despite the news of Wood's descent from the apex position, DOT price has not recorded a severe hit.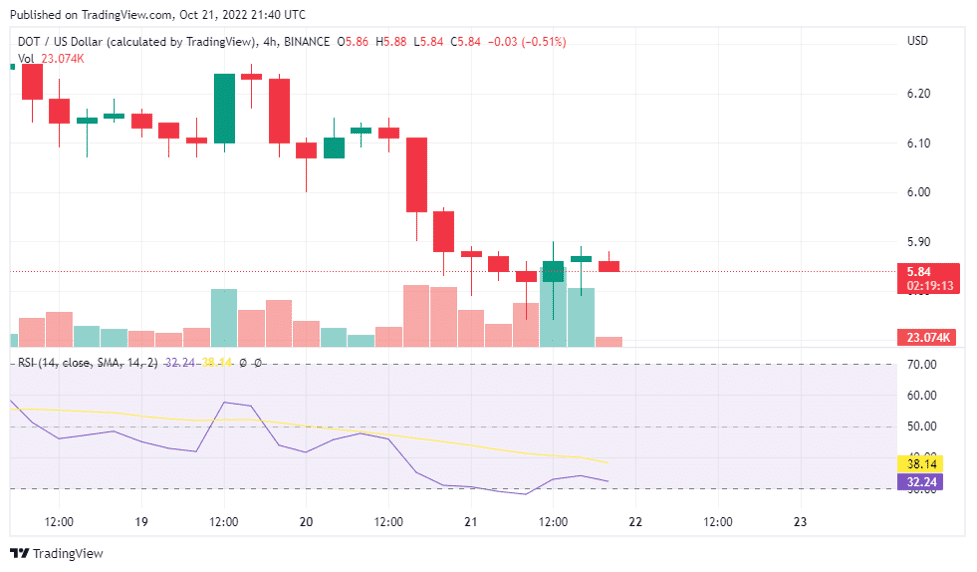 Most community members seem primarily unshaken by the news, an outcome hugely attributed to Wood's reassurance of continued commitment to building and expanding the network. Citing a Twitter user @realjameswo:
"Gavin Wood is one of the few founders who still write code after the huge success of the network launch. Parity has hundreds of excellent developers. These are why I am bullish on Polkadot. Regardless of Gavin's role, it doesn't matter at all."
However, $DOT is currently down by 0.3% in the last 24 hours. At press time, DOT is trading at $5.85 on CoinGecko.
Wood's journey from Ethereum to Polkadot
Gavin Wood, a British computer programmer, made a name for himself as an early Ethereum contributor offering valuable technical expertise during the network's early years in 2014. Before the network went live, he was the first developer to make an Ethereum testnet operational. He later published the Ethereum Yellow Paper, a technical explanation of Ethereum co-founder Vitalik Buterin's initial whitepaper.
Solidity, Ethereum's native programming language, is the brainchild of Wood, a concept he proposed before his appointment to serve as Ethereum Foundation's chief technology officer (CTO). Eventually, Wood started having disillusions with the centralized facets of Ethereum's operation, prompting his decision to establish Polkadot majorly as a corrective to Ethereum's weaknesses.
He masterminded Polkadot, a multichain network that allows developers to build upon their blockchain individually while linking the many sub-networks together as parachains. The project has garnered significant popularity, especially in China.
About Parity Technologies
Parity Technologies started as EthCore in late 2015 by five individuals, Gavin Wood, Aeron Buchanan, TJ Saw, Ken Kappler, and Jutta Steiner, before Björn Wagner joined them as co-founder one year later. With this addition, the Polkadot network experienced massive growth before launching in 2020 officially.
The launch marked a jumping-off point for the Polkadot ecosystem as it opened the eyes of many industry players to its potential, making them see it as a potential smart contract similar to Ethereum. Since its inception in 2020, Polkadot's intensively decentralized nature positions it as a worthy adversary against Ethereum.
The native token of the Polkadot ecosystem is DOT. According to data on CoinGecko, DOT is the 11th largest crypto by market cap, with a current valuation of $6.8 billion.