Polkadot unveils a new governance model.
OpenGov seeks to introduce origins and tracks and refine support and approval criteria to decentralize governance and make decision-making more efficient.
Polkadot's new model revolutionizes its previous Governance V1 model and enables faster, more democratized proposal voting.
Polkadot, a modular Layer 0 heterogeneous blockchain that utilizes the Substrate framework, has just unveiled OpenGov, its new governance model to enhance decentralization and promote widespread community participation.
By empowering the community, redefining the roles of crucial collectives, and introducing innovative features, OpenGov is set to revolutionize governance and propel Polkadot as a leading platform for decentralized innovation and interoperability.
The Evolution from Governance V1 to OpenGov
Polkadot's initial governance system, Governance V1, was a decentralized decision-making process that utilized a Nominated Proof of Stake (NPoS) consensus mechanism and involved token holders, the Council, and the Technical Committee. It allowed community members to submit proposals, endorse them, and participate in referenda to make decisions on the network's governance and treasury management.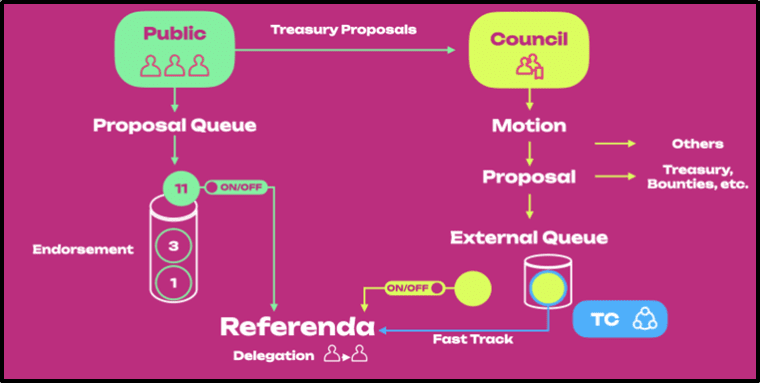 Within NPoS, token holders can bond DOT with proposals to act as financial support and a funding source. Governance V1 enabled token holders to submit proposals to be added to the proposal queue. Recommendations could be endorsed by bonding a certain amount of tokens. Proposals with the most endorsements through connected support became a public referendum in the next voting cycle.
The Council, consisting of 13 members, played an essential role in governance. They could also submit proposals. If a Council motion passed, the bid would be directly executed and voted on through a Council Referendum. The Council could cancel referendums with a two-thirds majority.
The Technical Committee, composed of teams that had implemented or specified Polkadot runtimes (a period in which proposals could be reviewed and voted on), could submit emergency proposals that could be fast-tracked to take priority over other proposals.
The decision-making process in Polkadot's Governance V1 had limitations regarding decentralization and decision-making efficiency.
While token holders could submit proposals and participate in referenda, the endorsement process relied on bonded support, which means those with more tokens had a more significant influence. This concentration of voting power can limit the decentralization of decision-making. Also, the Council's power to propose referenda and cancel them with a simple majority vote further consolidated authority within a small group of individuals.
Furthermore, Polkadot's Governance V1 featured alternating voting timetables, where only one referendum could be voted on at a time, except for emergency proposals, which limited the efficiency of decision-making. Alternating voting timetables could lead to delays in addressing multiple proposals or urgent issues that require simultaneous voting.
OpenGov addresses these limitations by advocating for transitioning responsibilities from the Council to token holders and introducing a direct democracy voting system. A direct democracy governance model is a system where every ecosystem participant can vote on decisions or proposed network changes. This shift enhances decentralization and allows token holders to influence network upgrade decisions directly.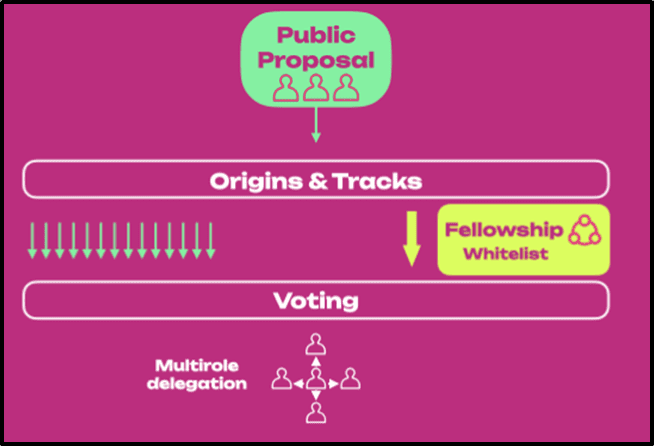 Moreover, OpenGov introduces multi-role delegations, enabling token holders to delegate voting power to trusted experts based on their expertise. This feature enhances participation and aligns votes with the network's best interests.
Finally, OpenGov replaces the Technical Committee with the Polkadot Technical Fellowship, a broader expert body representing individuals with technical knowledge of the network. The Fellowship's aggregated opinion contributes to the decision-making process, ensuring technical expertise is accounted for and fostering a more inclusive governance structure.
Origins and Tracks Explained
OpenGov introduces the concept of Origins and Tracks to streamline the flow and processing of referenda. Each Origin represents a specific privilege level and determines the Track for all referenda associated with that Origin. A Track is a pipeline in which a proposal lives and progresses, and each Origin has its own independent and specific Track.
The number of referenda that can be decided on at once and the minimum token deposit amount required to enter a Decision Period (the maximum time to approve a proposal) can vary based on the privileges of the associated Origin.
For example, the Root Origin allows only one proposal to be decided at a time, while other Origins may accommodate multiple proposals simultaneously. This categorization ensures a balanced distribution of decision-making power and prevents any single entity from dominating the governance process.
By introducing the concept of Origins and Tracks, OpenGov creates a structured framework for handling referenda. Each proposal is assigned to a specific Track based on its associated Origin, ensuring a clear pipeline for its progression; streamlining the decision-making process by providing a defined path for proposals to follow.
Refined Approval and Support Criteria
When a proposal enters the Decision Period, it goes through a process known as the Confirmation Period, where it must meet specific criteria for approval and support. Proposal Approval is measured by the share of approval votes weighted by conviction, while support represents the total number of votes compared to the total possible votes in the system.
The Confirmation Period is the minimum amount of time (within the Decision Period) the approval and support criteria must hold before the proposal is approved and moved to the enactment period, where it is passed and implemented in the network.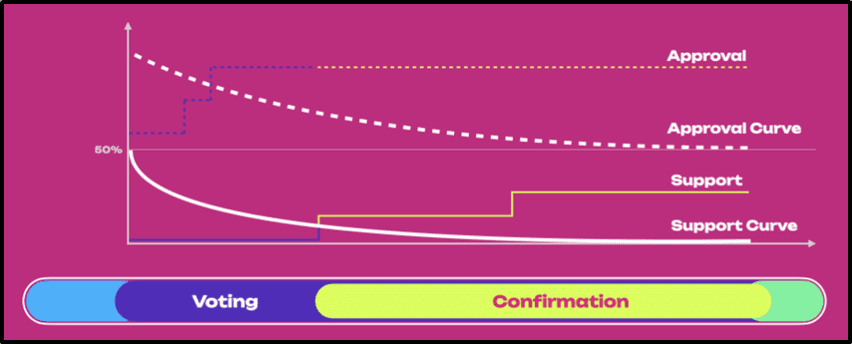 The figure shows that even if the approval criteria are met (approval percentage greater than the approval curve), the proposal will only enter the Confirmation Period if the support criteria are also met (support percentage greater than the support curve). Meaning that not only does the proposal need sufficient approval, but it also requires a certain level of support to move forward.
If a proposal satisfies the approval and support criteria for the Confirmation Period, it is considered approved and scheduled for enactment. Different Origins' tracks have different Confirmation Periods and requirements for approval and support.
OpenGov has refined these criteria so that It is now possible to configure the amount of support and overall approval required for a proposal to pass. These refined approval and support criteria ensure proposals meet necessary thresholds, preventing controversial decisions without strong consensus and maintaining the network's stability and integrity.
Conclusion
OpenGov allows more collective decisions to be made, enhancing agility and responsiveness. Active participation is promoted through the ability to start referenda at any time, fostering inclusivity.
The multi-role delegation feature empowers token holders to make their votes count, even in areas lacking expertise. By delegating voting power to trusted experts, token holders can ensure that decisions are made with the network's best interests in mind.
The Polkadot Technical Fellowship ensures technical knowledge is represented within the governance process, promoting well-informed decision-making. The Fellowship represents individuals with a deep understanding of the network, ensuring that technical considerations are adequately addressed.
OpenGov's transparent and accountable approach also strengthens the network's legitimacy and credibility. By fostering trust and confidence, OpenGov enhances the overall effectiveness of governance within the Polkadot ecosystem.
By giving token holders a direct say in network upgrade decisions through the genuine democracy voting system, OpenGov empowers individuals to shape the platform's future. This increased inclusivity allows a more diverse range of perspectives to be considered, leading to more robust and well-rounded decision-making.
In conclusion, the transition from Governance V1 to OpenGov addresses the limitations of the previous model. It introduces innovative features that empower the community, foster decentralization, and ensure adaptability to future challenges. OpenGov promotes inclusivity, transparency, and efficiency in decision-making, allowing token holders to actively participate and contribute to the network's evolution.
Through shifting responsibilities from the Council to the token holders, OpenGov establishes a direct democracy voting system that grants token holders a direct say in network upgrade decisions.
The introduction of Origins and Tracks streamlines the governance process by categorizing proposals and preventing any single entity from dominating decision-making. Refined approval and support criteria balance consensus and widespread support, maintaining the stability and integrity of the network.
Polkadot's OpenGov sets a new standard for blockchain governance, inspiring other projects to rethink their models. With Polkadot leading the way, the future of blockchain governance looks promising, with increased participation and collaboration from stakeholders worldwide.