Volatility in the cryptocurrency market continues to drop, with Bitcoin's 30-day volatility dropping to a two-year low, according to on-chain data analytics firm IntoTheBlock. As stocks and cryptos await headwinds to catalyze a break-out, it is essential to look at the bigger picture. This article specifically addresses the question: How do we value Ethereum?
Read along to determine whether the new proof-of-stake blockchain should be appraised as a business, a micro-economy, or a store of value asset.
Ethereum As A Business
According to On-Chain Insights, a bi-monthly email newsletter by IntoTheBlock, the Ethereum blockchain hosts "thousands of applications atop its infrastructure," proposing the idea that the ecosystem could be valued in a similar way tech businesses like cloud computing are evaluated. 
Included in the newsletter is the following chart showing that the fees users pay to use the Ethereum network have increased exponentially since the 2018 bear market.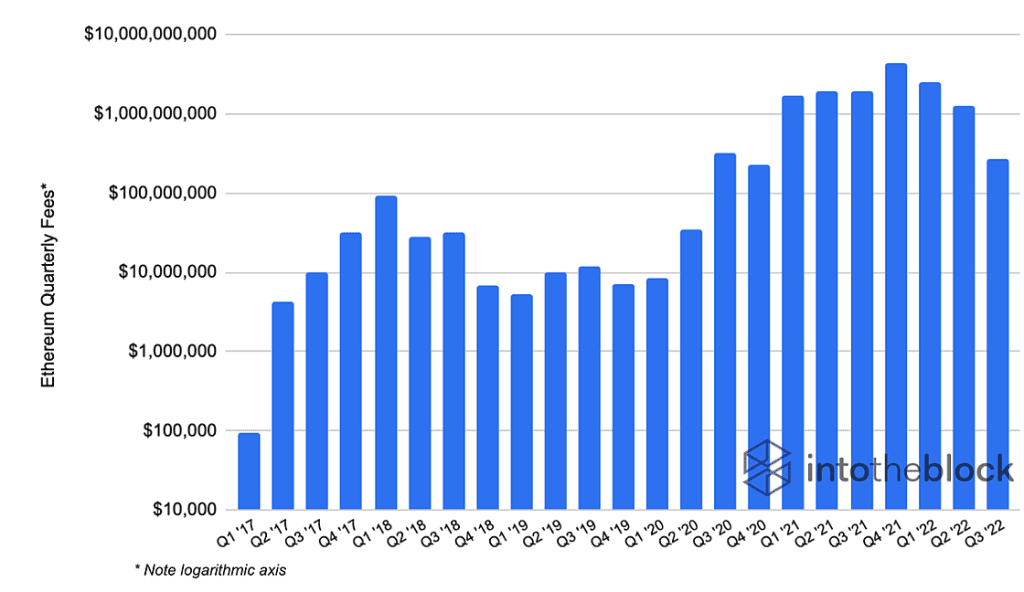 Ethereum fees have spiked at a compound annual growth rate(CAGR) of 97% over the past five years. The author of the newsletter Lucas noted that these fee increases have somewhat been directly related to Ethers price. However, this correlation has decreased from a 0.55 correlation coefficient in 2017 to 0.28 in 2022.
Based on these figures, Ethereum's price-to-sales (P/S) ratio can be estimated to understand its valuation as a business. To achieve this, it is essential to note that Ethereum's exponential growth can be compared to stock changes. Still, its valuation remains relatively high compared to some leading tech companies. For example, the fastest company to reach $1 billion in revenue, Snowflake (a cloud company), has recorded a 92% revenue growth with a significantly lower P/S of 32.5 at the time of writing, against Ethereum's P/S at 120.
The P/S is even more unbalanced when looking at other smart contract platforms, with most having over 1,000x P/S. This means that market prices of smart contract platforms such as Ethereum are at a premium relative to their revenues. IntoTheBlock attributes this to Ethereum's potential to amass value from the economies they host.
Ethereum As An Economy
To evaluate Ethereum as an economy, the On-Chain Insights author Lucas equates it to an emerging digital market. Going by the following chart, the participants of such a market would be potentially the 82 million addresses holding ETH (although in reality, one addresses ≠ 1 participant.)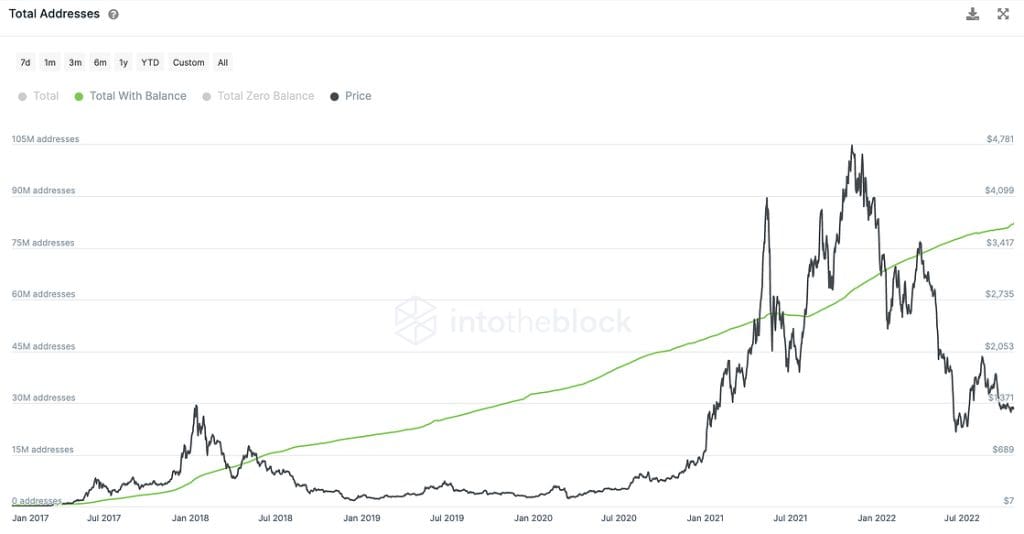 As such, as the financial industry, Ethereum has over $30 billion in assets under management, up from $9,23 billion a year ago, according to Total Value Locked (TVL) figures from DefiLlama. In context, the "transaction volumes on Ethereum are larger than on Visa, with approximately $2.5 trillion being transferred in ETH, USDT, USDC, and DAI alone in Q3," according to IntoTheBlock volume data.
But how does ETH, the crypto, benefit from Ethereum's economy?
Ethereum As A Store Of Value
The Merge upgrade aimed at making ETH deflationary, making it a scarce asset. Currently, most transaction fees generated on the Ethereum blockchain are burnt, with issuance dropping by as much as 90% since the merge. As a result, Ether's supply is increasing by only 0.03% per year, as depicted in the chart below.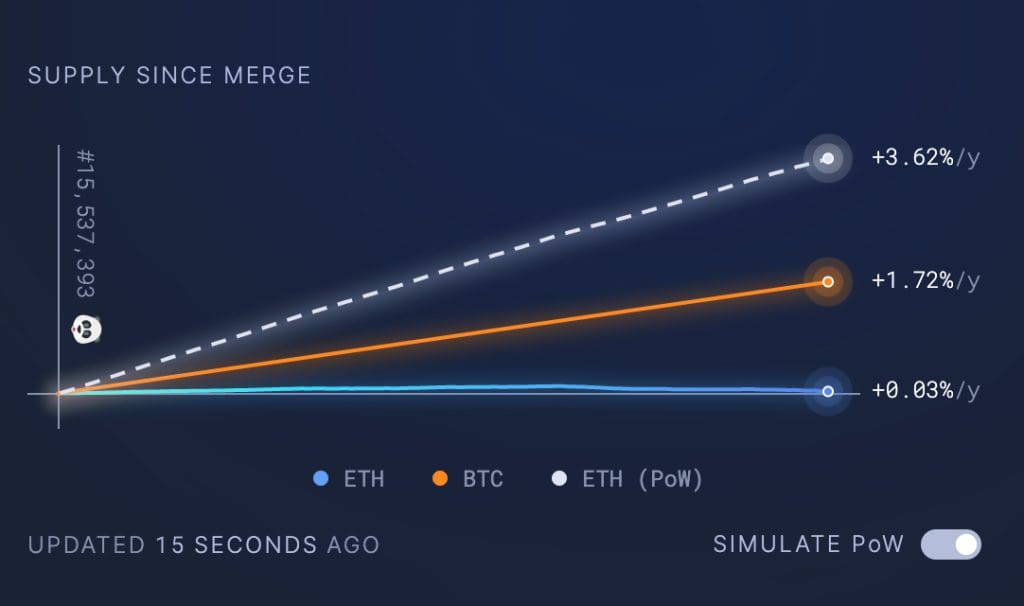 In addition, fees not burnt are used to incentivize those staking their ETH on the platform, providing a function similar to a GDP dividend where holders receive a yield from the economic activities supported by the network.
The IntoTheBlock newsletter notes that ETH's value also accrues indirectly through "maximal extractable value (MEV), where (re)organizing transactions creates an opportunity for profits and thus greater demand to validate them."
In a nutshell, in determining whether Ethereum should be valued as a business, an economy, or a store of value, the reality is that the answer overlaps among the three options.
At press time, ETH price was hovering around $1,350, up 3.14% in the past 24 hours. Its daily transaction volume had risen 79% to stand at $13,041,604,206 with a market capitalization of $165 billion, according to data from CoinMarketCap.