We are at a point with crypto and NFTs where we have begun to see acquisitions and the merging of companies happen more frequently. It is a natural aspect of the evolution of this space and a result of competition in general. Much of this happens during pivotal moments such as bear markets, which we are currently experiencing. The recent acquisition of KnownOrigin by our beloved eBay on June 21st, 2022, for an undisclosed amount, is a prime example. If you give it some thought, it makes sense that this is a solid play for both eBay and KnownOrigin. It is a long-term bet on the space and NFTs.
First, a bit about Jamie Iannone, eBay's current CEO: he was appointed on April 27th, 2020, and seems to be a good fit for leading the company's transition into the NFT space. Iannone worked at eBay years before his current role, was the COO of Walmart eCommerce, and helped implement the digital transformation for their umbrella of services. He also understands the importance of the c2c relationship that eBay has facilitated. So, it seems like a decent resume to get the job done and bridge these two worlds together. Below is a quote from Iannone from their recent press release.
"eBay is the first stop for people across the globe who are searching for that perfect, hard-to-find, or unique addition to their collection and, with this acquisition, we will remain a leading site as our community is increasingly adding digital collectibles." "KnownOrigin has built up an impressive, passionate, and loyal group of artists and collectors, making them a perfect addition to our community of sellers and buyers. We look forward to welcoming these innovators as they join the eBay community."
For those unfamiliar with KnownOrigin, it is a marketplace based on the ETH blockchain where you can collect, discover, and sell NFTs/rare digital art.
KnownOrigin was founded by David Moore, Andy Gray, and James Morgan in 2018. The company is based out of Manchester, UK. In February 2022, they raised €3.5 million from a series A funding round with the plan of giving that value back to creators on their platform. Last year they amassed more than $30 million in net sales while at the same time significantly growing their community base—all great metrics for an acquisition from a company on the hunt.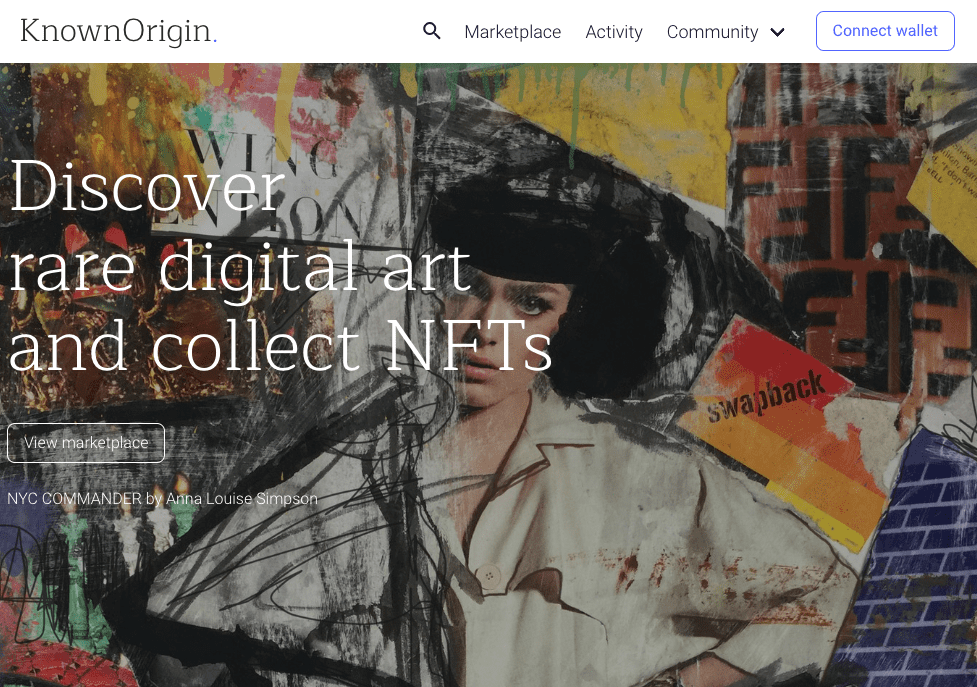 David Moore had this to say about the acquisition. "We founded KnownOrigin to empower creators and collectors by giving them the ability to showcase, sell, and collect unique, authenticated digital items." "As interest in NFTs continues to grow, we believe now is the perfect time for us to partner with a company with the reach and experience of eBay. With more than twenty-five years of building similar communities of passionate individuals, we are excited by the opportunity to bring a whole new audience on this journey. This is the start of a new chapter in the KnownOrigin story, and we couldn't choose a better time to focus on building and innovating with the team at eBay. This partnership will help us attract a new wave of NFT creators and collectors."
For many companies, a situation like this is the dream and a definition of making it. By getting acquired, KnownOrigin will likely be able to give its current users more value with the reach and resources eBay has at its disposal. In all industries, the so-called "gatekeepers" tend to get involved to bring in giant waves of assets and exposure to fuel things up—just as when institutional money enters your favorite digital asset token. So yes, at first glance, it can be upsetting to see our favorite things get eaten up by big commerce, but it's paramount for long-term growth.
So, is this a win for eBay? It sure is. It's excellent for eBay as they don't have to build an NFT marketplace from the ground up.
They can help grow this platform into what they envision and be ahead of their peers. To put into scope, eBay had $87 billion in gross merchandise volume in 2021, and this venture will only add to that total. This opens the door for them to remain a household name in the world of collectibles as the landscape changes. Look at physical goods; eBay has the potential to combine the physical and digital worlds on a significant level. Not to mention the more "real world" application of NFTs. Perhaps in the future, we will be able to renew our vehicle registration through eBay? 
It's a win-win for both companies. The two combine their communities, which they have built, to take on a more significant share of the pie. Increased volume from the exchanging and minting NFTs will look good on the balance sheet. It allows KnownOrigin to survive amongst the stiff competition knocking on its backdoor and provides eBay with a way to fast-track innovation with technology that's here to stay. Users will win if that value can be distributed back to them appropriately.
Why is this important? The fact that eBay, a company as well established as they are in the collectibles space, pulled the trigger on this is a greenlight. It is a healthy sign for the future of NFTs and brings more legitimacy to the industry for the masses still waiting on the sidelines with money to spend. A company that's as robust as eBay and has a leadership team with an understanding of what is happening regarding NFTs and digital ownership is a recipe for success.
Will we see similar things happen with SuperRare or Foundation? Both are NFT marketplaces, and other companies could be eyeing a similar play here. That is, of course, if there is a good fit and it's mutually beneficial. We can all speculate, but more than likely, we will be able to see some more acquisitions happen during this current market cycle. We know the overall space is hurting, so the possibilities are endless with potential bailouts, acquisitions, and investments.