The BNB Chain has just launched opBNB, a new EVM-compatible Layer 2 network.
opBNB utilizes Optimistic Rollups and the OP Stack.
This new scaling solution has a rate of 4,000 TPS and drastically reduces BNB Chain gas fees.
The Binance BNB Layer 1 blockchain has just launched a new rollup-based Layer 2 scaling solution called opBNB, which is now live on Testnet.
opBNB Design
With the OP Stack as its foundation, opBNB utilizes Optimistic Rollups to enable off-chain transaction processing while recording transaction data on the blockchain. This approach enhances scalability by compressing Layer 2 transaction data before posting it on-chain.

The opBNB architecture comprises three primary layers: a Remote Procedure Call (RPC) service layer for interacting with rollups, an operator interface layer for proposing off-chain Layer 2 transactions, and an execution layer that executes transactions and offers an EVM execution environment.
The RPC service layer is a component within the opBNB system that facilitates communication and interaction between different network layers. It bridges rollups and external procedures, allowing them to send requests and receive responses for various operations.
opBNB rollups are secured by leveraging the BNB Chain for settlement. However, because opBNB rollups are modular, the BNB Chain network layer that provides data availability for opBNB rollups can be substituted with any EVM network layer, which enables opBNB rollup DA to occur on any EVM-compatible chain. So instead of solely relying on the BNB Chain's network layer for DA, alternative solutions such as Greenfield can be employed for the DA of opBNB rollups.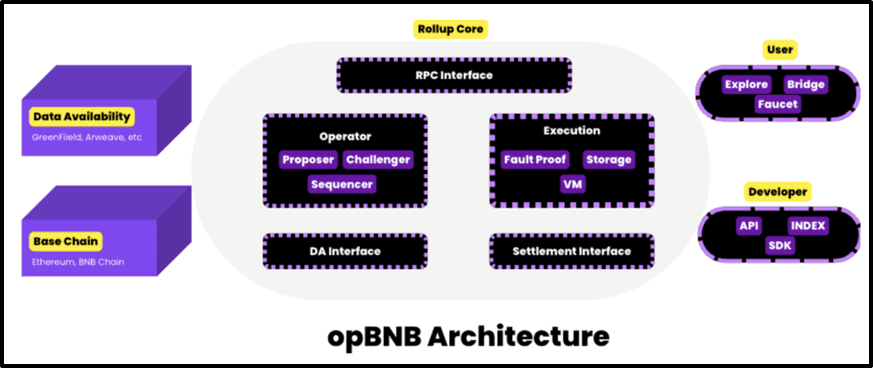 Enhanced Throughput, Lower Fees, and EVM Compatability
With a gas limit of 100 million, surpassing Optimism's 30 million, opBNB can handle over 4,000 transfer transactions per second. Moreover, its average transaction cost remains below $0.005. These advantages make opBNB an ideal platform for applications with high-frequency micro-transactions and large user bases.
opBNB maintains compatibility with the Ethereum Virtual Machine (EVM), enabling developers to leverage existing Ethereum tools and dApps. This compatibility simplifies the migration or extension of Ethereum applications to the BNB Chain, expanding the developer community and available resources. Furthermore, opBNB provides a robust and flexible framework, empowering developers to adapt, experiment, and future-proof their applications.
Rollup Security
Optimistic Rollups are considered positive because they assume transactions are legitimate at the time of submission and do not require validity proofs. For security, Optimistic Rollups use fraud-proving where after a rollup is submitted, there is a "challenge period" during which any participant in the network can question the results of a rollup by computing a fraud-proof—a test that runs the rollup transactions to gauge if fraud occurred.
Although this process delays finality, if a fraud-proof is successful, the transaction(s) in question will be re-executed, maintaining the network's integrity. This transparent and verifiable approach enhances security and fosters a safer application environment.
Conclusion
opBNB represents a significant milestone in the pursuit of scalable blockchain solutions. By harnessing the power of Optimistic Rollups and the Optimism OP Stack, opBNB offers unparalleled scalability, improved throughput, and lower transaction fees on the BNB Chain. With its EVM compatibility, opBNB provides developers with a familiar environment to build and deploy their applications while benefiting from the increased capabilities of the BNB ecosystem.
As the blockchain industry evolves, opBNB stands at the forefront, offering a comprehensive solution to address scalability challenges. In summary, opBNB is an innovative Layer 2 scaling solution that empowers the BNB Chain. By providing a secure and reliable transaction environment, opBNB paves the way for the widespread adoption of decentralized applications, propelling the blockchain industry toward a more scalable and user-friendly future.