Bitcoin price plunged to $15,500 on Wednesday, levels last seen in November 2020. This came in the wake of a turbulent week for the crypto space as market participants reacted to the news that FTX, the world's second-largest exchange, was halting withdrawals after facing a liquidity crunch.
In an attempt to secure customer assets on the Sam Bankman-Fried-founded company, rival Binance, the largest cryptocurrency exchange in the world by volume, announced that it had signed a Letter of Intent (LoI) to acquire FTX fully. A few hours later, Binance backed out of the deal, citing issues "beyond our control or ability to help."
More reports reveal that FTX and its sister company Alameda research, a crypto-based hedge fund, are in trouble. Industry sources report that Alameda appears to have an $8 billion hole in its balance sheet. Note that the native token of the FTX platform is FTT, as it is Alameda's most valuable asset. This points to a more vital link between the two companies that was expected. At the moment, Alameda Research owes FTX $10 billion.
There are few official details from the two firms regarding Alameda's financial health, with top executives at FTX saying that Sam Bankman-Fried (SBF), the exchange's CEO moved billions of dollars to support Alameda without their knowledge. It has been revealed that since FTX had a total of $16 billion combined customer assets, it gave Alameda Research more than half of that amount.
Bitcoin Drops In the Wake Of The FTX-Alameda Debacle
Concerns about FTX's balance sheet have caused the market to plunge sharply after the Binance LOI for FTX had previously boosted prices. The total crypto market cap dropped from just above $1 trillion to around $824 billion on Thursday, wiping out more than $150 billion in just 48 hours.
Bitcoin's price tanked from above $21,000 to two-year lows of around $15,500, losing 26% of its value over the same period. Bitcoin's market cap dropped from $408 billion on November 5 after Binance started liquidating its entire FTT holdings to the current value of around $337 billion.
CoinMarketCap shows that BTC trading volume spiked 219% from $37 billion on Saturday to a peak of $118 billion in November as investors rushed to liquidate their digital assets. This was in the wake of fears that they may lose their investments if the effects of FTX troubles spill over to the entire crypto market.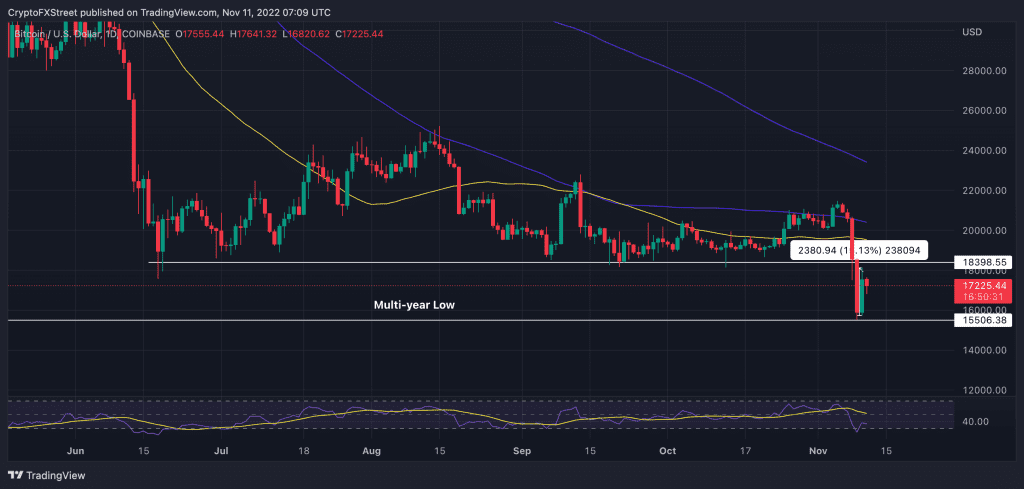 The market sentiment is similar to what was witnessed in May after the bank run on Terra Luna and the subsequent collapse of LUNA and its stablecoin UST. According to data from Alternative, the Crypto Fear and Greed Index is currently at 25, signaling "Extreme Fear."
The crypto market sentiment analysis firm says, "Extreme fear can be a sign that investors are too worried. " As such, they rush to sell off their crypto assets in panic.
Similarly, during the LUNA/UST fiasco between May 6 and July 19, the index stayed in the "Extreme Fear" zone. This indicates that crypto market sentiment was negative then as it is now.
Bitcoin Price Gains 15% In Minutes After CPI data
However, things turned differently on Thursday after the lowest CPI reading since January pummeled the dollar.
Bitcoin surged 15.13% from lows around $15,720 to close the day around $17,550 before trading opened on Wall Street in November as U.S. inflation and unemployment data boosted cryptos and other risk assets.
At the time of writing, BTC was exchanging hands at $17,225, with volatility still rampant as crypto market participants continue to digest the economic data.
Both Consumer Price Index (CPI) and job data for October were more positive than feared, implying that the U.S. Federal Reserve's rate hikes were working and that we may see a pivot sooner than expected.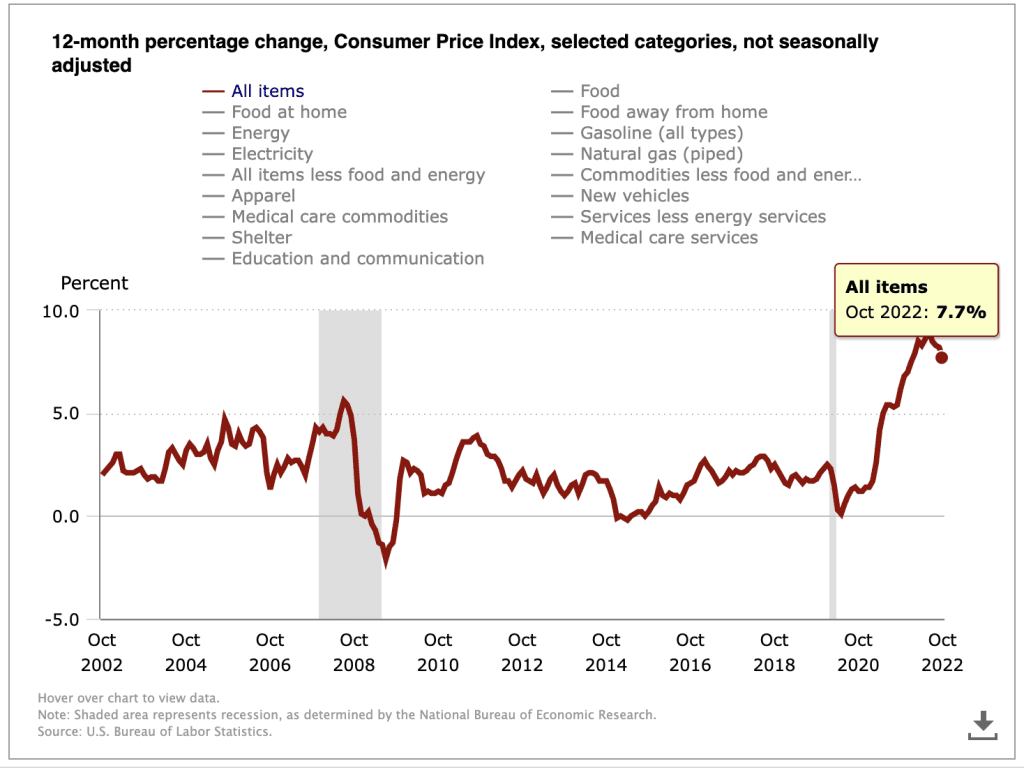 At 7.7% year-on-year (YoY), the October CPI data is the lowest since the start of the year. A press statement accompanying the data read:
"The all items less food and energy index rose 6.3 percent over the last 12 months. The energy index increased 17.6 percent for the 12 months ending October, and the food index increased 10.9 percent over the last year; all of these increases were smaller than for the September period."
Meanwhile, an already weakened U.S. dollar index (DXY) dropped instantly due to CPI numbers, recording a 2% consecutive loss in the past two days. This relieved Bitcoin and other risk assets, and as they rebound, BTC may climb back above $20,000.