Cryptocurrency exchange FTX has reportedly halted withdrawals barely 24 hours after addressing withdrawal complaints and assuring users of normal functioning, according to a Twitter post from @WatcherGuru.
"BREAKING: #FTX temporarily halts withdrawals, on-chain data reveals."
Dune analytics data shows that FTX's 24-hour NetFlow is negative, meaning that the rate of withdrawals is far above that of deposits. Netflow on the FTX exchange has been negative by $26 million.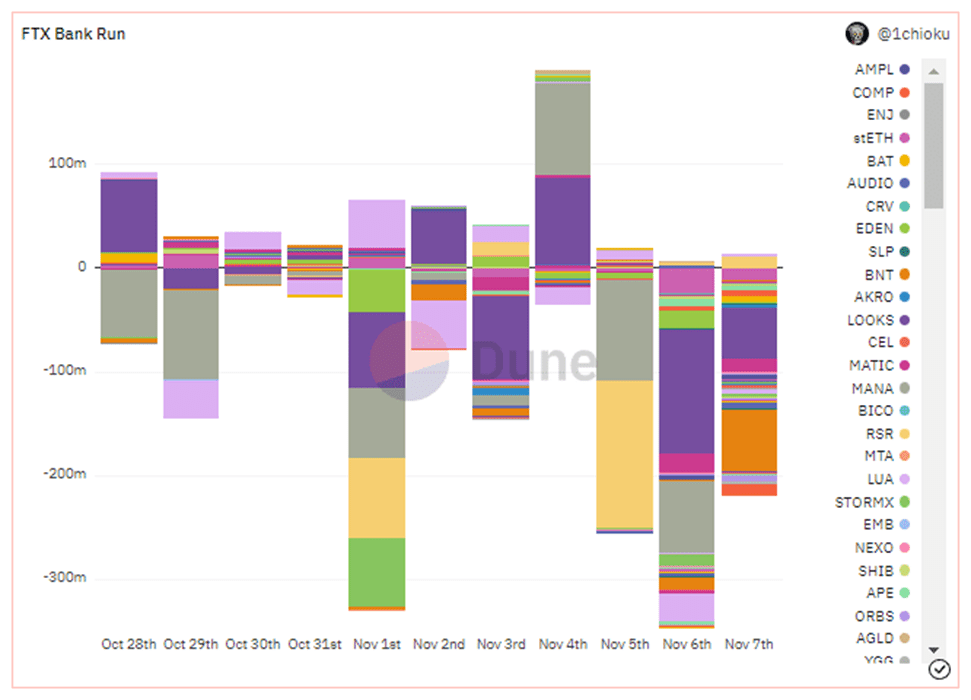 FTX assured users in a series of Tweets that withdrawals should be 'moving along and matching engines are running as they should. This came after users complained of sluggish leaves.
"..matching engine/etc. All are running smoothly. BTC withdrawals: churning through them; node is throughput limited. We're switching it to process from both ends, which should help speed it up."
The move comes as the exchange faces major liquidations of its native FTX token FTT, resulting from an unspoken feud with rival exchange and blockchain developer Binance. Changpeng Zhao, alias CZ and the CEO of Binance, announced the company's decision to liquidate all of its FTT holdings, citing "recent revelations that have come to light, according to a tweet on November 6.
Binance's FTX Token Bank Run
On-chain analysis recorded approximately 23 million FTT, equivalent to $520 million transferred to Binance from an unknown wallet on Monday, November 7. Subsequent tweets by the Binance CEO described the move as a risk management strategy after lessons learned from Terra's fall and how it impacted market players.
"Liquidating our FTT is just post-exit risk management, learning from LUNA. We gave support before, but we won't pretend to make love after divorce. We are not against anyone. But we won't support people who lobby against other industry players behind their backs. Onwards."
CZ also mentioned the recent actions by FTX founder and CEO Sam Bankman-Fried, for supposedly lobbying against centralized finance. He said:
"We won't support people who lobby against other industry players behind their backs."
It is understood that Binance's decision to liquidate the token follows reports surrounding a recently leaked balance sheet from Sam Bankman-Fried-founded Alameda Research, alleging that billions of dollars worth of Alameda's assets are tied up in FTX's token, FTT.
Sam Bankman-Fried came out to address Binance statements saying that the rumors were false and that FTT was fine. He added that the company does not invest assets belonging to clients, calling out CZ for collaboration considerations.
On November 6, the CEO of Alameda Research, Caroline Ellison, challenged that the balance sheet did not reflect the actual story, saying that the sheet in question was only for a subset of the company's corporate entities. She added that assets valued at more than $10 billion had been left out of the representation.
"The balance sheet breaks out a few of our biggest long positions; we have hedges that aren't listed- given the tightening in the crypto credit space this year, we've returned most of our loans by now."
The intervention of FTX and Alameda Research CEOs did not save the situation. After that, the FTT price went through an unprecedented price fall, and two of the most influential individuals in the crypto space are to blame.
Most people, displeased by FTX's revelation of Alameda Research holdings, causing sudden selling pressure within the market. The ongoing FUD (Fear, Uncertainty, and Doubt) affected FTX much more than a natural course of movement would.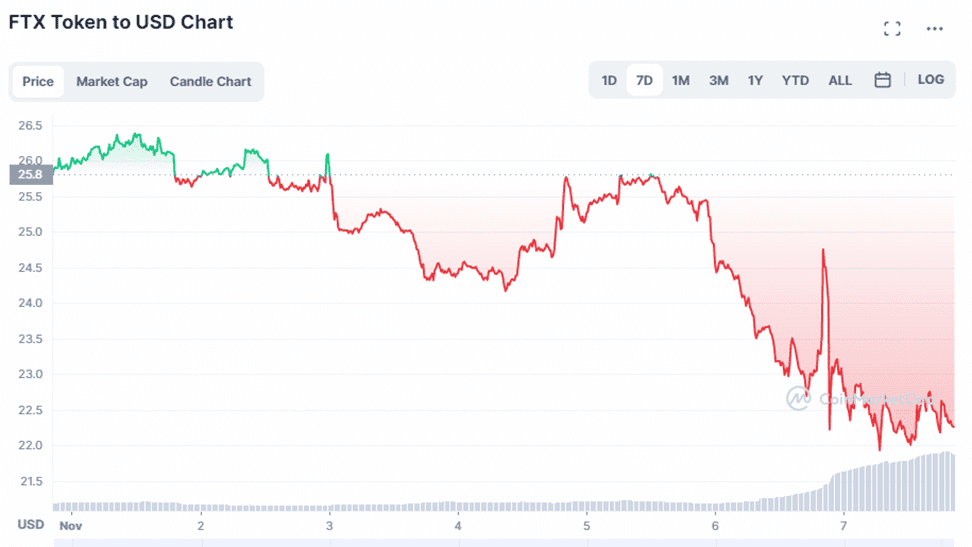 Despite almost immediate interventions affected CEOs to resolve the situation with positive reassurances and hopefully achieve a recovery, they have yet to prove successful. This brings the FTX exchange to the brink of an untimely end, as the exchange has now halted withdrawals indefinitely.