The cryptocurrency market continues to ooze pessimism, with many analysts believing that Bitcoin (BTC) has one more leg to go downward. Consumer prices have been increasing around the world in the wake of runaway inflation rates. As a result, central banks have continuously hiked interest rates to decrease inflation, placing some of the world's major economies on the brink of economic recession.
This has kept U.S. equities, and crypto assets such as Bitcoin (BTC) under pressure as investors wait for inflation figures to top out but to no avail. Despite Fed's monetary tightening policies, inflation has continued to increase, with wholesale prices rising by 0.4% in September, 0.2% points more than the estimates by Dow Jones. Today, all eyes are on the CPI data set to be released later in the day.
It is important to note that if these market conditions persist, Midas Touch consultant says that Bitcoin might experience another correction to areas below $10,000. If this happens, the fall of 2022 will be the highlight of another crypto winter.
Bitcoin Likely To Correct To $6,000
BTC price could drop to areas below $10,000, according to Florian Grummes, the managing director of Midas Touch Consulting, an investment advisory firm. During an interview with Kitco News on Tuesday, October 11, Grummes said Bitcoin was likely to drop toward the $10,000 support zone with a possibility of correcting further to around $6,000. Midas Touch Consulting's M.D. explained that market participants might witness minor price movements in the flagship cryptocurrency due to volatilities.
The finance expert also stated that it would take some time before Bitcoin exits the current crypto winter. He said:
"It's my worst case now [Bitcoin at $6,000]. I wouldn't rule it out. I think $10,000 is probably what's going to happen, and then we're going to see a nice bounce and maybe another test of the $10,000 to $15,000 range, like a double low at some point, and that would be then the end of the crypto winter, but it still takes time I don't think it's happening anytime soon." 
The flagship cryptocurrency is witnessing its most intense washout since the 2018 bear market as it trades more than 73% below its November peak of around $69,000. In light of this, Grummes expressed doubt about the possibility of BTC regaining its record high levels, despite bullish events such as the halving expected in late 2023.
According to the finance professional, regulatory uncertainties and the liquidity crisis are some of the factors that are likely to stand in the way of Bitcoin's recovery.
"If this whole crypto sector can recover like it should or did in the past, then once the halving has happened, the whole sector likely will be in the new bull market. …. Bitcoin has been going up since 2009 relentlessly. … Fundamentally speaking, regulation, of course, could be preventing a real new bull market," he added. 
Grummes also noted that gold remains the undisputed hedge against inflation and store of value, something Bitcoin has yet to achieve as it moves with significant equities and stock prices.
A Bearish Triangle Poses Threat To BTC Price Recovery
At the time of writing, Bitcoin was trading at $18,743, with losses of almost 3.52% in the last 24 hours. BTC's price action has led to the formation of a descending triangle on the daily chart (below).
This technical chart pattern projects a 25.65% move in either direction from the breakout points. However, the consolidative formation of the triangle usually favors the downside. If Bitcoin's price breaks below the horizontal trendline at $18,459, it will trigger a massive descent to $13,744. On the upside, a bullish breakout would be triggered by a rise above the descending trendline at $29,825, triggering a rally to $24,874.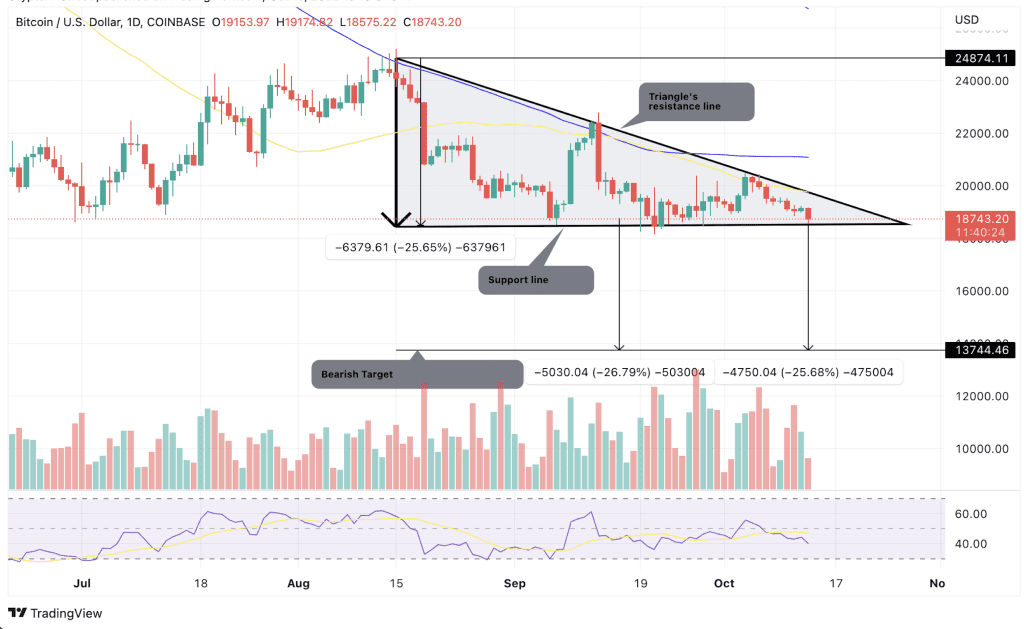 The downward movement of the moving averages and the downfacing Relative Strength Index (RSI) supported the bearish outlook. The price strength at 33 suggested that the sellers completely controlled Bitcoin and that there was still more room for the downside.
The technical analysis and indicators corroborate Florian Grumme's view that Bitcoin could bottom out at lower levels.