There are so many varying reports from environmentalists all over the world concerning the energy consumption of Bitcoin. You hear things like, "Bitcoin uses more energy than…insert country here", all the time. The reason there are many different opinions on how much energy Bitcoin uses is that it is a very complex question and a standard equation to make any definitive conclusions just doesn't exist at the moment. Historically, any deductions that are made are simply educated guesses that are arrived at by utilizing such things as numbers derived from BTC's hash rate, (I.e., the computational power needed to process all transactions), and assuming the energy requirements of the hardware that the miners might be using in a specific area.
There are also claims that BTC usage contributes to a very large amount of carbon emissions and overall pollution as well. While in the past this was most certainly true since China enacted a regulation banning crypto mining in their country the ecosystem has naturally been allowed to move closer to renewable energies. The fact that the United States is now #1 in the world in BTC mining operations highlights that notion even further and reinforces the ever-advancing green promise. Of course, there are examples of certain "hiccups" when it comes to the greener energy move, such as Kazakhstan's (#3 in BTC worldwide hash rate) 50% coal-derived energy usage in PoW mining, this is an example of, and it needs to be noted that as long as the majority of mining continues to expand in countries that are more environmentally cautious, we're on the right track.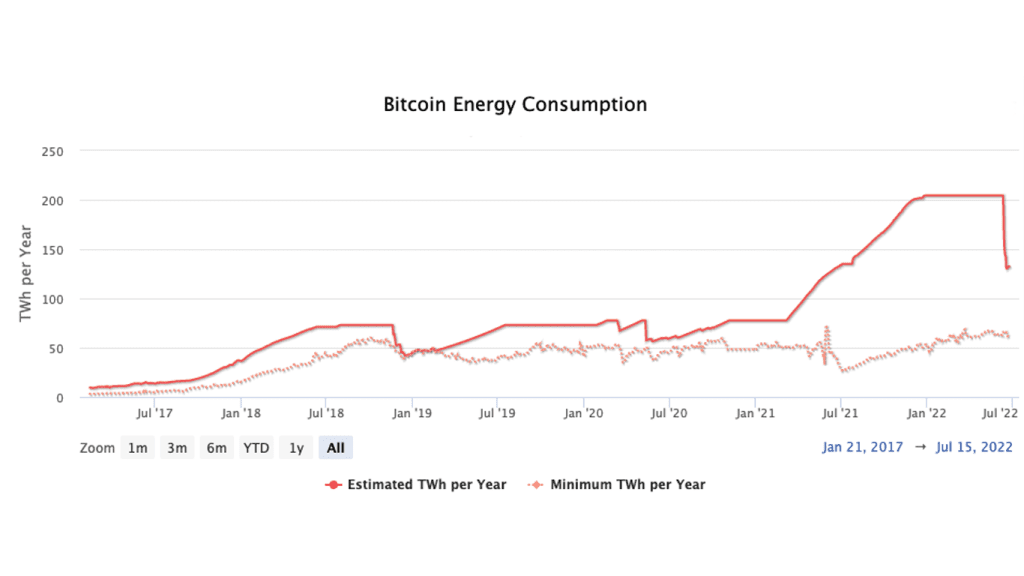 With so much future potential for cleaner energy use in crypto, it seems as though what we also need is a recasting in the narrative as well as greener facilities. This of course will take some time to fully adapt to; however, many regulators simply aren't willing to wait for already progressing organic transitioning.
In April 2022 while seemingly overlooking the ever-advancing societal potential value of Bitcoin, over two dozen Democratic House legislators wrote a letter to the EPA (Environmental Protection Agency) pleading with them to ensure that mining companies comply with the Clean Air and Water Acts. They noted their "serious" concerns regarding proof-of-work (PoW) mining facilities utilizing too much energy and being responsible for polluting communities around the United States. They also recommend switching to proof-of-stake (PoS) algorithms in its stead – which utilizes 99.99% less energy-intensive technologies – and claim that efforts to undermine their combat of the climate crisis are underway by some wanting to re-opening gas and coal plants for power.
In response, a rebuttal letter – penned by BTC miners and crypto industry experts, such as Michael Saylor – claim that these legislators failed to be clear in their messaging about the basic principles of PoW mining operations. They added that the fact that these mining operations are no different than the data centers operated by big tech companies, leads them to believe that lawmakers are purposely conflating key information and are conveying unnecessary confusion on the matter. Their message goes on to state that the pollution stems from the source of the energy generation and that these mining centers are simply buying electricity "upstream".
These regulators of course also fail to mention that PoS isn't as secure as PoW and are solely focused on the energy aspect, and while the environment is a very important topic to focus on, you just can't ignore the fact that when it comes to financial systems you'd want security to be of the utmost importance.
It seems as though this may be much more of a political maneuver on the part of these regulators as there are already channels in place to regulate energy generation facilities on all levels – local, state, and federal. This crackdown by lawmakers is well-intended yet badly executed and it appears as if many of them are simply "playing politics" or are just not as educated on the matter as they should be for such discourse.