After finding support around the $19,400 demand zone on August 28, Bitcoin (BTC) embarked on a minor recovery to reclaim the significant $20,000 level. This recovery followed a crash below the $22,000 level that occurred on August 26. These up and down price movements without a clear move above key resistance levels have left many analysts wondering whether the "crypto winter" is over or not.
While the technical outlook is grim in the long term and vague in the short-term, crypto adoption seems to be going well as regulators worldwide implement new restrictions regarding cryptocurrencies.
Tightening Crypto Regulations
Iran's government has approved a set of regulations for crypto trading. The announcement was made on August 29 by Trade Minister Seyed Fatemi Amin, who said that the regulation "specifies all issues related to cryptocurrencies, including how to provide fuel and energy for mining them, and how to grant licenses."
This has been seen as a move by the Iran government to circumvent some financial sanctions imposed by the U.S. over Tehran's nuclear program. Two weeks ago, Iran's Trade Development Organization approved its first official car import order (worth $10 million) using cryptocurrencies.
Similarly, the Monetary Authority of Singapore (MAS) is tightening regulations on cryptocurrency trading by retail investors.
The MAS managing director Ravi Menon said at an event on Monday that research shows that consumers were increasingly trading in crypto despite warnings and measures issued by the regulator. "They seem irrationally oblivious about the risks of cryptocurrency trading," he said. Menon further disclosed that MAS has been contemplating adding restrictions to retail access to digital assets for some time now.

Around 180 crypto firms applied to MAS for crypto payment licenses in 2022 under the current administration. However, the regulator has approved only about 24 permits after an intricate due diligence process that is still ongoing.
In the United Araba Emirates (UAE), local authorities are implementing new marketing and advertising rules for the crypto industry. For example, Dubai has issued a set of crypto marketing rules claiming it is to "better protect investors."
The Dubai Virtual Asset Regulatory Authority (VARA) announced the new guidelines on the marketing, promotion, and advertisement of cryptocurrencies on August 25. In the new rules, VARA mentioned all forms of advertising and communications, distribution of information, creating awareness, customer interaction, and investor solicitation (Gulf News).
The guidelines require all virtual asset service providers (VASP) to ensure their messages are factually accurate and openly demonstrate promotional intent (if any) to avoid misinforming potential customers. According to VARA, the new regulations relate to Dubai's crypto-focused Minimal Viable Product (MVP) license, noting:
"These regulations specifically address marketing and communications activities, ahead of operationalizing the MVP licensees so that any mass-market information dissemination and consumer solicitation are designed to safeguard community interests."
Crypto Markets Hope For A Recovery
Crypto prices have plummeted this year amid runaway inflation and increases in U.S. interest rates. This has prompted investors to dump riskier assets, most seeking safety in stablecoins.
At the time of writing, Bitcoin was exchanging hands at $20,402, up less than 1% daily. The big crypto is down 7% over the last seven days and 16% lower in the previous 30 days. Its market cap stands at $390.8 billion after brushing shoulders with the $1 trillion mark at the end of last year.
Increased demand pressure from the current level is required to push BTC price above the 50-day simple moving average (SMA) at $22,331 before rising to the $25,400 resistance level. Such a move would represent a 24% climb from the current price. The upward-facing relative strength index (RSI) supports this optimistic outlook.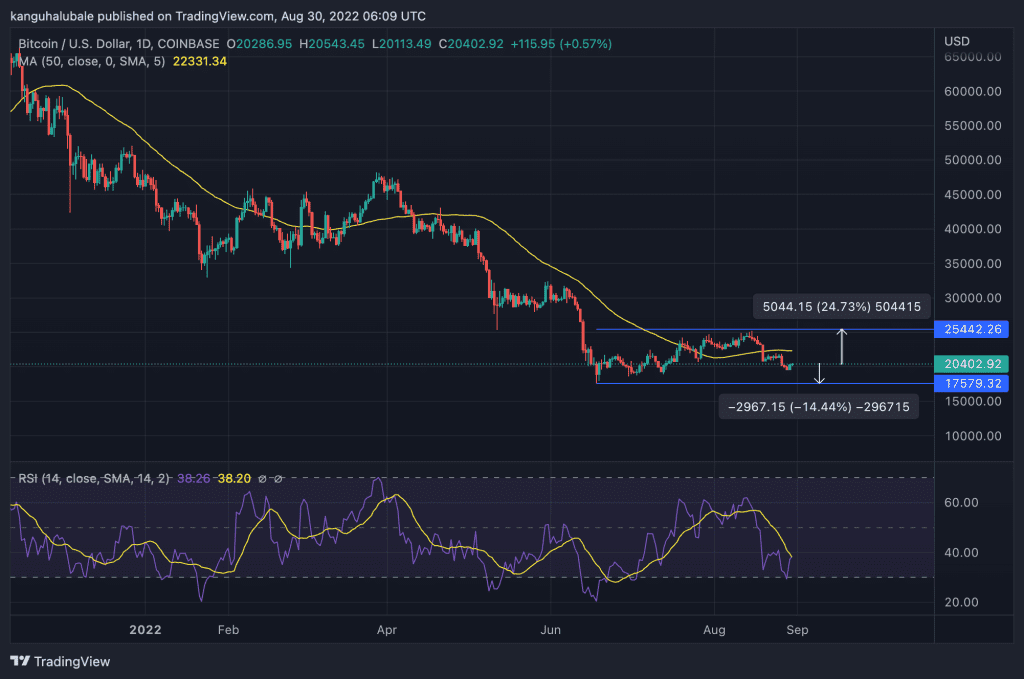 Conversely, if Bitcoin turns down from the current level, it would suggest a lack of strength amongst the buyers. The next level to watch for the flagship cryptocurrency would be the $18,800 support floor or the $17,659 swing low. This would bring the total losses to 14.44%.