What is Polkadot?
Polkadot is a Nominated Proof-of-Stake (NPoS) layer-0, an open-source blockchain platform founded by the Web3 Foundation and launched in May 2020. It allowed multiple layer-1 blockchains to interact and operate within itself through a shared model and was created to connect to other blockchains. It is known as the 'internet of blockchains.
DOT
DOT is the native token of the Polkadot network. It can be used for staking, voting, and bonding (to connect a chain to the Polkadot network). DOT has a market cap of approximately $10.5 billion and ranks in the top 10 cryptocurrencies by market cap.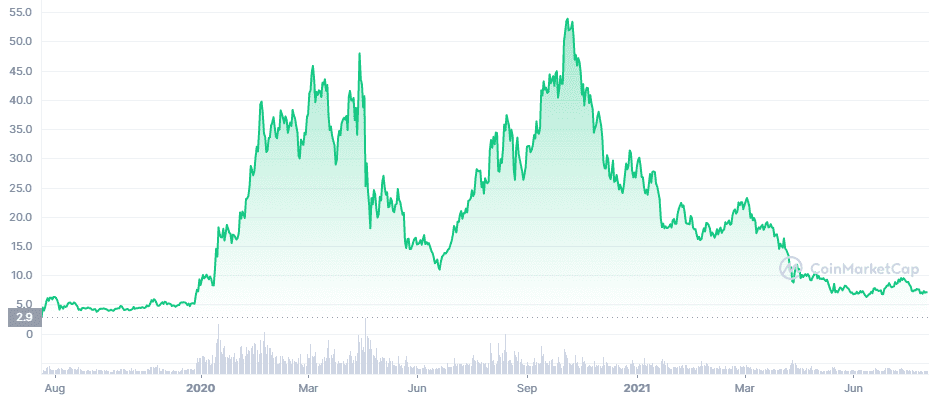 The Network
The Relay Chain: Referred to as the heart of the blockchain, it acts as the main chain of the system, where security, consensus, and interoperability are maintained. The Relay Chain connects to parachains. Since it cannot support an infinite number of parachains, the prediction is that it will support around one hundred of them. Another exciting feature of Polkadot is that it can autonomously update its codebase through community on-chain voting, forklessly.
Parachains: These are blockchains connected to the Polkadot network, which went live in December 2021. Unlike other blockchains, which come with their design and language, developers have the freedom to build them according to their requirements, including governance.
When connected to the Relay Chain, data can flow from one parachain to another, enhancing interoperability. Security comes from being related to the Relay Chain and its validators. Parachains then construct and propose blocks to validators on the Relay Chain. There are currently 297 active validators on Polkadot.
Parachain Slot Auctions (PSA): This mechanism allocates parachain slots to the highest bidder amongst different projects. The slot duration is decided by the team and can vary between three months to two years. The winning parachains from Polkadot's first batch of auctions were Acala, Moonbeam, Astar, Parallel Finance, and Clover. There are twenty-one parachains, with more auctions scheduled through February 2023.
Parathreads: These are similar to parachains but with a pay-as-you-go model. Parachains are finite. Therefore parathreads are meant for more economical blockchains which do not require a constant connection to the Relay Chain but can still benefit from Polkadot's security without needing to lease a dedicated parachain slot. There are currently sixteen parathreads.
Bridges: Interaction with other chains, like, for example, Bitcoin or Ethereum, is also possible through bridge parachains, offering two-way compatibility.
Governance
Polkadot is governed by the council, the technical committee, and the community. Each of these has its separate roles.
The council: Its primary purpose is to examine new proposals for the Polkadot network. Currently, there are thirteen members. They can propose referenda, cancel malicious/controversial referenda and elect the technical committee. Any DOT holder can be on the council, and interested individuals must nominate and get themselves voted. These are then chosen by DOT holders.
The technical community: Made up of developers who have contributed to the Polkadot codebase, their job is to ensure the network runs smoothly by preventing malicious referenda, fixing bugs, reversing faulty runtime updates, or adding new but battle-tested features. Teams are chosen or removed by the council.
The community: DOT holders are the community, and they can participate by voting to nominate council members, make proposals, and vote on referenda.
Challenges
Polkadot is the fifth-ranked smart contract platform by market cap. Even though it has established itself in a short amount of time, it faces stiff competition from other platforms, where every project is competing for developers. Still, Polkadot is performing very well on this front. In the past 30 days, developer activity on the chain has only been second to Cardano, beating Ethereum.
Another challenge attributed to the chain is that for an app to launch, it needs a parachain to support that application functionality, which can be harder due to Polkadot's younger age. Launching a parachain is also not seen as an easy feat due to the substantial upfront capital required. Crowdfunding is meant to mitigate this issue and support projects.
Thus far, the network has suffered no known critical bugs since the mainnet launch. Its wallets were targeted twice by hackers in 2017, draining them of substantial amounts to go towards the project. Despite the setback, the project kept going, growth was unstoppable, and Polkadot has become the chain that we know of today.