Following the recent Solana outage on the 30th of September, BSC (Binance Smart Chain) is the latest centralized blockchain that has been halted. Only this time, the nature of the issue is not due to technical failure but an exploit.
So, what exactly went down?
In the late hours of Thursday, a tweet from the official BSC account stated that they were temporarily pausing their blockchain due to "irregular activity." Shortly after, a costly exploit was confirmed.
Even though the investigation is still ongoing, it is estimated that 2,000,000 BNB tokens were transferred out of the cross-chain bridge. This is equivalent to around 560 million in USD value.
Hackers are now hastily trying to liquidate the stolen assets, dispersing them across multiple blockchains and platforms. It is estimated that between $100M – $110M was taken off Binance Smart Chain.
Some were quick to react. For example, Tether and bscscan.com blocked the addresses associated with the hack. It is estimated that as much as $7 million in tokens are already frozen. BSC's official Twitter added that "funds are safe."
How Did the People Respond? 
The aftermath of this event will likely ripple throughout the cryptocurrency and NFT space for a few weeks, but the immediate response from the community is already known.
Firstly, and not surprisingly, Binance Smart Chain's native token, BNB, took a slight but noticeable dip of around 4% immediately after the news was posted on Twitter. The increase in trading volume was sharp. The price has since rebounded and stabilized between 280 and 290 dollars.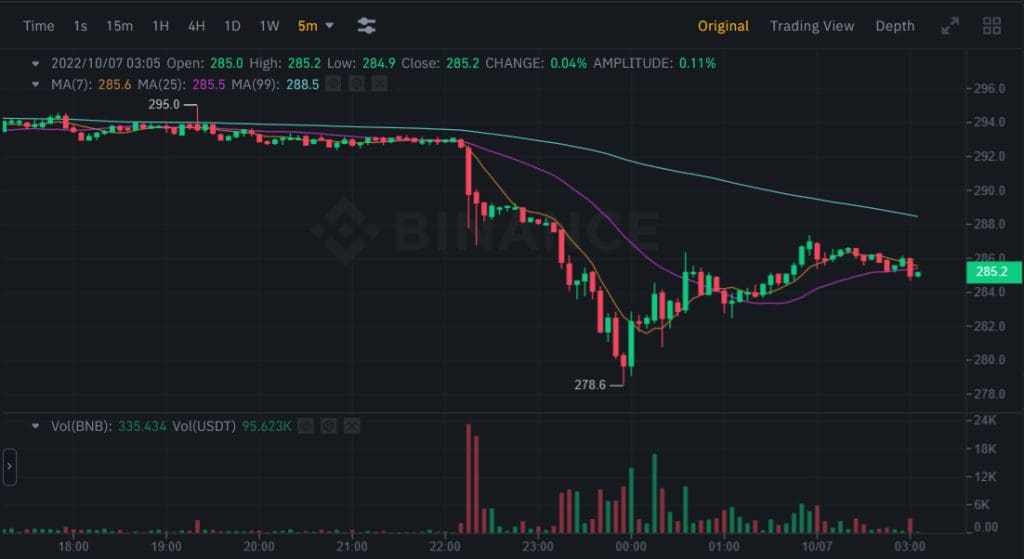 Secondly, a lot of Twitter threads, Reddit posts, and YouTube videos ranging from severe discussions to memes and jokes ensued.
Events like these open up critical questions regarding security, transaction speed, and centralization in the web3 space. This is often known as the "blockchain trilemma," which states that you can't have all three simultaneously, and one aspect will always suffer. It is one of those "pick your poison" situations where developers are forced to make some sacrifices.
Binance Smart chain is known for its fast transaction speed and low cost of fees, but this makes it centralized. And lately, it would seem, vulnerable. Some argue that just pausing the whole blockchain goes against the very nature of what cryptocurrency was intended to be in the first place. In contrast, others would say such measures are necessary to prevent further loss.
How will this affect the web3 space from now on?
People who are vigorously against such drastic actions each time there is a potential breach tend to forget that this is nothing new and has plagued the cryptocurrency space practically since its inception. In the early days of Ethereum, the community deemed a massive DAO hack so catastrophic that they decided to "undo it" by creating a fork.
Such events leave a long-lasting mark in the web3 space and open up more questions.
Should the people in charge have the power to act on such matters? Or should the future of web3 be fully decentralized no matter the cost? And is that so different if the community votes to have the whole event reverted by switching to a forked blockchain? What does "true decentralization" even mean? And perhaps most importantly, are we even ready to embrace its implications?