Axie Infinity needs no introduction. It is the game that took the crypto gaming industry by storm in the summer of 2021 and consistently grew in value when almost every other coin was having a rough few weeks after BTC dipped from 63k to 29k around May. Many consider Axie Infinity to be the catalyst that helped ignite the bull run of late 2021 as many other gaming-related cryptocurrencies followed in Axie's tracks. The game that they created was fun, action-packed and engaging, and as such, was a massive success.
The gaming studio behind Axie Infinity is called "Sky Mavis," a technology-focused game studio from Vietnam that was founded in early 2018 and consists of more than 40 employees. The current CEO is Trung Thanh Nguyen. They also have some of the biggest names in the cryptocurrency industry listed as their partners: Binance, Maker, Klaytn, HTC, Ubisoft, and Samsung, to name a few.
Recently, they announced that they are working on expanding their game by adding Axie Infinity Land. This update is not yet live within their main game, but you can already purchase the land NFTs and secure your spot on the map for when it eventually rolls out.
If you want to know more about their parent NFT collection, read our article here – this one focuses primarily on the upcoming land sale.
Land Plots
The home where Axies live is called Lunacia. It is divided into plots of land that act as homes and bases for Axies. Plots can be upgraded over time using various resources and crafting ingredients found when playing the game. In addition, holders of these land plots might find AXS tokens on their land plots or use the Axies that occupy the land plot to explore resource nodes on the map.
The world of Lunacia consists of 90.601 land plots that will be sold out in chunks. So far, only one land sale has been concluded, and there are currently around 17241 land plots on their official marketplace. There are five different land types with the following rarities and floor prices:
5327 Savannah, 0.9 ETH
5359 Forest, 1.7 ETH
4171 Arctic, 4.6 ETH
2309 Mystic, 10.4 ETH
75 Genesis, none of which are currently listed for sale.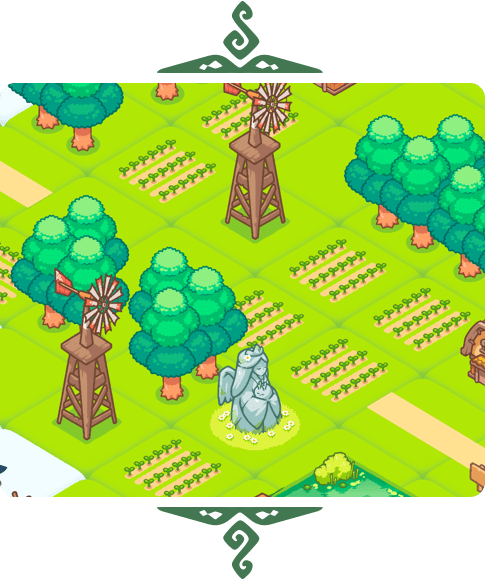 These Genesis lands are capped at 220 pieces and are very special. They are located at the center of the map where the rarest bosses will spawn, and holders of them will get a cut of all the resources collected there. Players can generally assign 3 Axies to each plot of land, but this number can be boosted by building specific structures. Blueprints for these structures can be found by defeating evil monsters called Chimeras terrorizing Lunacia. As players defeat them, monsters will drop an assortment of resources, items, or blueprints.
The resources earned from these adventures will all be represented as ERC-20 tokens. Some resources will be pretty standard, while others will have limited supplies and only drop very rarely or from very powerful Chimera.
Structures built on top of some land plots will have a variety of functionalities such as crafting rare ingredients, housing Axies, fishing, and resource production.
Land gameplay is still being actively developed and will be released in phases. The first phase will focus mainly on land management (production, trading, building, resource gathering), and the second phase will build additional management elements such as skill trees, jobs, and social activities. The third phase will focus on group gameplay (defend, battle and conquer).
Token 
Even though Axie Infinity already has their native utility token used in the main game, $AXS, the world of Lunacia will have a separate one. The name fits and is in line with the name of the Axie homeland, but do not mistake it for Do Kwon's LUNA. No, this LUNA will be an ERC-20 token that will power all activities within the Lunacia metaverse and will, as such, be used for specific in-game purchases and fees as well as some other utilities and use cases:
Buying special limited edition items and Axies from the official Axie shop or buying Axies from the Axie LAB.
Upgrading Axies and plots of land.
Purchasing potions and battle boosts.
Advertising Axies and content.
Purchasing merchandise.
Governance.
Players will be able to earn LUNA by participating in some activities within the game, such as:
Sending teams of Axies to harvest rare LUNA resource nodes.
Defeating powerful Chimera packs and bosses.
Winning PvP tournaments sponsored by the Axie team.
Creating content for Lunacia and receiving a LUNA grant from the Axie team.
Landholders can charge residents of Lunacia LUNA rents for accessing content such as resources and Chimera that spawn on their territory.
Closing Thoughts
At this point, Axie Infinity is probably too big to fail. It is considered to be one of the leading representatives when it comes to cryptocurrency gaming, and its token $AXS was pretty much the only gaming crypto that broke into the top 10 by market cap back in 2021.
But, as you may have noticed from reading the floor prices on the Axie Infinity land plots, this project is not for everyone. A floor of almost one eth on the most common land plot is quite a lot of money for many that are just starting on their metaverse journey. If you want to seek out some projects with a more affordable barrier to entry, you can check out our other articles on metaverse NFT land projects.