Overview
Arcade Land defines itself as "an interoperable metaverse with fast action games for the entire NFT community."  
The developers also made Apes VS Mutants a mobile game with a very similar art style that was released in late 2021.
The project's basic idea is that partnered projects will have their version of in-game characters. All characters will have a similar art style that is integrated into their game, but the avatars will be uniquely stylized to fit the uniqueness of their NFT projects. Arcade Land's final goal is to create a space where different NFT communities can play, socialize and live. All projects are welcome, but they have to submit a partnership proposal to be considered.
The project leader is Willy Wu and more than 20 other members are working on the project as well. Their roles range from designers and blockchain developers to community and partnership managers.
It is worth noting that Arcade Land managed to attract some of the already well-established projects in the NFT space. These include CyberKongz, World of Women, Kaiju Kingz, NeoTokyo Citizens, Karafuru, and Phanta Bears. There will even be other in-game characters available to holders that are not officially partnered with Arcade Land. These include Bored and Mutant Apes, Doodles, Meebits, and CoolCats.
Their long-term roadmap is not out yet, but the mid-term focus of the project seems to be on delivering the game and onboarding projects that are interesting in collaboration. The project has seen consistent growth since its launch and they have been bringing new NFT projects to their ecosystem almost every week. The game itself also isn't playable yet, although it is available in the test version. It is scheduled to go live around the end of Q2 of 2022 and will be available on desktop as well as on mobile devices. 
People will be able to access the game and chat room through their avatars if they are a part of any community that is officially partnered with them or is integrated into the game.
However, if you do not own the actual land, you do not have your "home" inside the game. Land mint happened on April 1st, 2022, and was successfully sold out in full. The only way to now acquire your piece of land is to buy it on secondary markets such as OpenSea and LooksRare.
Land Plots
The land NFT that you hold acts as the main entry into the Arcade Land ecosystem, granting you access to future drops, tokens, and game resources. Their discord also has a private chat accessible only to landholders. The more NFTs you own, the better chance you have at entering raffles for whitelist projects that partner or collaborate with Arcade Land. More benefits for whale holders are said to be released as the project further progresses in size and recognition.
There are 10,000 arcade land plots that have 5 different land types: Jungle is the most common with 3200 pieces, Dystopia with 2600 pieces, Vulcanic with 2000 pieces, Frozen with 1400, and finally Moon type that contains only 800.
These are also subdivided even further, by size. There are 5000 Standard, 3000 Large and only 1900 X-Large sized lands. Finally, there are additional 100 Mega lands. During mint, the size of the plot determined its initial mint price. Standard was 0.25 eth, Large 0.5 eth, X-Large 0.75 eth and Moon was 3 eth. The land type was then determined randomly on reveal.
Their metaverse map consists of two separated sections, one is the "world" (Jungle, Frozen, Volcanic, and Dystopian) and the other "moon" (Moon). You can also check out the entire map layout on their official website. The land will generate resources that are unique to each type of land and there are some other attributes added to a few NFTs as well. For example, land can have a "Secret Passage", "Weird Rocks", "Mystic Symbol" or a "Strange Artifact". The utility or potential usefulness of these additions is unknown as of now.
Obviously, the larger the land is, the more benefits it provides to the holder. Some of these include more tokens, more resources, more perks, and access to unique land items.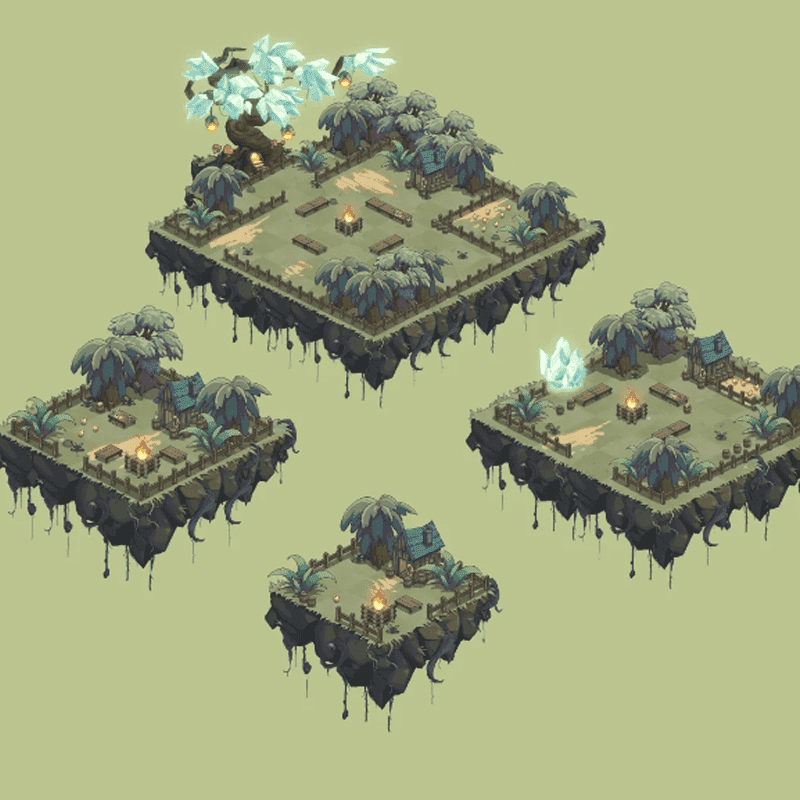 Closing thoughts
The aim of the project is quite ambitious, but it could work out very well if the team executes the idea smoothly. The current holder count on OpenSea has a healthy ratio of 5.4k unique holders, with the majority of them (89.3%) holding their NFTs for a period between 30 days to 3 months. This implies that not many members of the community are there for short-term profits, further boosting the overall strength and stability of the project. There are only four whale wallets with more than 50 Arcade Land NFTs, Pranksy being the top one with 125.
Another thing I left out is the speculation about a potential Yuga Labs collaboration. The claims circulating on Twitter and Discord and not just baseless rumors as we have seen some strong hints that this might be the case. For example, the video trailer Bored Ape Yacht Club released before their Otherdeeds land sale contained art that is similar to the four types of land plots (Jungle, Frozen, Dystopian and Volcanic) in Arcade Land and there are also mentions of an "arcade machine" being spawned on the official Otherside website. If this partnership is being worked on in the background it will be huge for Arcade Land. 
Regardless, overall the project is strong and the team has put out consistent updates and is regularly engaging with its community.