VeeFriends has embarked on an exciting collaboration with Squishmallows, the popular plush toy collection.
This partnership brings four VeeFriends characters to life as exclusive Squishmallows plush toys, offering fans and collectors a tangible and cuddly experience with their favorite digital characters.
This collaboration marks a significant milestone for VeeFriends as it expands its character intellectual property (IP) and diversifies its product range. As a prominent brand under Jazwares, Squishmallows has earned global recognition for its irresistibly soft and lovable plush collectibles, making this partnership a perfect match.
Product Details and Availability
The exclusive VeeFriends Squishmallows collection includes four characters: Adventurous Astronaut, Humble Hedgehog, Intuitive Iguana, and Karma Kiwi.
Each Squishmallow stands 12 inches tall and will be priced at $24.99. The plush toys will be available for purchase on Jazwares.com and the VeeFriends merch store, with the launch date set for August 7, 2023.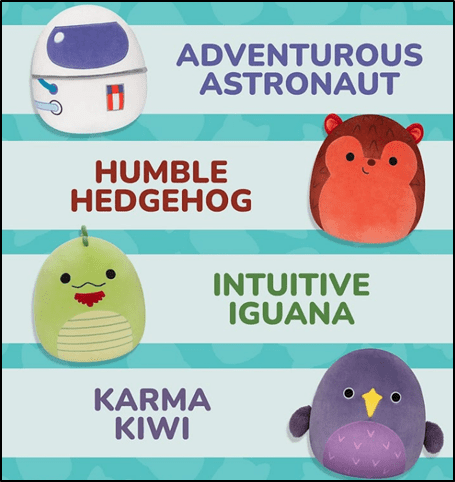 The collection is limited, adding to its appeal among collectors seeking unique and cherished items. To ensure a smooth purchasing experience, domestic sales in the United States will be fulfilled through Jazwares' e-commerce website. At the same time, international customers can purchase collectibles from the VeeFriends store.
VeeFriends is committed to rewarding its token holders and creating meaningful connections with its characters. Holders of the four respective characters in the VeeFriends NFT collection can claim one Squishmallows plush toy per token owned. The claiming period will be open from July 26 to August 2, allowing token holders to secure their exclusive collectible.
Squishmallows' Berkshire Hathaway Connection
Squishmallows, launched in 2017, has enjoyed immense popularity, selling over 100 million units in 2022 alone. The toy brand, owned by Kelly Toys and a subsidiary of Alleghany Capital Corporation, is now under the umbrella of Berkshire Hathaway Inc, the conglomerate led by Warren Buffett.
The Squishmallows toy gained widespread recognition, becoming a trending topic on TikTok and receiving numerous awards, including Toy of the Year accolades. The plush and cuddly design, affordability, and accessibility have made Squishmallows a favorite among a broad demographic of consumers.
Conclusion
The collaboration between VeeFriends and Squishmallows marks a momentous occasion for both brands, bringing digital characters to life as lovable plush toys. VeeFriends' mission to promote self-discovery and positivity through its characters is further strengthened with this partnership.
As fans eagerly await the launch of the exclusive Squishmallows x VeeFriends collection, the digital and physical realms intertwine, fostering an experience for collectors worldwide.