There has been a lot going on in the crypto space. From the macro elements of interest rate hikes and inflation to the Ethereum Merge upgrade. From Cardano's Vasil upgrade to the increased excitement around XRP and the SEC case against it. It would be good to diverge from these subjects to look into the tailwinds behind Chiliz (CHZ) and Algorand (ALGO) as the FIFA World Cup grows closer. On-chain data from IntoTheBlock provide valuable insights into how sports partnerships could increase crypto adoption.
The Crypto And Soccer Worlds Are Coming Together
Two seemingly parallel worlds have converged as the most significant global sporting event FIFA World Cup draws closer. Crypto and soccer are coming together through a set of high-profile partnerships aimed at extending cryptocurrency adoption.
In May, Algorand became FIFA's official blockchain platform. The US-based blockchain company also sponsors the international football federation's Men's World Cup in Europe and North America. It also achieved the status of "Official Sponsor" in the 2023 Women's World Cup.
Earlier this month, FIFA announced plans to launch an NFT platform on the Algorand blockchain. The world football governing body found the FIFA Collect marketplace on Thursday and comprises a wide range of NFTs, including world cup highlights, art, and imagery. 
This news has driven the growth of the Algorand network over the past few weeks. The number of new users on the Algorand blockchain has been climbing as it hosts the NFT platform behind the FIFA Collect NFTS. This is shown by the number of New Addresses on the blockchain, which increased from 7,110 when the announcement was made in early September to peak at 54,030 on September 8. A spike in New Addresses was witnessed recently from around 12,000 on September 17 to 34,550 when the FIFA NFT marketplace went live.
Data from IntoTheBlock also revealed that large ALGO holders have increased in number over the summer, adding to the altcoin's bullish outlook. For example, the number of addresses holding between 1 m – 10 m ALGO increased from 351 addresses on September 1 to 357 addresses on September 22. In addition, the percentage of supply held by large owners – addresses with > 1% of supply – climbed sharply in August, with whales' aggregate holdings rising by over $280M since August.
This has resulted in the ALGO price rising an impressive 40% from September 19, opening at $0.2922 to Thursday's high of around $0.41. The price action has led to a cup-and-handle chart pattern on the daily chart projecting a 33% upswing to $0.488 if the bullish momentum is sustained.
Amount Of Addresses Holding Chiliz (CHZ) At Record Levels
The excitement surrounding the World Cup and soccer generally have extended beyond Algorand in the crypto industry. Chiliz, a leading digital currency platform for sports and entertainment, has also enjoyed an intense eight weeks since the return of major European football and with other sports leagues such as the NBA set to return soon.
Chiliz, in partnership with Socios.com, provides fan tokens for several high-profile sports clubs and leagues, including FC Barcelona, Real Madrid, Arsenal, Manchester City, the NBA, and the UFC. 
Recently, Chiliz hit the news when it won part of the deal to acquire FC Barcelona's digital content rights for $100 (Coindesk). Chiliz is also on track to release its mainnet with upgraded token burn mechanisms, attracting buying activity on its CHZ token.
As a result, there has been an increase in the number of addresses holding CHZ tokens. These addresses increased steadily in 2022 to reach all-time highs of 236,570 addresses on September 23, according to on-chain data from IntoTheBlock.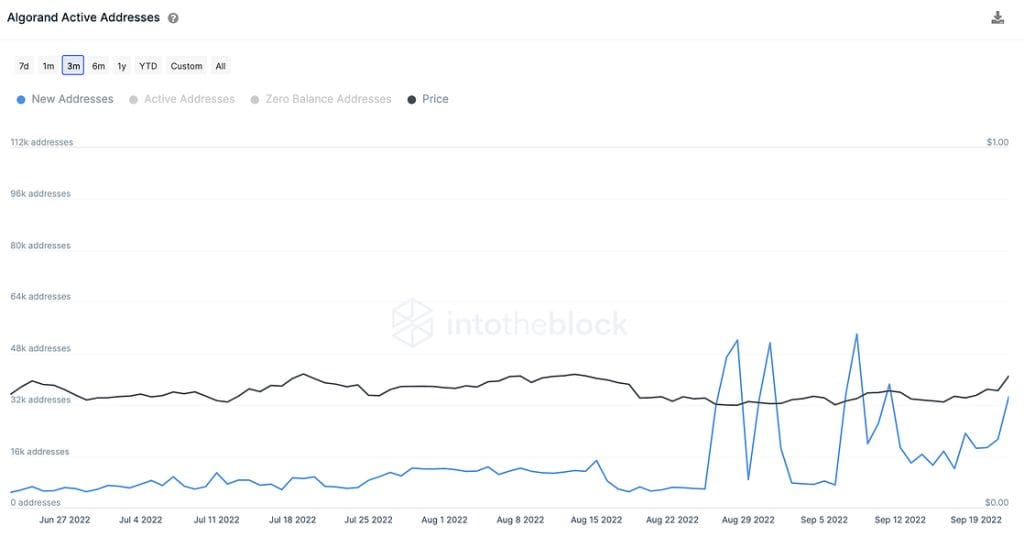 CHZ price momentum has been increasing as the soccer season returns, bringing demand for the token from fans looking to participate in their club's decisions. As such, CHZ has surged by more than 182% from July lows around $0.095 to brush shoulders with $0.28 on September 23. At the time of writing, the Chiliz token trades at $0.25, with a volume of $513,775,141 in the last 24 hours.
It is yet to be seen if the hype surrounding these assets will materialize. However, the upcoming FIFA World Cup appears to be the dominant narrative for ALGO and CHZ's continued push-up.