Disclaimer: The following publication will review current market sentiment and activity using data from various analytical sources. Points made within this article are my thoughts and opinions and are in no way financial advice.
Today's Topics
Binance Backs Out of FTX Acquisition Deal
DXY Gets Rejected Following a Strong CPI Report, Stocks and Crypto Move Up
Binance Backs Out of FTX Acquisition Deal
Things got super heated yesterday in the cryptoverse! Bitcoin and other major cryptos saw major capitulation after Binane announced that they would be backing out from the FTX acquisition deal due to "reports regarding mishandled customer funds and alleged US agency investigations."
As you would assume, markets reacted incredibly fast, as Bitcoin fell by 7.6% in a few hours, creating a new relative low of around $15,700. Keep in mind this is on top of a prior 20% drop from the initial sell-off we covered a few posts back. The following is a list of other top cryptocurrencies and the bottom they hit at the peak of capitulation, and FTT:
Ethereum: $1074
BNB: $260
Cardano: $0.31
Dogecoin: $0.07
Polygon: $0.76
Polkadot: $5.30
Solana: $12.59
FTT: $1.09
At the time of writing, there have been no further announcements from the Binance team. This matter is now entirely out of their hands, forcing Sam Bankman-Fried (SBF) and FTX to explore other options in acquiring capital to 1) bail themselves and the industry out of a collapse and 2) return the billions of dollars worth of user funds that were lost. As things stand, the only knight in shining armor for FTX has been Tron, who has established a "special facility" that will allow holders of TRX, BTT, JST, SUN, and HT to swap assets from FTX 1:1 to external wallets, as explained below.
However, even with that announcement and a lengthy 22-part apology thread released by SBF himself, the situation has only gotten worse for FTX and its users, as a warning on the FTX US website has appeared saying that trading may be halted in the coming days. Everyone reading this should withdraw any assets you may have on the platform while you still can. Good luck and godspeed
DXY Gets Rejected Following a Strong CPI Report, Stocks and Crypto Move Up
Alongside the recent absolute destruction of the crypto markets, major indexes and equities looked as if they were ready for their next leg down, as the DXY was showing strength leading up to today's CPI report. However, through the work of some higher power, the CPI report was released with flying colors, as y/y inflation dropped to 7.7%, which was 0.2% lower than expected and 0.5% lower than last month's CPI report of 8.2%. This is the lowest y/y inflation has been since February 2022.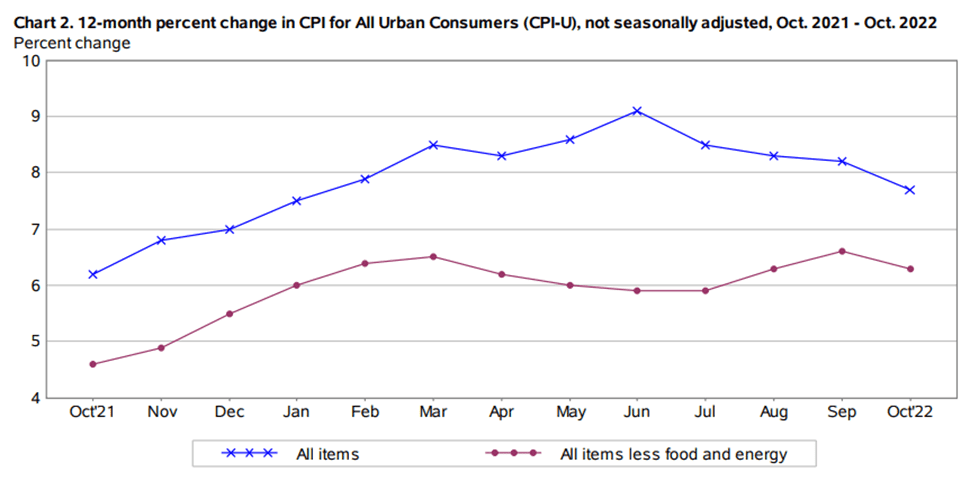 Additionally, m/m inflation was expected to come in at 0.6%, a 0.2% increase from last month. However, the m/m came in at 0.4%, which was 0.2% lower than expected. As a result, the SPX closed an incredibly bullish day with an increase of 5.25%, its most, if not one of the most, significant single-day increases of the entire year, if I'm not mistaken.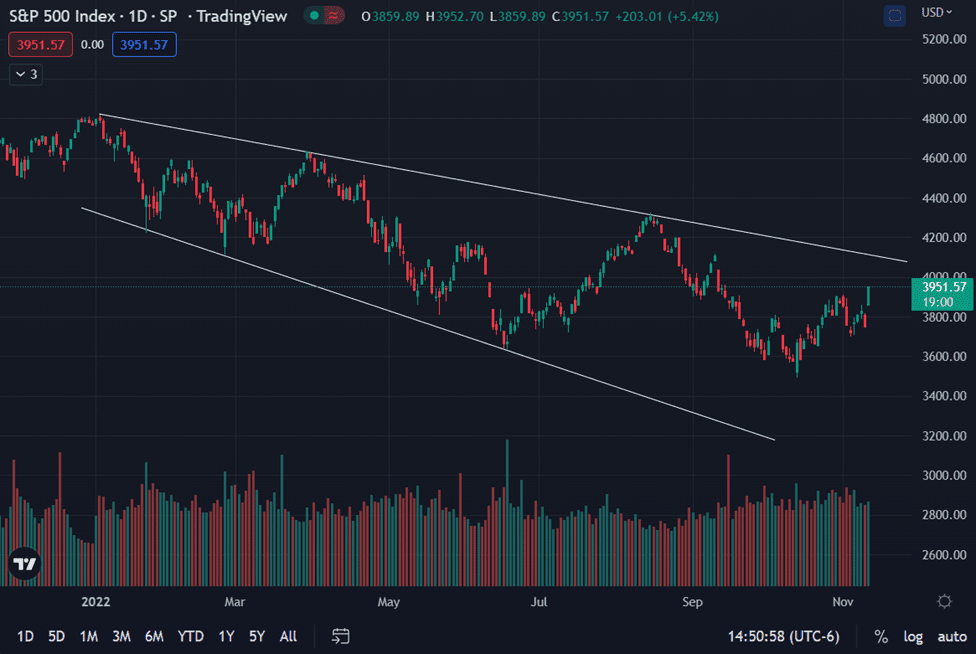 As it usually does, crypto is following the macro market's sudden bullish move upwards, as Bitcoin is a few hours away from closing a 13.5% increase on the day. Altcoins are also performing exceptionally well following the CPI report, with Ethereum seeing a 20.3% increase intra-day. If Ethereum could close above $1,340, it would have formed a bullish engulfing candle, recovering 100% of its losses over the last 24 hours. If you want to see something interesting, refer below for a list of the top-performing cryptocurrencies in the previous 24 hours via CoinGecko.
FTT (lol): +40%
Polygon: +38.6%
Solana (rip): +38%
Aptos: +35.4%
Maker: +34.7%
Judging by today's overly optimistic CPI report, the possibility for the fed to start slowing down interest rate hikes has increased, as the market is probably in the process of pricing in a 50 bps hike as we speak (or read). I will say, a 50 bps hike during next month's FOMC meeting could create the possibility for a very bullish end of the year. The meeting is set for December 13-14th, so mark your calendars!!!