Disclaimer: The following publication will review current market sentiment and activity using data from various analytical sources. Points made within this article are my thoughts and opinions and are in no way financial advice.
Today's Topics
FTX $FTT Drops 85% Following FTX Liquidity Crunch
SEC Wins Suit Against LBRY Making its Native Token a Security
FTX $FTT Drops 85% Following FTX Liquidity Crunch
I had a whole write-up planned out for today, but the craziness of the cryptoverse over the last 24 hours has thrown that out the window. Over the last few days, everyone and their mother has been following the FTX and Binance battle that has been popping off on Twitter between Binance CEO CZ and FTX CEO Sam Bankman-Fried. However, today was the straw that broke the camel's back, as CZ announced this morning that Binance had signed a non-binding LOI (Letter of Intent), intending to acquire FTX and help cover its liquidity crunch fully.
Before this announcement, the FTT token had already fallen 27% as hundreds of millions of dollars worth of FTT was being transferred through exchanges as insolvency rumors grew. As a matter of fact, millions of dollars worth of FTT transfers are still happening now, as the following is a 2,782,343 FTT, $13,338,644 transfer that went through around 10 minutes ago from the time of writing.
Following the announcement, at first glance, it seemed that Binance had come in and saved the crypto space from an imposing liquidity crisis by industry leader FTX. However, this narrative was very short-lived, as an hour or so following the announcement, FTT capitulated by 85% in four hours, hitting a new all-time low of $2.73, 96% from all-time highs.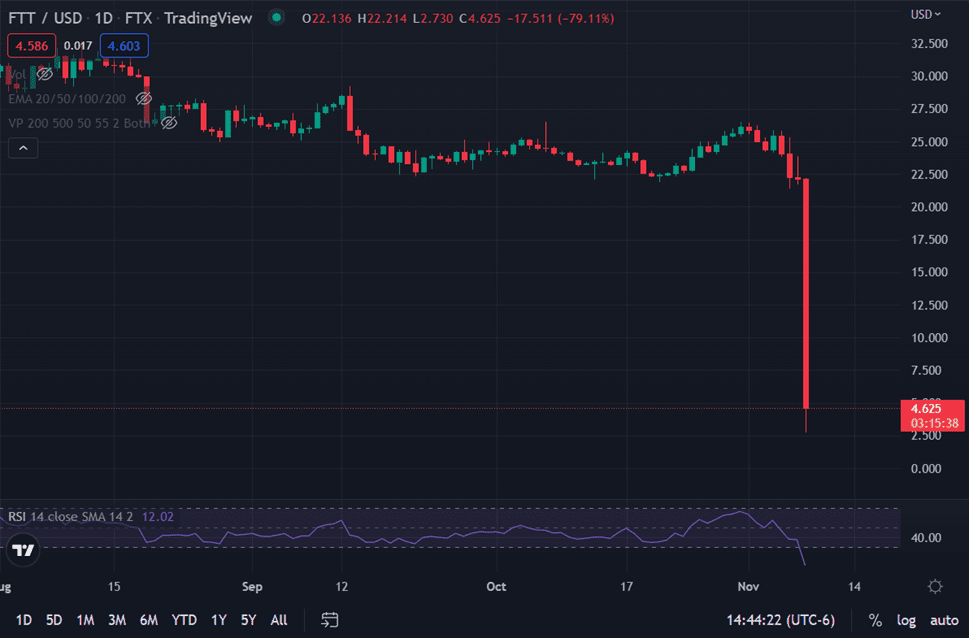 As far as this specific situation is concerned, neither party has released further details. However, this debacle has undeniably caused major capitulation amongst various cryptocurrencies today, big and small. If you want to laugh, or cry, check out the following snapshot I took near the peak of the most recent move—some fantastic stats.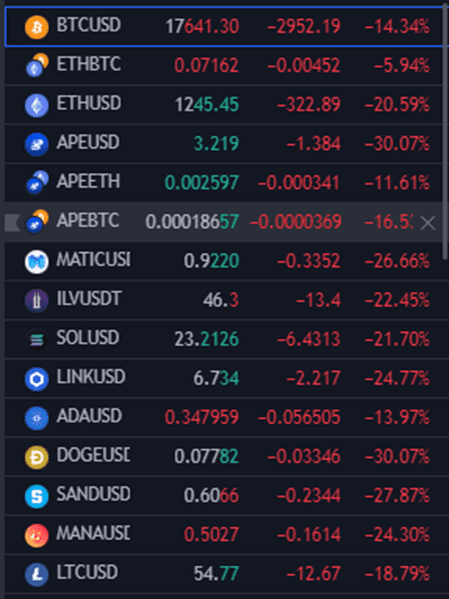 Massive amounts of cryptocurrency are moving from wallets to exchanges, signaling that the worst may have yet to come. Most importantly, stay safe, and ensure that what you hold is secure. Good luck!
SEC Wins Suit Against LBRY Making its Native Token a Security
For context, LBRY is a blockchain-based file-sharing network with a digital marketplace controlled by the market's participants rather than a corporation or other 3rd-party. LBRY creates an association between a unique name and a piece of digital content, such as a movie, book, or game. You can compare this to a decentralized version of the domain name system currently allowing you to view this post, as explained by the LBRY team.
Now for the juicy stuff. The SEC case with LBRY has been an ongoing matter for years, revolving around LBRY's native token, LBC. Long story short, the SEC hit LBRY with a suit claiming that the LBC token was, in fact, an unregistered security due to LBRY's method of token issuance. Unfortunately for LBRY and the crypto space, the case came to a disappointing conclusion yesterday as LBRY announced that they had lost the battle with the SEC, deeming their token a security.
What makes this decision especially scary for cryptocurrencies in the US is the language used by the judge to justify his decision. For context, refer to the snapshot containing a snippet taken from the official ruling explaining how LBRY simply holding a chunk of LBC tokens was enough to deem them security.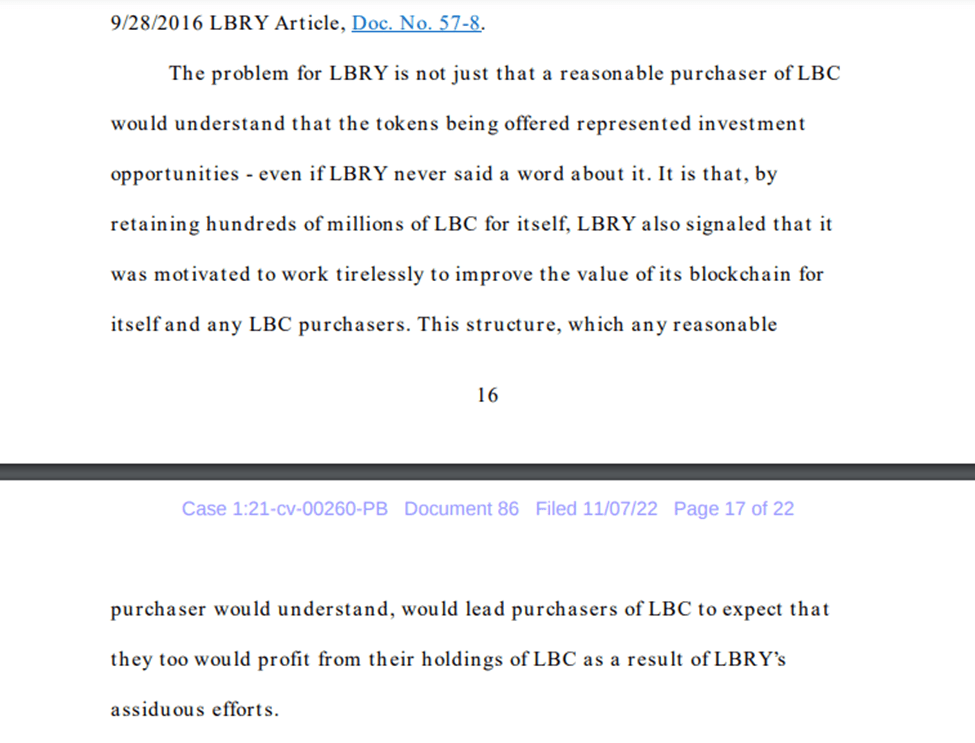 This ruling could have significant ramifications on the future of the cryptocurrency market in the US, seeing that the SEC now has more leeway in deeming cryptos as securities. This also started a small conversation around the XRP case and whether it will impact its final decision. I'm not a lawyer, but ill keep you updated on any further developments when they make themselves known!