The September Federal Open Market Committee (FOMC) meeting is on Wednesday. The Federal Reserve is expected to raise interest rates by 75 basis points, with a rated peak anticipated in March 2023 at 4.7%. In the meantime, the 30-year and 3-month Treasury inversion grow closer by the day.
These macroeconomic conditions and the ongoing crypto winter have raised concerns amongst investors looking for indicators and patterns to guide their long and short positions while attempting to maximize returns. One of the most significant patterns is the altcoin season – a season for alternative currencies. Indicators suggest that this season might be at the door.
Top Altcoins Outperform Bitcoin
According to the Altcoin Season Index by Blochhain Center, 69% of the top 50 cryptocurrencies outperformed Bitcoin (BTC ) in the past three months as of September 19. This implies that the market is about to enter "altcoin season."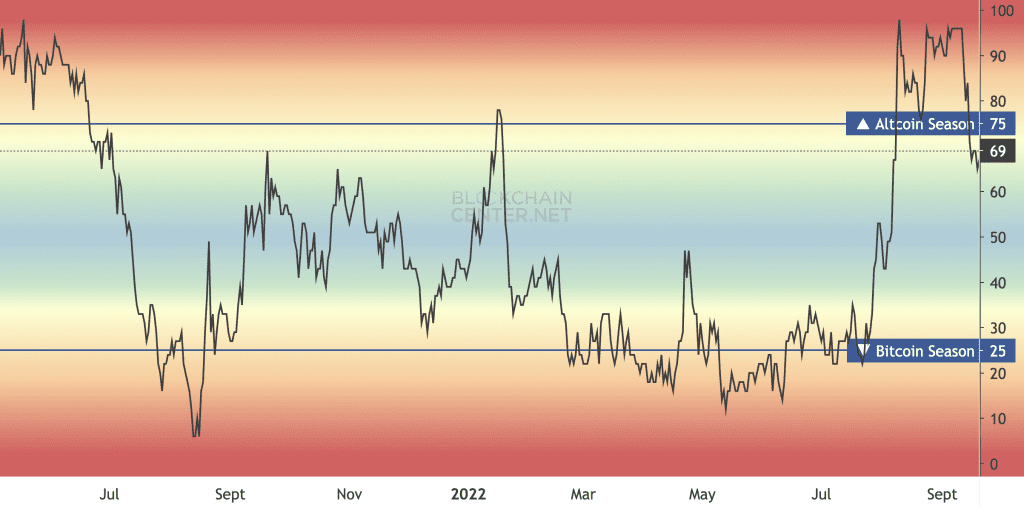 It is worth noting that the Blockchain Center's Altcoin Season Index is used to declare an entry into the altcoin season once 75% of the top 50 cryptos perform better than the flagship cryptocurrency – Bitcoin (BTC), over 90 days. The analyzed coins do not include stablecoins (such as DAI, USDC, and USDT) and asset-backed digital assets (including WBTC, stETH, and cLINK).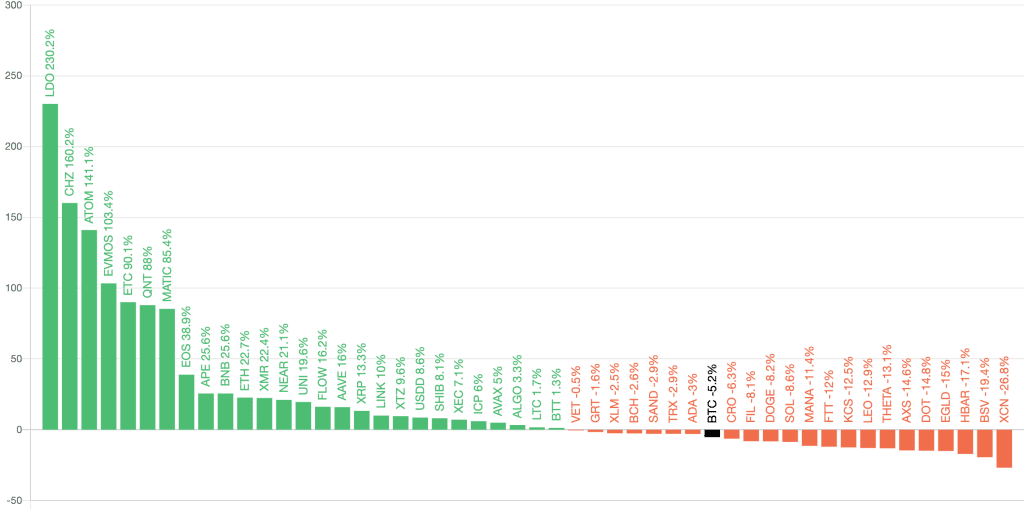 Liquid staking solution for Ethereum (ETH), LIDO (LDO), was the highest performing altcoin after climbing 230.3% in 90 days. In second place was Chiliz (CHZ), the token powering the blockchain-based sports entertainment platform Socios.com at 160.2%. This was followed by ATOM – the token fueling the Cosmos ecosystem and EVMOS – an EVM-based token – at 141.1% and 103.4%, respectively. Bitcoin (BTC) is down 4.9% over the same period.
While the "altcoin season" refers to a period in the crypto market when alternative coins perform better than BTC, it is worth noting that this may not directly translate into profits. This can be attributed to market volatility, increasing consumer prices, and high inflation rates. However, the season allows crypto investors to diversify their portfolios.
Altcoins usually perform better in a bull market. As such, when a significant number of top altcoins outperform Bitcoin, it could indicate that a potential rally is on the cards for both class fees of cryptocurrencies.
Bitcoin's Decreasing Dominance
The possibility of an altcoin season can be determined by analyzing BTC's market dominance. Note that previous altcoin seasons have been known to coincide with decreasing Bitcoin market dominance, which has been dropping over the last few days as capital flows into other digital assets. In most cases, the altcoin season is usually indicated by investors moving their money from Bitcoin to other cryptocurrencies. According to data from CoinMarketCap, Bitcoin dominance now stands at 39.47%, a decrease of 0.04% over the day.
In the meantime, BTC price action remains drab as it continues oscillating around the $20,000 level. When writing this article, the pioneer cryptocurrency exchanged hands for around $19,160, with gains of almost 0.26% in the last 24 hours.