Tatsumeeko is an idle MMORPG game developed by Tatsu Works on the Solana blockchain. Once the game is launched, it will be available on iOS, Android, Discord, and web browsers. It will have an engaging storyline, a multi-class system, vast landscapes to explore, quests to complete, boss raids, skills to level up, and resources to gather. The gameplay will be structured to promote and reward social engagement.
The team behind the project is known for their previous successful venture – Tatsu. They were one of the first to gamify the Discord server by adding a currency system, allowing users to level up and get pets. After that, they introduced their products to 1.4 million Discord servers that use them today.
Tatsu Works is a team of 40+ seasoned developers and creatives from various established entertainment companies like Square Enix, Gumi, Koei Tecmo, and Toei Animation. They also raised $7.5m, led by Bitkraft and Delphi Digital, in 2022. Additionally, their partnerships are pretty impressive, as they are backed by Binance Labs, Animoca Brands, Dialectic, and GuildFi, to name a few.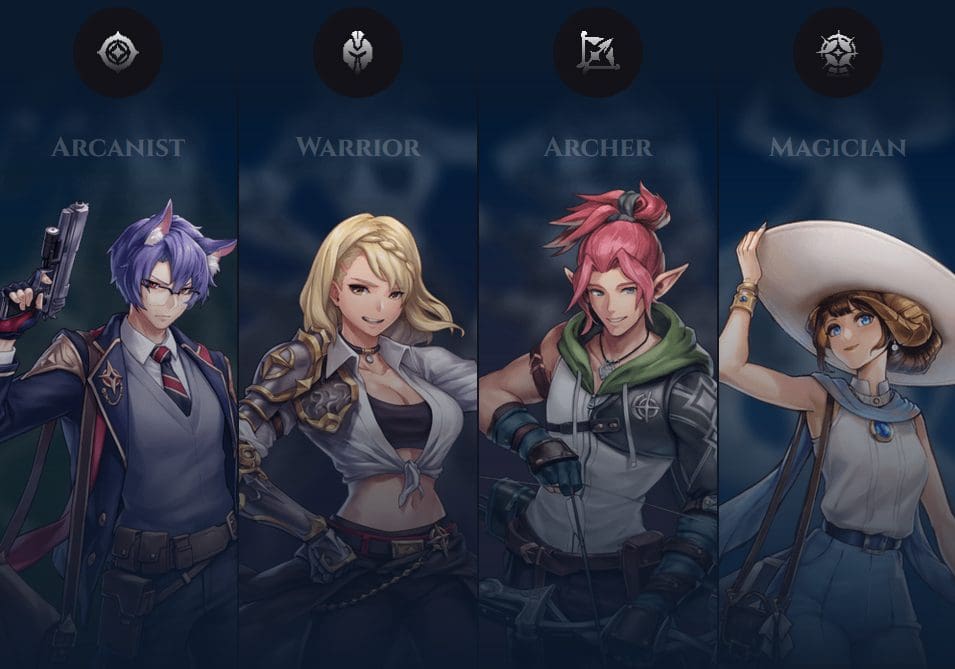 While most of the game features are not slated to release until late 2022, you can already play the pre-alpha using the Tatsu.GG Discord application. Character creation, housing customization, and the pet system are already available.
Their genesis collection, called Meekolony Passes, consists of 10.000 avatars NFTs that can be used as a PFP and act as in-game characters. They will give holders special perks and lifetime subscription benefits to Tatsumeeko as well as other cosmetics and bonuses.
Of course, one does not need to purchase this NFT to play – once the game is launched, it will be free-to-play.
Land Plots
The continent on which the game is played is called "Ielia." It is a place where players can immerse themselves with profound lore and background stories and where daily and weekly recurring events will be hosted, rewarding the participants.
Even though the game will be free-to-play, owning one of these land plots will have multiple benefits for holders. For example, one in every five parcel has a monster den there will be a special creature that appears on the land plot. These will periodically give holders extra loot drops, including artifacts. Even if a land plot does not contain a monster den, each week, every holder is eligible to claim a loot box that yields in-game items, currency, artifacts, and cosmetics. There will also be a variety of active and passive buffy available to holders of the land parcels as well as to visitors that use "Aethereal Energy".
There will be seven basic terrain types that are a part of the Ielia's natural environment:
Grassland
Magical Forest
Desert
Swamp
Mountains
Crystal Beach
Snowy Mountains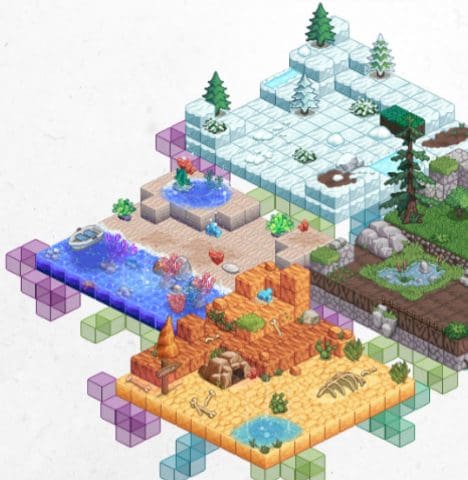 The terrain type, however, does not have a significant impact on the rarity of the NFT. What matters is the number of Artifact Slots available on that particular parcel of land. Bronze parcels will have one slot, Silver will have 1, Gold will have three, and Aethereal plots will have four.
The date, supply, and price of public mint are now unknown. What is known, though, is that it will be on Ethereum and that holders of Meekolony Pass NFTs will have guaranteed whitelists. They have also already announced most of the utility holders of the land plots will have access to some of the game mechanics that will be available once the game is launched and some art is revealed.
There will also be two additional functionalities available to landholders; "Customize," where they can modify the layout of the land plots by adding objects such as bushes, trees, or sprites, and "Personalize," where they can showcase their trophies from adventures they have been on.
There will be eight classes: Arcanist, Warrior, Archer, Magician, Claric, Recruit, Squire, and Thief. Some of these will have a support role, some are tanks, and some have high DPS(damage per second) output. This was designed so players could choose a hero tailored to their playing style.
Token
Besides tradeable in-game resources, there will be two tokens that will work in synergy. One will be called $MKLN (Meekolony Governance Token) and will have a fixed supply of 1.000.000.000 tokens that will have governance-based utility, providing holders that stake their tickets with the ability to vote on various proposals and steer the future direction of the project in a DAO-like structure. Initially, $MKLN tokens will be distributed via airdrop to those that hold the genesis collection – Meekolony Pass. The other token, $IGS, will have an uncapped supply and be used as an in-game currency. Players can acquire these tokens via boss raids, quest rewards, dungeon rewards, and milestone completion. It will have a "sink" mechanism not to overinflate the supply. Tokens will be removed from circulation when players purchase upgrades, clothing or cosmetic upgrades, land infrastructure, and other perks.
Closing Thoughts
This is another one of those under-the-radar projects that are not on Ethereum, don't have a strong Twitter presence, and are not actively shilled or even mentioned a lot by anyone, but could blow up anytime because the project has excellent funding, a good team with a proven track record behind it, and because the development is ways ahead of the competition. They know what they want and are focused on it by building out the ecosystem that will allow them to expand.
Also, I like the anime-themed art style and think it is one of the strong suits that could attract people of all ages to the game. To anyone that dives deep into their detailed whitepaper, it is apparent that many aspects of their project, such as game mechanics, land plot attributes and their rarities, and tokenomics, are carefully thought out.
In terms of pricing, it is not as expensive as some other NFT land projects we have reviewed in this series; an avatar currently costs around 4 SOL which is about $120. This represents an excellent opportunity for those who cannot afford some of the more highly sought NFT projects or does not want to deal with the Ethereum fees.
The only downside I currently see for this project is all the issues with the Solana blockchain that have recently popped up everywhere, from outages to major hacks, wallet exploits, and centralization concerns.
Links
Website: https://tatsumeeko.com/
Twitter: https://twitter.com/tatsumeeko
Discord: https://discord.com/invite/tatsu
MagicEden: https://magiceden.io/marketplace/meekolony  
Token: TBA
Documentation: https://tatsumeeko.com/whitepaper