Launched in 2017 by the Tron Foundation, Tron aims to be an Ethereum alternative, albeit initially setting out to offer decentralized content distribution. The Tron Foundation, previously headed by the controversial figure Justin Sun, dissolved itself in July 2021 and restructured into the TRON DAO. The community currently runs the DAO.
The Tron blockchain supports smart contracts, dApps, and various kinds of blockchain systems; from the start, it was accused of plagiarism for allegedly copying the code from other crypto projects.
Tron
The mainnet launched in May 2018, and in July of the same year, it acquired BitTorrent, a peer-to-peer file sharing protocol. The roadmap included combining BitTorrent's 100 million users to the network and encouraging the development and building of dApps. Some things that can be done on Tron are token asset issuing, dAPP deployment and running, staking, voting for gains, and asset transferring.
The network is secured by a delegated-proof-of-stake consensus (DPoS) mechanism. As of August 2022, the network has over 6,700 nodes. 27 Super Representatives (SR) rotate every six hours to produce blocks for the network and pack transactions. Any holder of TRON (TRX), the official cryptocurrency of Tron, can become an SR via voting by TRX holders. SRs receive rewards from fee income made from swaps and TRX-stablecoin swaps.
According to the whitepaper, Tron can process up to 2,000 transactions per second (TPS) with plans for future improvements. Other information regarding the total accounts, transactions, blocks, TVL, and more can be found on its explorer called Tronscan. The blockchain is well known for its low transaction fees. However, developer adoption is lagging behind other more popular smart contract platforms.
Tron's architecture is split into three:
The core layer: smart contracts (Solidity), account management, and DPos mechanism
The storage layer: where distributed data is stored
The application layer: where dApps are built
The network supports TRC-10 and TRC-20 token standards, which are compatible with Ethereum's ERC-20. Since Solidity is used, more token standards can be transferred to Tron.
TRX
Tronix, known as TRX, is the native token on the Tron chain. Initially, 100 billion TRX were issued, and 1 billion were burned in celebration of the mainnet launch. TRX can be bought and traded on Binance, BTCEX, Deepcoin, and CoinTiger.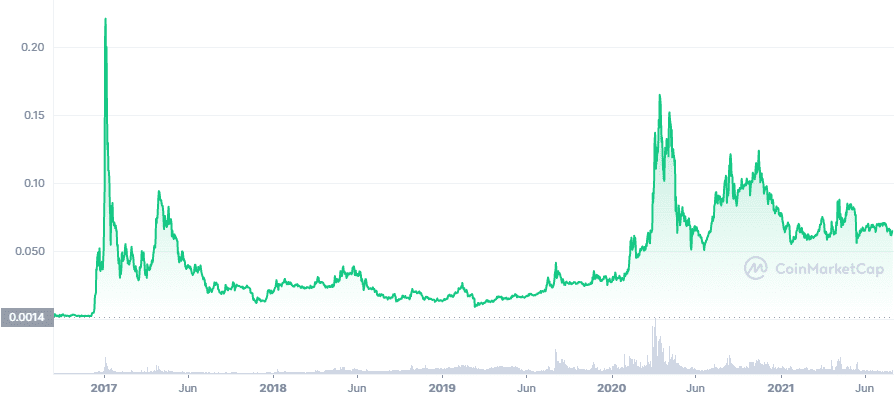 TRX is also directly linked to USDD, an algorithmic stablecoin launched last May 2022. TRX is burnt to mint USDD in a model similar to UST's. The amount of TRX generated and burned can be found on Tronscan. Its all-time high of $0.23 was reached in Jan 2018, and the coin now ranks in 16th place in overall cryptocurrency markets.
Tron Ecosystem
Today, Tron has eight functional protocols, as seen on Defi Lama. According to the data, it ranks second in total TVL, beating chains like BNB and Cardano despite the minimal number of protocols. JustLend, a lending platform, has a TVL of around $3.7 billion, and the SUN DEX has an approximate TVL of $2.3 billion. According to an article published by Altcoin Buzz, this can be explained by the high yields the protocols offer on $USDD, which raises questions about long-term sustainability. An important question is whether this TVL will remain should these yields fall.
According to information provided on their website for developers, Tron's roadmap is set up for ten years and has the following planned milestones: Exudos (2017 – 2018), Odyssey (2019 – 2020), Great Voyage (2020 – 2021), Apollo (2021 – 2023), Star Trek (2023 – 2025) and Eternity (2025 – 2027). However, the current status quo is not available on their website or social media.
The Future
One wonders whether Sun's public image and what has been said about Tron having copied code from other projects impacts the blockchain's reputation. USDD, which the Tron Foundation also launched, has been met with similar accusations and is considered a UST copycat. UST's catastrophe only took place a couple of days after the launch of USDD, so again one questions how all of this is interpreted by developers and investors alike. Time will tell whether Tron overcomes this kind of publicity and how it will fare in the 'Ethereum killer' race.