Origins
Launched in 2020 by the Solana Foundation, Solana aspires to solve Ethereum's challenges. One of the most significant selling points of the Solana network is its capability to run as many as 50,000 transactions per second (TPS), coupled with meager fees. As a decentralized blockchain, Solana was built to allow for scalable, user-friendly apps.
The Solana Network
Solana's network combines two consensus algorithms: Proof-of-Stake (PoS) consensus with Proof-of-History (PoH). PoH allows a reliable 'clock' between computers on the network simplifying synchronization. This, combined with PoS, makes it the fastest chain out there.
Solana's network is environmentally friendly, just like BSC's and Cardano's. With its fast transactions competing with VISA's, the network and its native token SOL were intended for online businesses, requiring high speeds, low fees, and security. The average transaction fee costs around $0.00025, a far cry from Ethereum's all-time high of $196.64, recorded in May 2022. These transactions are available for all to see on the Solana explorer.
Programmers can use the Rust C and C++ programming languages on Solana. However, in the future, the Neon EVM solution will allow Ethereum developers to cross chains, should they want to.

The SOL token
SOL has a market cap of around $13.9 billion; the coin stands in the top 10 cryptocurrencies. It can be used to pay transaction fees, make payments, stake to support the network, power DApps, and for governance voting.
An all-time high was reached in November 2021 at $259.96. Its young age and sharp gains during the past year created a lot of buzz around the coin due to the Degenerate Ape NFT collection, high developer activity in the ecosystem, great institutional interest, a growing DeFi sector, and the emergence of NFTs and the gaming sector. The coin and the Solana network are endorsed by Sam Bankman-Fried, a very prominent personality in the crypto space, the FTX CEO, and Alameda Research founder.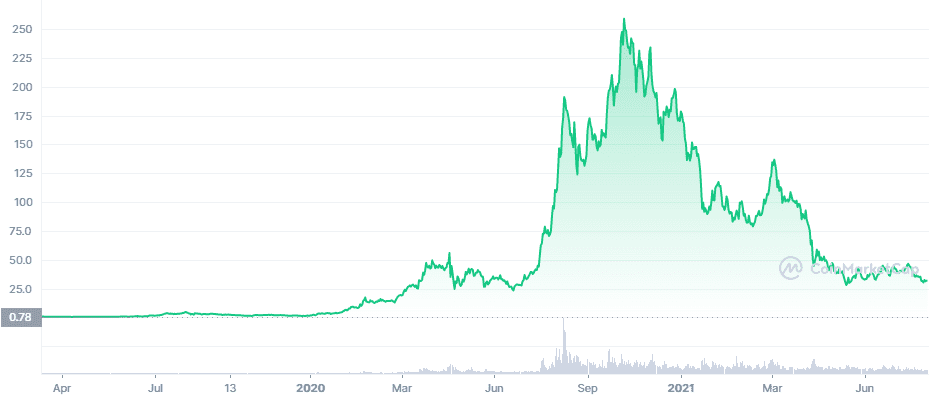 SOL can be bought from all major exchanges and is supported by several hard and soft wallets. One of the chain's most popular non-custodial wallets is called Phantom. It lets users store, send, receive Sol, and keep NFTs.

Ecosystem
NFTs: Solana has a thriving NFT space. Magic Eden is the biggest NFT Solana marketplace, alongside Solanart and Solsea, bringing high volume and floor prices to the chain. Popular NFT sets include DeGods, Solana Monkey Business, and Okay Bears.
DeFi: Solana's speed is yet to be matched on a blockchain. This has been achieved without implementing layer twos, so it's constantly in a single global state. Solana has 243 DeFi projects and almost $2 billion in total value locked.
Gaming: The speed of the blockchain is desirable for gaming. Some notable games which are building are Star Atlas, Aurory, and Panzerdogs, and big players including FTX, Solana Ventures, Forte, and Lightspeed are investing millions in Web 3 gaming on Solana.
Payments: Solana pay, a peer-to-peer payments network allowing instant payments at a low cost, launched last February. It supports all currencies supported by Solana, including stablecoin USDC. When Solana launches its phone Saga (next year), it will incorporate Solana Pay and work as a crypto wallet.
DAOs: Solana is home to 140 DAOs created with approximately $1 billion in funds managed on the blockchain.
Security & Weaknesses
Nodes supporting the network: There are 1,921 validators supporting the network, in contrast to Ethereum's approximately 410,000. This relatively small number has some worried that it would take much less for the network to be halted.
Hardware: Zachary Lorance, in a report on Solana, argues that if the chain continues to grow, the Solana blockchain will need more specialized and expensive hardware, which eliminates participants at the cost of network health, decentralization, and network security. He believes that with today's transactions Solana is already overloaded, and it's why there have been regular outages.
Wallet hack August 2022: 8,000 wallets and over $5 million in funds have been drained, which developers attribute to using Slope wallet applications.
Despite these challenges, Bankman Fried is still a big supporter. He attributes these growing pains to the chain's young age and claims that Solana has already worked through at least three-quarters of its arising challenges. He believes SOL to be a most underrated token.