Shiba Inu's recent burn mechanism not only inflated the price of its token but also brought to the public's attention the current expansion efforts by Shibu. First and foremost, the burn mechanism was unique in that special tokens were created from the burn—these tokens yield generating tokens that paid out rewards in another token. News of the burn mechanism brought more attention to other Shiba news, including its partnership with centralized exchanges and plans to enter the Metaverse.
The Token Burning Mechanism

Developers of Shiba Inu recently launched a burning mechanism on the ShibaSwap exchange that gives holders the ability to burb their tokens while, at the same time, being able to earn passive income. This token burn mechanism was introduced back in April as a means to reduce the token's circulating supply. Typically, while not guaranteed, burn tactics are undertaken with the hopes that the burn would increase the token's price.
The process is relatively straightforward. It involves the "burntSHIB" tokens. Individuals can stake burntSHIB tokens and generate rewards in the form of Ryoshi tokens—which are separate tokens also created by the Shibu Inu community. In other words, the burntSHIB tokens are yield-generating tokens that pay out rewards in Ryoshi—another ERC-20 token.
To facilitate this burning process and the generation of new tokens, a ShibaSawp portal—a popular DEX launched by the Shiba team—was developed. This portal represents a partnership between Shiba Inu and Ryoshis Vision ("RYOSHI").
Shiba Inu´s Price Increase
On August 25, Shiba Inu recorded a price rise of over 9%—representing a weekly high. Many attribute this price increase to the surge in the token´s burn rate. Data from Shibburn reports almost 110 million SHIB tokens being burned in one day, which is about 40% of the total SHIB supply to-date.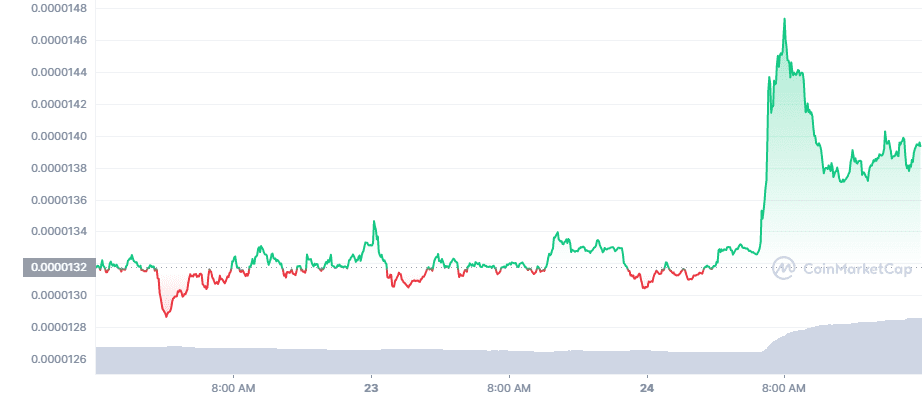 In fact, the price movement of Shiba Inu has seemed to defy the broader crypto market—which continues to be plagued by a vigorous bearish market. Further, Shiba liquidations are sharply rising along with the total number of addresses holding SHIB, according to data reported by Etherscan.
The Shibburn portal also reported additional tactics that served to increase the price of Shiba. Notably, around August 26, "roughly one-third of a billion Shiba Inu was sent to unspendable wallets, currently raising the SHIB burn rate."
Other Factors Responsible for Shiba's Price Increase
Additional factors unrelated to the burn are also responsible for driving Shiba's price. Data from Dune Analytics reveals that Shibaswap's user base has grown to all-time highs. Even though Shiba prices are down over 80% from their peak in October 2021, according to CoinMarketCap data, the trend of Shiba's price in late August demonstrates an intense bullish movement.
Additionally, many have high expectations for the launch of Shibarium—a layer-2 blockchain that will be launched by Shiba Inu. Shiba has also attracted much media attention by becoming "an increasingly active cryptocurrency spot trading option on globally recognized centralized exchanges." The Shiba token has been added to many centralized crypto exchanges.
Adding more fuel to the fire—literally—for Shiba's price increase and burn mechanism is the recent announcement of Shiba's plans to enter the Metaverse.
Shiba vs. Doge
One can hardly discuss the current strategies, tactics, and market reactions of Shiba without discussing how its all-time rival—Dogecoin—performed. Interestingly, Dogecoin fared less well, enjoying a brief increase after the release of its blockchain network—Dogechain—before falling again.
Conclusion
Shiba Inu is far from a meme coin in the traditional sense. It has grown into one of the most popular cryptocurrencies in the world. Its recent burn mechanism has increased its price and allowed users to receive another token as a part of the burning process. As Dogecoin seems to be left behind—at least behind Shiba—Shiba looks ahead to the future, such as by eyeing the Metaverse.