Shiba Inu's price has done well over the past few days, rising to a high of $0.000015, the highest level since August 17 and about 65% above the lowest level in 2022. On Tuesday, November 1, SHIB closed the day at $0.00001287, according to data from CoinMarketCap.
Along with Shiba Inu, Dogecoin has also displayed a colossal price pump, recording more than 130% over seven days. The coming back to life for these two dog-themed coins brings a pause, perhaps an end, to their consolidation state that had lasted weeks amid the bear market.
Industry experts attribute this uptick to the just concluded Twitter buyout by Elon Musk this past week, after he paid $44 billion for the struggling and loss-prone social media company. Musk posted a video of himself bringing a sink into Twitter's headquarters with the catchphrase, "Let that sink in."
Dog-Themed Coins Are Rising On DOGE's Rally
Shiba Inu's price rose following the performance of Dogecoin. Elon Musk has been one of the most active Dogecoin advocates for the past two years, endorsing it from a sleepy and somewhat unknown crypto to the celebrity coin it is today.
Over time, SHIB and other meme coins grew into the more preferred "Dogecoin killer," which explains the close relationship between SHIB and DOGE.
With Musk taking over ownership of Twitter, traders and investors believe that the new management will incorporate DOGE into Twitter's unique ecosystem. Others speculate that Musk could do this by making Dogecoin a payment option on Twitter, preferably to pay for the blue tick subscription for individual users and institutions. This comes after media reports that Musk is discussing plans to make users pay to be verified.
"We need to pay the bills somehow! Twitter cannot rely entirely on advertisers."
The blue tick verification is part of Musk's plan to defeat the bots and trolls. The platform has over 200 million daily active users (DAU).
Commenting on the matter, Cardano Founder Charles Hoskinson told his 953.4K followers on Twitter that after the move by Musk to acquire Twitter, DOGE had a real chance to somehow merge with Twitter.
"Now that Twitter is in the hands of @elonmusk, I can see a real possibility that doge will somehow merge with the platform."
Hoskinson, who also believes that DOGE should be Cardano's sidechain, openly suggested free migration and the addition of smart contracts to the meme coin.
David Gokhshtein is Bullish on $SHIB
The recent positive performance by SHIB has also inspired influencers like David Gokhshtein to resume their tweets on Shiba Inu and Dogecoin as the coins pumped hard the past week. Warning his followers not to try stopping him, saying,
"I'm going all out and buying $33 of $ SHIB. Do not try to stop me. Don't @me."
During mid-October, Gokhshtein tweeted his speculation that SHIB and DOGE would make parabolic turns during the next bull run. He has been bullish and pro-Shiba Inu the whole of 2022, waging on the coin to thrive because of its metaverse currently under development. Earlier, the crypto influencer disclosed that besides Bitcoin (BTC), XRP, and other digital currencies, he is also a SHIB and DOGE token holder.
On October 11, Gokhshtein also expressed his regret for not going on a Shiba Inu earlier, citing the Dogecoin killer narrative as the only thing that stopped him.
Along with Gokhshtein, DOGE believers have many expectations for the new Twitter management under Elon Musk. However, others believe this hype will not significantly affect Shiba Inu and Dogecoin.
For starters, how many people will opt for crypto as a payment option on Twitter remains to be seen? This is best referenced in the case of Tesla, where only a few people buy electric carmaker's accessories using the DOGE. Pundits expect the current rally to follow the hype and erroneous assumptions.
Another reason analysts have attributed to Shiba Inu's price rise is the role of Binance in Twitter's acquisition, after the giant exchange made a sizeable contribution of $500 million to the Elon Musk Twitter deal, hinting at possibilities for a Binance-Twitter partnership.
SHIB/USD Four-Hour Chart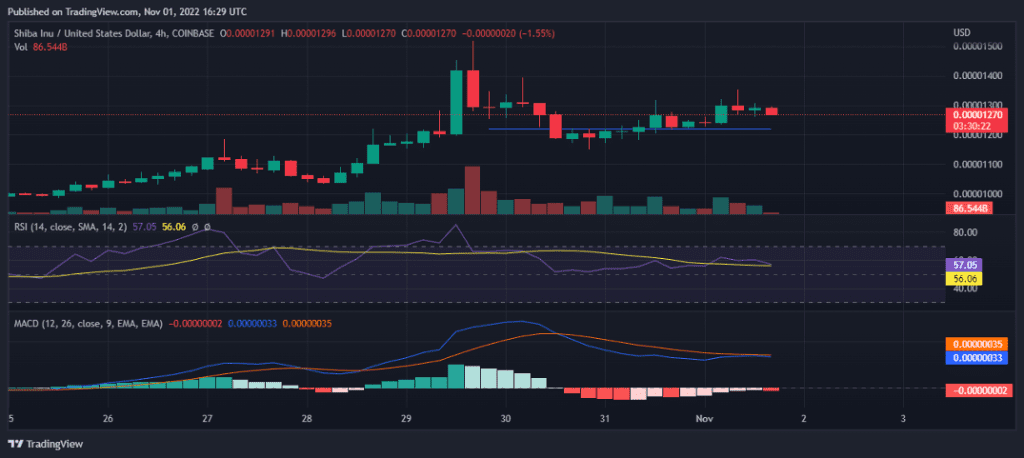 From the four-hour chart (above), SHIB's price has been bullish for the past week, keeping above the 25-day and 50-day MA. However, the position of the RSI at 57 suggests that the market conditions still favor the upside.
SHIB has breached the critical resistance level at $0.000012, a sign of strength amongst the bulls determined to push the meme coin to $0.000015.