The prominent Ethereum L2 scaling solution Polygon has made waves with the launch of Polygon 2.0, a highly anticipated upgrade that brings forth a revolutionary protocol architecture.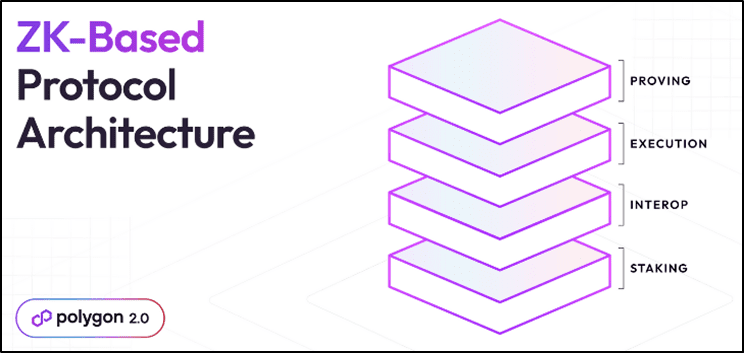 Recently announced and outlined in a blog post, Polygon 2.0's latest architecture iteration comprises four distinct layers, each meticulously designed to synergize and unlock new possibilities within the network.
The layers include:
Staking Layer
Interop Layer
Execution Layer
Proving Layer
In this article, we delve into each layer's unique features and advantages, shedding light on the transformative potential of Polygon 2.0.
Staking Layer: Building Decentralization
At the heart of Polygon 2.0 lies the Staking Layer, which employs a robust Proof-of-Stake (PoS) protocol to foster decentralization across the participating Polygon chains. By harnessing Polygon's native token, MATIC, this layer establishes a decentralized validator pool and introduces an innovative restaking model.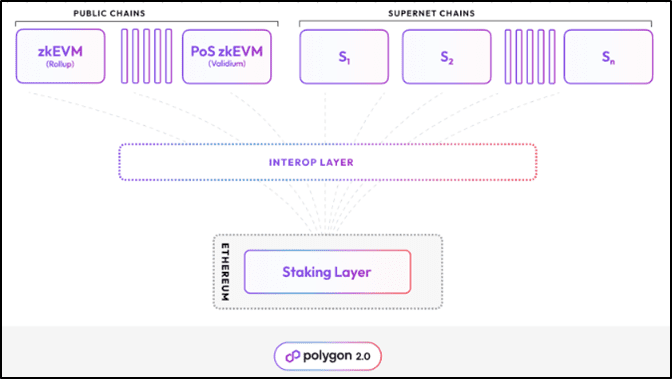 A restaking model refers to a mechanism within a blockchain network that allows participants, such as validators, to continuously reinvest or restake their tokens in the network. Restaking involves staking or locking up a certain amount of tokens as collateral to support the network's operations and secure its consensus mechanism.
Restaking models can provide several benefits to validators and the network. It incentivizes long-term participation and commitment from validators who are vested in the network's success. Validators can earn compounding rewards over time by continuously restaking their earnings, increasing their overall dividends and rewards.
Furthermore, restaking models promote network stability and reduce the chances of sudden validator exits. Validators are encouraged to remain actively involved in the network and contribute to its operations, fostering a more reliable and secure blockchain ecosystem.
Validators can stake their tokens, seamlessly subscribe to multiple Polygon chains, and enjoy Polygon token rewards. The Staking Layer sets a solid foundation, enabling teams to focus on use cases and community growth instead of infrastructure concerns.
Interop Layer: Streamlining Cross-Chain Communication
Polygon 2.0 introduces the Interop Layer, a game-changer simplifying secure cross-chain messaging within the ecosystem. This layer abstracts the complexities associated with interacting across multiple chains, providing a seamless experience for users.
Leveraging shared access to native Ethereum assets, users can effortlessly transfer their tokens across chains without requiring synthetic counterparts. Additionally, the Interop Layer enables near-instant and atomic cross-chain transactions, revolutionizing the concept of unified liquidity in Polygon 2.0.
Execution Layer: Powering Block Generation
Serving as the backbone of Polygon 2.0, the Execution Layer empowers individual Polygon chains to generate sequenced batches of transactions, known as blocks. This layer encompasses various components such as peer-to-peer communication, consensus mechanisms, mempool management, and transaction history storage.
By leveraging existing performant implementations, Polygon strives to maximize efficiency and scalability in block generation, drawing inspiration from successful blockchain networks like Ethereum and Bitcoin.
Proving Layer: Pioneering Zero-Knowledge Proofs
Polygon 2.0 introduces the Proving Layer, a highly performant Zero-Knowledge (ZK) proving protocol that generates proofs for all transactions within Polygon chains. At its core is the Common Prover, a cutting-edge ZK prover developed by Polygon's team of researchers. The Common Prover's efficient design supports arbitrary transaction types, simplifying proof aggregation and verification.
Developers can utilize the State Machine Constructor framework, an evolution of the existing Polygon zkEVM implementation, to define complex state machines and construct transaction formats. This flexible approach facilitates secure cross-chain communication and ensures efficient proof generation and verification.
Conclusion
With the unveiling of Polygon 2.0 and its revolutionary protocol architecture, Polygon reaffirms its position as a trailblazing blockchain platform. Through the Staking Layer, Interop Layer, Execution Layer, and Proving Layer, Polygon unlocks unprecedented scalability, interoperability, and security for its ecosystem.
The upgrade empowers developers and users to harness the platform's full potential, propelling the blockchain industry into new frontiers. As Polygon continues to advance, the future holds immense promise for blockchain technology's evolution and widespread adoption.