OpenSea's Brian Roberts has stepped down as chief finance officer (CFO) at the leading NFT marketplace. The announcement was made public after Roberts took to Facebook to announce his resignation from OpenSea Company. He said:
"Well, it is time for me to come ashore from the open seas.
According to a report on Ethereum World News (EWN), Roberts expressed his gratitude for his time working with the prominent NFT marketplace, noting his pride in the milestones achieved while recognizing the formidable team that is OpenSea's finance workforce.
In his seemingly farewell message, Roberts acknowledged the "strength of the finance team at Opensea," revealing that he played an instrumental role in handpicking talent and developing a team from scratch. Marking his exit as CFO, Roberts assured platform users that Devin Finzer and Justin Jow, two capable individuals, would facilitate a smooth transition.
Despite leaving OpenSea, Roberts articulates his bullishness towards Web3.0 and confidence in OpenSea as a company. The Facebook message closes with Roberts hinting about the platform's commitment to advancing its position in the industry. He said:
"The company is heads-down building, and I assure you, the best is yet to come."
Roberts also noted that he would stay on as an advisor to the company as part of his commitment to helping OpenSea navigate its course from time to time.
Brian Roberts has a popular background in technology, having served in renowned corporations such as Microsoft, Walmart, and Lyft, the ride-calling app. The technology veteran, however, transitioned from a 7-year career as CFO at Lyft to join OpenSea on December 7, 2021. Roberts was happy about his move to OpenSea then, saying:
"I have not been this excited about something for very long. It reminds me of 1995 eBay. I love Lyft, but the growth in the NFT and the web3 sector made it a comfortable career decision for me."
While the world's most famous NFT marketplace brought Roberts in to help the organization grow in the NFT sector, the move sparked massive criticism from the platform's users. The backlash came as many believed that Roberts' entry would set the platform on an IPO route to enlist new investment banks while entering the stock market. According to the consumers, this contradicts the company's spirit of decentralization and that of the entire sector.
Struggling NFT market
Robert's exit from OpenSea comes amid a difficult time in the crypto and NFT sectors as the bear market continues. According to data by Dune analytics, the NFT market has slumped by a significant margin in 2022 compared to the past year.
The transaction data shows a consistent decline across the entire NFT market volume, recording a steep drop from January's $17 billion to $466 million in September. Dune's price analysis features data from renowned NFT marketplaces like OpenSea, Larvalabs, Rarible, NFTX, and Foundation.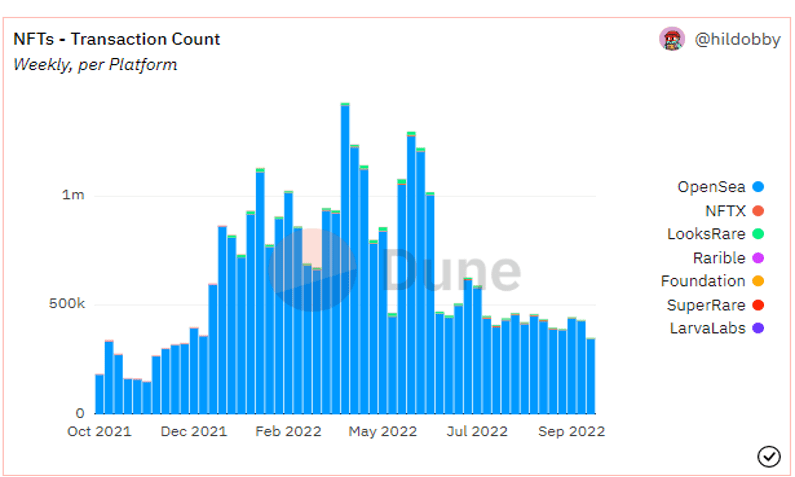 Despite the inert momentum across the NFT market, however, OpenSea has been able to stay relevant and has generated almost $144 million in the third quarter.
Moreover, the prominent marketplace has proactively ramped up efforts to develop its service base. The latest feature is where users can officially list bulk lists and purchases on OpenSea. Announcing this in a Twitter post, the NFT company said:
"We are officially live with bulk listing and buying! You can now list and buy up to 30 items in a single flow on OpenSea. Let us walk through what this experience looks like…."
Through the new feature, users can use the 'collected items' tab to access bulk listings by clicking on the "+" symbol when hovering over an item card or by clicking "list for sale" in the "More Options" drop-down. Users can list up to 30 items at once.