Ookeenga is a new NFT-based card game that is being developed on the Binance Smart Chain. The unique gameplay style merges aspects of Real-Time Strategy games and Tower Defense with Collectible Cards that are made into NFTs. Players can choose between two game modes (PvP and PvE).
The IDO just went live on various gaming launchpads such as EnjinStarter, Spintop, Spores, and BSC Station, and tokens are currently claimable by those that received an allocation. Trading will go live on PancakeSwap on the 20th of September.
A game studio that oversees the game's development is called CROS Game Studio, with more than 30 employees and more than ten years of experience developing and outsourcing games. A fully doxed core team that is responsible for Ookeenga consists of 5 members: Tao Tuan Linh (CEO and Game Director), Tran Ngoc Thien (COO), Bach Duc Trong (CMO), Nguyen Duc Hoang (Game Design Director), and Pham Quang Hai (Technical Manager).
They have also acquired a wide array of promising partnerships, some of which include GoodGames Guild, SparkPoint, Spores, Sonat, EnjinStarter, and TofuNFT.
Their roadmap is not very detailed but extends into Q2 of 2023 with critical milestones, such as a mobile version release, Land plots presale, a DAO, and the release of new story arcs.
The game, developed using Unity 3D Engine, is already playable in beta mode, and you can try it out on their official website.
Game
The game consists of short, fast-paced, and action-packed rounds in which the players must either demolish the opponent's core structure or destroy as many of their opponent's towers as possible. If there is no clear winner after the 3-minute timer runs out, the player with more remaining health on their towers wins.
Players can choose between various character classes: Melee, Range, Tank, Mage, and Air. Every character in the game will also have a distinctive phenotypic and strength due to many different attributes (Tribes, Classes, Body, Body Part, and Rarity) that have the potential of 80 million different character combinations.
Additionally, there are plans to release land plot NFTs sometime in 2022. These will allow holders to generate passive income by utilizing the resources on the land that are vital to the game's economy. Holders will also be able to construct villages on the land parcel they own and decorate it with items and furniture bought in the NFT marketplace.
Token
Two BEP-20 tokens are a part of Ookeenga's ecosystem: $OKG and $KAB. OKG is a governance token with a limited supply of 500 million tokens. Players need OKG to buy/sell NFTs, breeding or enhancing items. In addition, owning OKG is equivalent to the player's investment in the OKG world. They can use it for staking, marketplace trading, renting and buying limited NFTs through periodic sales, and it will also be used to reward tournaments and special events.
The IDO (Initial DEX Offering) price was 0.05 USD per token, and the crowd sale was successful, as they managed to raise 2,84 million dollars in total. The tokens they sold to the public represent 15,2% total supply.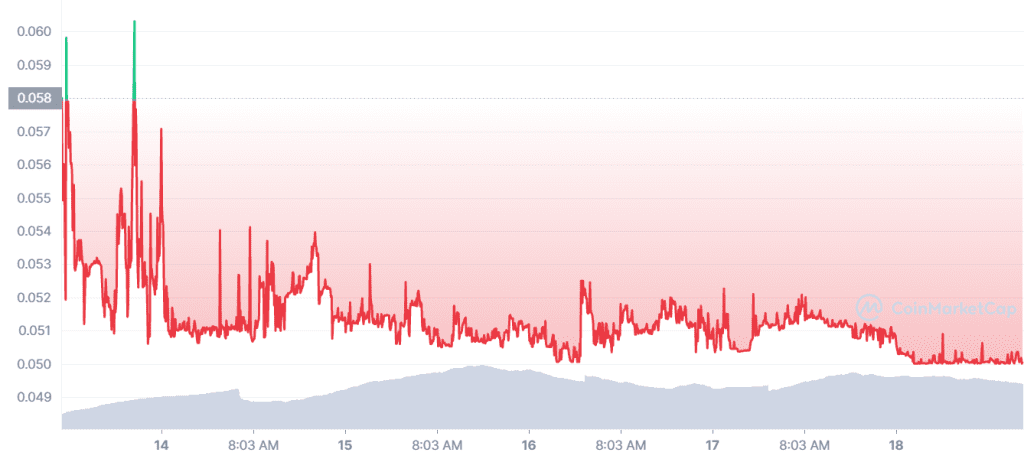 On the other hand, the KAB tokens will be received from in-game activities, and their supply is not capped. KAB will be used in most in-game economic interactions and features such as breeding heroes, enhancing items, and crafting equipment. Players will also be able to convert their KAB tokens to OKB.
Closing Thoughts
Card games are perfect for NFTs and crypto gaming. Many games, like Gods Unchained or Splinterlands, have had massive success and can attest to that. This is because cards are often viewed as collectibles (think Yu-Gi-Oh and Pokemon). It made them accessible on the blockchain as NFTs are a natural progression of what humans have always done with physical items.
With the rising popularity of blockchain cards, it is not hard to imagine this game genre being a massive part of blockchain gaming in the future, and one of the games that are in development now could potentially grow to an enormous market cap if they manage to attract a large player base. This makes the idea of getting into one of them early very enticing.
Ookenga certainly looks like it could be the one since it is developed by veterans who know what they are doing, has good funding, and is well connected in the space with promising partnerships.