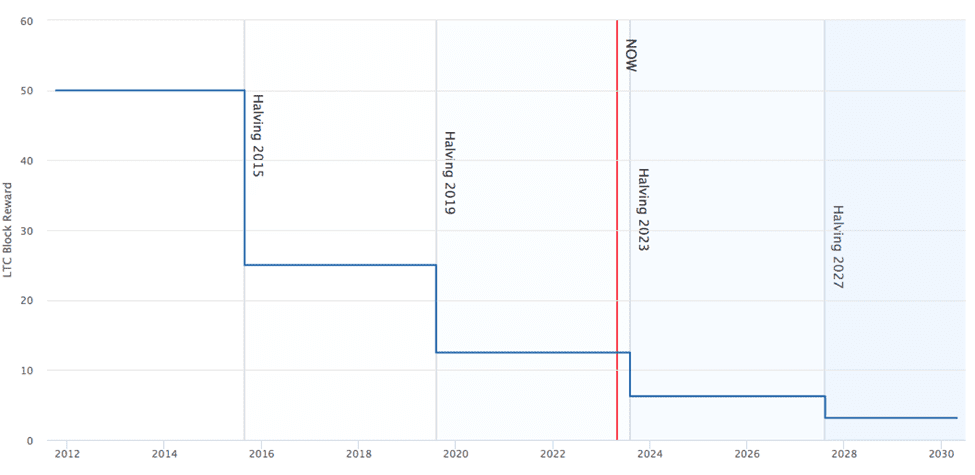 Introduction
Litecoin (LTC) was created by former Google engineer Charlie Lee in 2011. LTC is a decentralized, peer-to-peer digital currency that uses cryptographic algorithms to facilitate secure and anonymous transactions. The total supply of Litecoin is 84,000,000; once reached, no new LTC can be mined. Currently, the circulating supply of Litecoin is slightly over 72.5 million, indicating that less than 12 million coins remain to be minted.

In this article, we'll look at LTC's halving, that's scheduled to take place today, August 2nd, 2023, compare it to Bitcoin's halving, and identify some similarities and differences between the two.
What is a 'halving' exactly?
Traditionally, increasing the money supply with fiat currencies can result in higher inflation rates. This, in turn,  prompts federal interventions such as interest rate hikes to regulate the value of the domestic currency. Since the decentralized cryptocurrency ecosystem lacks such control measures, cryptocurrencies like Litecoin adopted a halving system to manage their scarcity.

As the name suggests, halving events essentially reduce the blocks produced on a cryptocurrency's network by half, thereby slowing the creation of new assets as it approaches the limit. The halving aims to control the supply of cryptocurrency and prevent inflation.
Litecoin's Halving
Litecoin's halving events are pre-programmed into its system, occurring roughly every four years after 840,000 blocks are mined. During these events, the rewards for miners are reduced by half, resulting in a decrease in the volume of blocks produced on Litecoin's network. This mechanism helps to regulate the rate at which new Litecoin's are created and maintains scarcity over time. When a miner generates a valid hash, they receive a reward of 12.5 LTC. However, following the next halving event, this reward will decrease to 6.25 LTC, equivalent to roughly $600.

Litecoin has had two halving events so far, with the first occurring in 2015 and reducing the block reward from 50 LTC to 25 LTC. The second halving event happened in 2019, further reducing the block reward to 12.5 LTC. Litecoin's total supply is currently capped at 84 million, with over 72.5 million in circulation, meaning that less than 12 million LTC remain to be mined.
Litecoin & Bitcoin: Differences
One significant difference between Litecoin and Bitcoin concerning halving events is the frequency at which they occur. Litecoin's blocks are added to the network every 2.5 minutes, four times faster than Bitcoin's 10-minute block addition rate. As a result, Litecoin's halving events occur more frequently, approximately every four years after 840,000 blocks are mined. In contrast, Bitcoin's halving events happen every four years after 210,000 blocks are mined. The faster block addition rate on Litecoin's network ensures that the halving events occur more frequently, allowing the system to adjust to changes in demand and maintain scarcity over time.

Another difference between Litecoin's and Bitcoin's halving events is their respective mining algorithms. Litecoin uses a different mining algorithm than Bitcoin, which makes it more resistant to ASIC mining and more accessible to small-scale miners using consumer-grade hardware. Although a stretch, this could help to distribute the supply of Litecoin more evenly, which could, in turn, impact its price.

Additionally, a difference that may not be obvious is that although LTC seemingly trails BTC's halving by approximately a year (LTC's 20023 to BTC's 2024), it is actually trailing by three if you consider both coins' inception. So, LTC's halving is actually more in line with the BTC halving of 2020.  Thus,  some investors might analyze and compare the behavior of the coins from this perspective for investment purposes.
LTC Halving Expectations
Looking back, leading up to the 2019 Litecoin halving, there was a lot of speculation about how it would affect the cryptocurrency's price. Historically, the price of Litecoin has tended to increase significantly in the months leading up to the halving and then experience a correction afterward. It doesn't seem to be performing in quite a similar fashion. It pumped a little when people were reminded of the halving in early July, but it hasn't done anything dramatic when looking at the 180-day chart.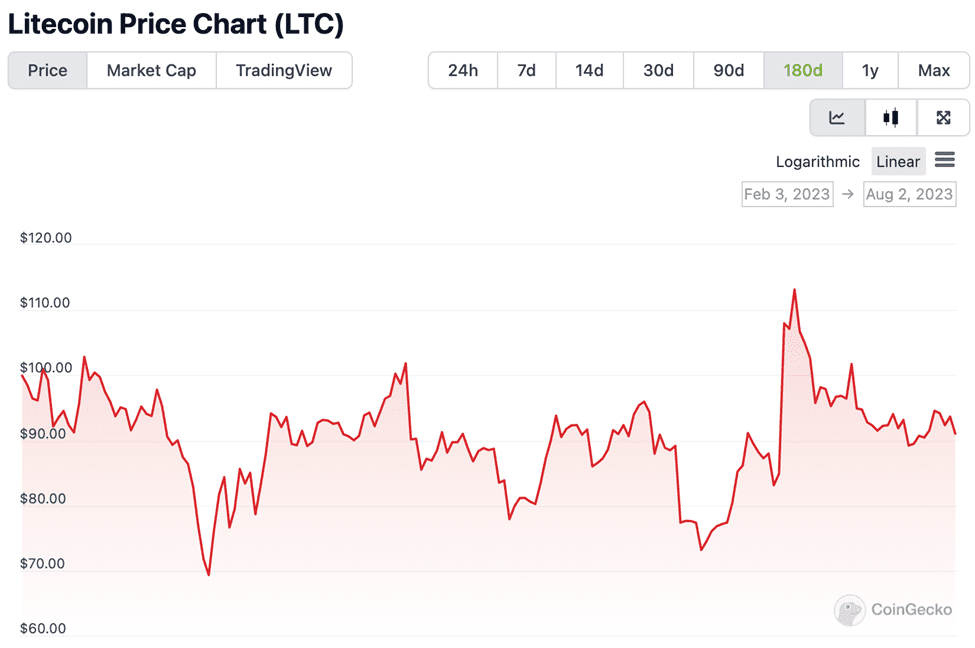 Litecoin's halvings tend to have a more muted impact on the cryptocurrency's price than Bitcoin's halving events. This is likely due to the fact that Litecoin has a smaller market capitalization and trading volume than Bitcoin, which means that it is more susceptible to price manipulation and less likely to experience significant price swings. However, in the months leading up to the 2019 halving, Litecoin's price increased from around $30 to over $140, representing a gain of over 350%. That said, after the halving occurred, Litecoin's price began to decline, and it eventually fell back to around $40, erasing much of the gains that had been made in the months prior. The current mark-up phase in LTC's market cycle shouldn't be taken lightly, but it really hasn't given any indication of repeating history.
Obvious Dominance
Ultimately, regardless of how LTC performs in the short term, as expected, BTC dominates it on a larger scale. The following graph depicts LTC's chart overlaid on top of BTC's chart and clearly illustrates that Litecoin's price movement mirrors Bitcoin's. The fact that LTC's value fluctuates with the increasing attention around the halving narrative may be attributed to its relatively smaller market capitalization, making it more susceptible to the influence of such narratives.
(BTC in Green; LTC in Red)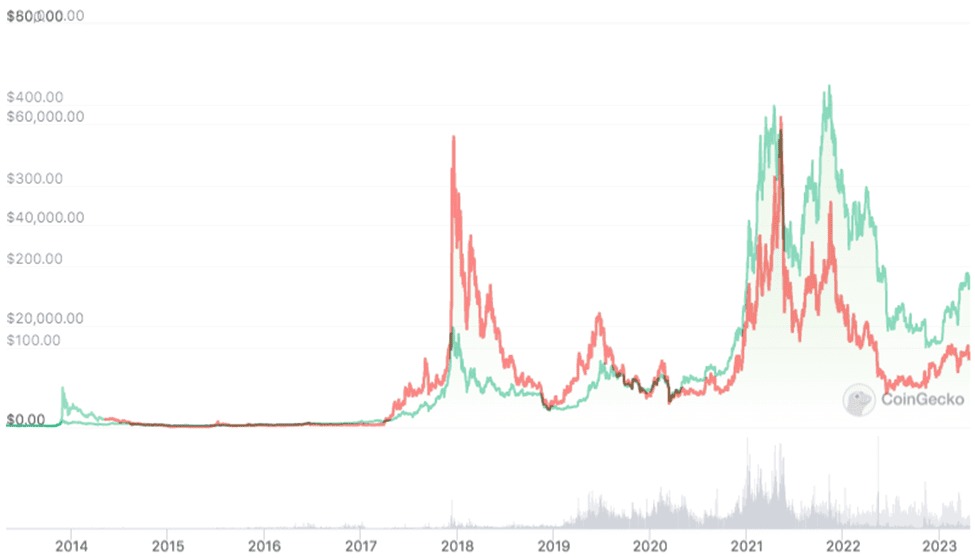 Conclusion
Being one of the oldest and most established cryptocurrencies in the market, Litecoin should continue to play an important role in the evolution of the blockchain industry. However, this departure from its past behavior certainly raises numerous questions. It will be interesting to see whether it experiences a significant dip after the halving, similar to its previous patterns. Moreover, one can't help but wonder if this is an indication of how Bitcoin's halving might unfold.