Tron's Justin Sun has announced plans to help FTX exchange return normalcy to platform users. The move comes after giant crypto exchange Binance backed out from the acquisition deal on Wednesday, saying in a tweet that the rival crypto exchange's issues were "beyond our control or ability to help."
Following the breakdown of Binance's rescue bid for Sam Bankman Fried's crypto empire, the FTX exchange is facing potential bankruptcy if it fails to raise capital. Before Binance retracted from the deal, FTX's CEO Sam Bankman-Fried explained to investors that the company would have to file for bankruptcy if it did not get more capital. According to Bloomberg reports, FTX has a "shortfall" of up to $8 billion.
Sun Leads A Tron Ark To Rescue FTX Users
Crypto Whizkid Justin Sun of the Tron network has come into the fray with claims that a solution is being hatched 'to resurrect and restore normalcy for all FTX users.
"…This is only the initial step taken towards a wholistic solution that is being crafted to resuscitate and return to normalcy for all #FTX users. I greatly appreciate the collaborative work between @FTX Official teams."
Sun acknowledged that despite being short-term, the current liquidity crunch was detrimental to the industry's development, with implications that would also affect investors.
In an official statement, centralized exchange Huobi promised that TRX, SUN, JST, BTT, and HT token holders would be able to redeem them on a 1:1 basis even if withdrawals from FTX failed. Sun is an executive advisor at the Huobi exchange, and the listed tokens are related to Su and Huobi.
An excerpt from the statement reads:
"In other words, no matter how things evolve, Tron DAO and Huobi will do their best to support the exchange of the TRON tokens (TRX, BTT, JST, SUN, HT) deposited on the FTX platform at a 1:1 ratio, including during the worst case scenario that we all know may happen."
Sun has described the move as a "Tron Ark" purpose to help all FTX users weather the storm.
"#TRON Ark building is well underway, the modern time crypto voyage for #FTX users to weather the crypto storm. We are on standby, backed by the robust global infrastructure @HuobiGlobal. Stay safe and dry, @FTX_Official."
The Tron executive also assured that his team was collaborating with FTX to find a solution to pave the way forward.
"Further to my announcement to stand behind all Tron token (#TRX, #BTT, #JST, #SUN, #HT) holders on #FTX, we are putting together a solution with #FTX to initiate a pathway forward."
It follows that Sun and SBF had commissioned a select team from both companies to work around the clock to prevent the already bad situation from escalating worse. Sun, who believes the problem is manageable, has opted for a wholistic approach.
Justin Sun is a high-net-worth individual in the crypto arena, attributing most of his wealth to his engagement beyond founding the Tron network and his initial purchase of BitTorrent. The crypto whizkid is also reputed for bailing on a $4.6 million lunch Warren Buffet, clashing with Disney on matters TRON trademark, and paying up to $28 million to secure a seat on Jeff Bezos-owned Blue Origin space flight during an auction event.
The statements from the Tron founder prompted a spike in the value of Sun-related cryptocurrencies currently trapped on the crypto exchange FTX. At one point, the value leaped from $0.6 to as high as $2.50.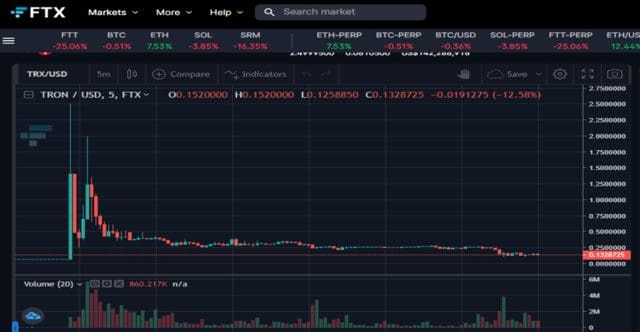 This followed the announcement that his team was "working on withdrawals." Many users flocked to Tron tokens on the network, expecting this would be the only way to get money out of FTX.
On the FTX website, Tron's native currency, TRX, is selling for $0.13, up by 133% compared to yesterday at the time of this writing.
Outside FTX, however, TRX's price is $0.058949, according to CoinGecko.