When the NFT market was already cooling off, Imaginary Ones were one of the last highly anticipated mints that the NFT space had in store for us in 2022. Many different people and NFT communities wanted to get in and secure one of 8888 3D animated NFTs for themselves. For their art, they have chosen very detailed, creative, and light-hearted 3D figures reminiscent of toys many of us grew up with.
The mint mechanism was a bit unorthodox. The team decided to roll out their NFTs in two phases. First, we would have a private (whitelist) mint on the 27th of April 2022 for the price of 0.2 ETH and 4200 NFTs. The remaining 4488 would be minted through a public Dutch auction. The innovative part of this mint process was how they decided to determine the starting auction price. It was set at 50% of the floor price on OpenSea but capped at 1.5 ETH. The cost would then drop 0.1 ETH every 15 minutes until the entire collection sold out.

This created an interesting dynamic where holders were undercutting the floor to get a cheaper entry just a few moments before the public mint went live. The collection minted out in minutes, causing the floor price to rise slightly below 2 ETH.
In the following days, the harsh market condition for NFTs continued, and the floor price stabilized at around 0.7 ETH, where it currently sits today.
It is no secret that many NFT collections are struggling these days as founders lose interest, outright rug, or simply run out of funds to fulfill the roadmap they promised their holders. Imaginary Ones is not one of those. Below are a few reasons why Imaginary Ones are doing well and how they have defied the broader market conditions up to this point.
Honesty and Good Community Engagement
One of the things that can bury a project in times like these is a lack of communication regarding backend progress on the collection. Imaginary Ones can be a shining example for other projects on how to stay in touch with the community.
In their recent twitter space, titled "Meeting the expectations of an NFT project," the team opened up to their holders and addressed some issues they've encountered, the pressure that founders sometimes feel, and their general views on the current market conditions. The recording makes for a worthwhile listen to anyone interested in getting to know some of the struggles project leaders face in these unforgiving market conditions.
To see them talk so openly about the struggles and issues that arise when one is in charge of a project is a sign of strength rather than a weakness, as it reassures holders that their investment is in the right hands.
Good Funds Allocation
The team uses all the funds they raised to develop the project and team expansion, hire new employees, and approach brands for potential partnerships. There are quite a few job openings on their website ranging from software engineers and artists to business managers and story writers.
Their distribution of mint funds is transparent and works for the benefit of the community, with 90% going towards project development and only 10% allocated to founders, staff, and partnerships. The royalties on their set are only 5%, which is on the smaller side compared to most other collections.
Rewarding Holders
Imaginary Ones is working on delivering new utility to their loyal holders. In the first phase, the staking for their NFTs went live, and more than 5000 NFTs are currently locked, yielding passive rewards in ETH and even blue-chip NFT raffles.
Additionally, a new set is in the works. Each holder of at least one Imaginary Ones' NFT will be eligible for an airdrop of their second set – vehicles for Imaginary Ones.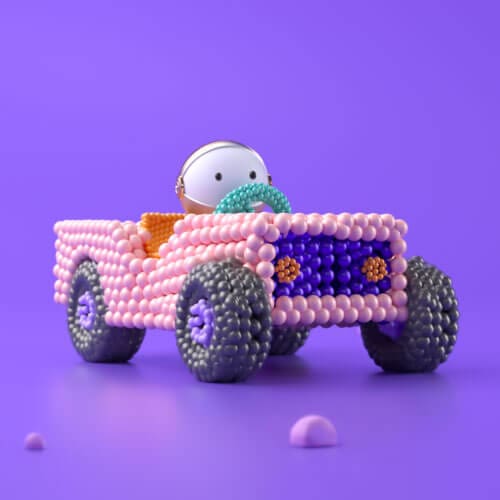 Excellent social media presence and promising partnerships
Imaginary Ones are doing its best to stay relevant, regularly engaging on social media and posting project updates. This, in turn, reflects well on their floor price, which remains relatively stable while we see many other collections plummet into the ground. For reference, Imaginary Ones' floor price is still 3x higher than the whitelist mint price.
Lastly, they recently partnered with Hugo Boss, an international fashion brand. Together they will develop a new set called Embrace Your Emotions, and Imaginary Ones will mark themselves as a project that helps onboard already established corporations into the NFT space.
Closing Thoughts
If you are looking around the NFT space, trying to find projects that are currently flying under the radar but still have a high potential in the future, Imaginary Ones is undoubtedly one of them. They are an NFT collection with exquisite art, an active community, promising partnerships, and a competent team consistently building throughout this bear market.