Public ledgers keep records of information of individuals, including identities, transactional details, and assets transacted.
The data stored on the record system are usually confidential, and identities are kept in pseudo-form. A popular form of the public ledger is a blockchain on which transaction details are recorded are authentication and verification.
Hedera Hashgraph (HBAR) is a platform that utilizes distributed ledger technology to provide a faster, fair, and more secure alternative to blockchain. It addresses the need of the mainstream markets, providing ease for anyone to develop and run applications.
It is, however, governed by a council of members spanning companies and industries globally.
What is Hedera Hashgraph (HBAR)?
Hedera Hashgraph (HBAR) was founded by Leemon Baird and Mance Harmon in 2015. The platform was built on the distributed consensus mechanism Leemon Baird invented to outpace blockchains in terms of performance, governance, stability, and regulatory compliance.
Hedera Hashgraph uses a cryptocurrency known as HBAR that enables holders to pay for utilities provided on the network.
Features of the Hedera Hashgraph (HBAR) Network
The most distinguishable feature of the Hedera network is its DLT- Hashgraph. The edge it has over blockchain boils down to distributed ledger technology.
The Hashgraph incorporates every container of transactions into the ledger, unlike in blockchain, where a block is chosen and the other discarded if two are created simultaneously. Utilizing all branches of designed "block containers" allows for better efficiency and guarantees fairness in ordering transactions.
In contrast to blockchain distributed ledgers, the Hedera Hashgraph network is inexpensive to operate, as it stays away from the energy-consuming proof-of-work consensus protocol. The network also boasts fast throughput, achieving up to 10,000 transactions per second without relaxing security and stability.
Hedera Hashgraph (HBAR) achieves consensus through "gossip about gossip" and virtual voting. Gossip about gossip allows nodes to communicate constantly, helping them agree in a matter of seconds as the information travels exponentially.
Tokenomics
HBAR is the native token of the network and has a max supply of 50 billion as new tokens cannot be created. HBAR tokens are used to carry out transactions and facilitate governance.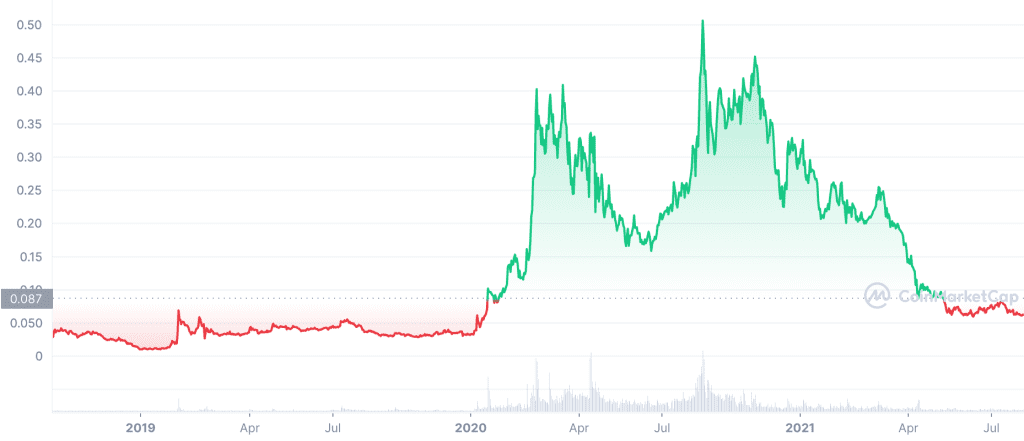 The allocation model for the total supply is separated into six categories;
Founders and Executives; 13.8%
Swirlds: 8%
Employees and service providers:4.4%
Development of Hedera ecosystem: 24%
Purchase agreement: 17.4%
Hedera pre-minted treasury: 32.4%
The Team Behind Hedera Hashgraph
While the team of developers behind the network isn't public knowledge, the founders of Hedera Hashgraph (HBAR) are Leemon Baird, the chief scientist, and Mance Harmon, a technology executive.
Hedera Hashgraph (HBAR) is owned by the world's leading organizations, including Google, IBM, LG, and Chainlink Labs.
Hedera Hashgraph's (HBAR) Roadmap
The network's updated roadmap to scale consists of four major phases spread over the year's four quarters. Plans for the Q4 include;
• Smart contracts access list to improve performance and cost
• Multi-token standard for enabling additional capabilities
• Support for the Swift programming language
• Optin merged scheduling
• Additional NFT and Entity scalability
• Enabling community nodes for decentralization
• Additional HIPS and features
• Smart contract usability improvements
• Network monitoring tools
• Staking phase 2
Conclusion
Outrightly, Hedera Hashgraph (HBAR) proves itself to be better than blockchain. Not only in terms of its consensus mechanism but in areas in which blockchain needs to improve.
Although it hasn't been tested on the public network, it is certainly shaping to be the next-generation public ledger.