The Federal Bureau of Investigation has issued a public warning about fraudulent cryptocurrency applications. The scam has already stolen an estimated $42.7 million in American investors' money. The FBI claims that 244 people have been taken advantage of by these fraudulent applications.
According to a securities and intelligence agency notice published on July 18, cybercriminals have developed fraudulent applications that mimic real cryptocurrency businesses to misinform investors.
Scammers Continue to Run Rampant
Cybercriminals have also targeted victims through fake notices and emails about pending account closures, sketchy bank charges, or other fraudulent claims. In one example, hackers lured customers to download an app with the guise of a reputable U.S. financial institution to persuade them to deposit bitcoins into wallets purported to be connected with their accounts.
The criminals also used the app to extract funds from users who attempted to quit. Users were compelled to pay taxes on their transactions if they tried to withdraw. This, however, was simply another ruse for thieves to prey on victims even more because the withdrawals would remain inaccessible even if they finished the payments.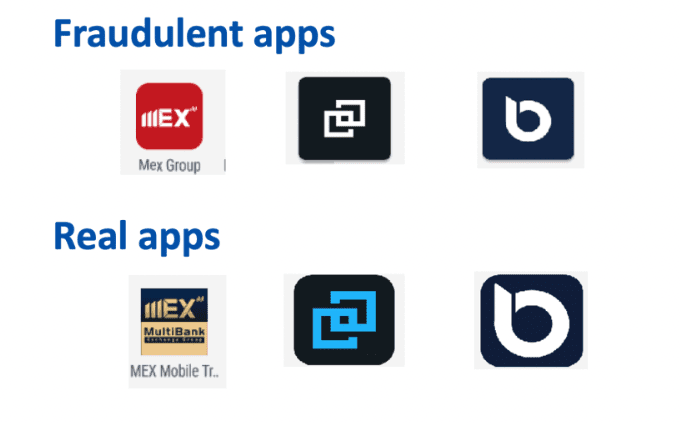 According to the FBI, between December 2021 and May 2022, approximately $3.7 million was stolen from 28 people.
The frequency of crypto scams has accelerated in recent years. Since 2017, there have been more than 4,000 reports about cryptocurrency-related crimes, with losses estimated at over $4.3 billion. In the first quarter of 2018 alone, 1,500 new victims reported losing $1.1 billion to various crypto scams.
In June 2018, the United States Securities and Exchange Commission (SEC) charged a Canadian man and his two companies with bilking investors out of $30 million in a "pump and dump" scheme involving three penny stocks.
The SEC alleged that the man used social media to inflate the prices of the stocks artificially and then sold them at a profit.
The complaint also stated that the man tried to cover his tracks by using a cryptocurrency exchange to launder the money he made from the scheme. The FBI says these fake crypto apps are just one of many ways scammers try to take advantage of investors. The agency recommends that people do their research before investing in any cryptocurrency-related product or service.
They also advise people to be wary of anyone who tries to pressure them into making an investment decision quickly.